High school students enjoy a preview of health careers
Health Equity Academy connects 60 teenagers to hands-on projects and mentors at UC Davis Health
(SACRAMENTO)
"Yay, all healed," Yasamine Rahmati said with satisfaction, marveling at the banana she stitched back together with thread, forceps, scissors and a needle driver.
Yasamine, who is 16, wants a career in nursing or veterinary medicine, and learning how to suture a banana with the help of a UC Davis Medical Center trauma surgeon is an early step to getting there.
She is one of 60 high school students who spent the past week shuttling between classrooms and lecture halls at the UC Davis School of Medicine as part of the Health Equity Academy, a pathway program that helps teenagers envision themselves as health professionals. The seven-day summer academy is packed with hands-on activities, college preparation advice, question-and-answer chats with physicians and other health professionals, CPR training, career panels, blood-pressure readings, study tips, research projects and more.
"This is a really good experience, being able to learn more about health care and how to get into college, and get into the field," said Yasamine, who will soon be a junior at Laguna Creek High School in Elk Grove.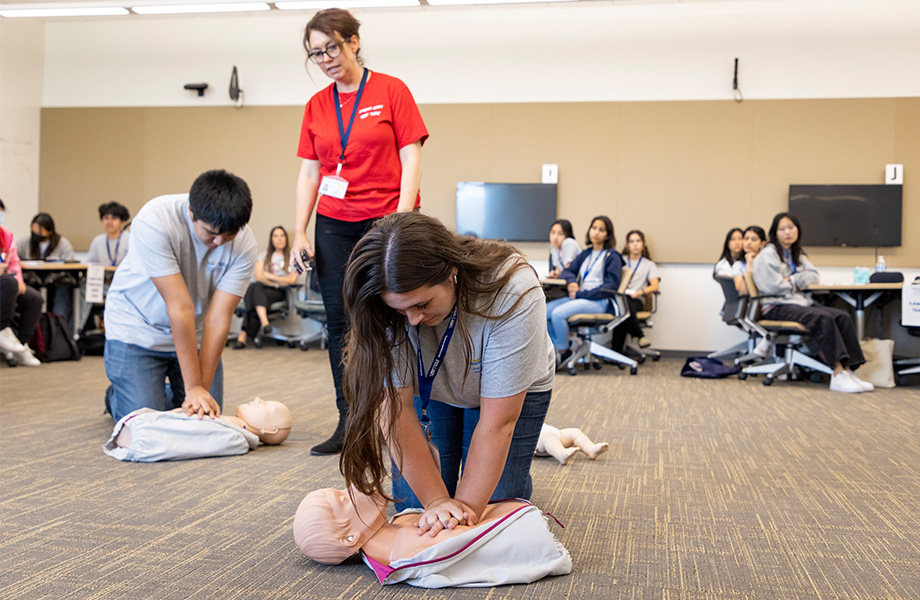 Preparing to fill workforce shortages
The program is also known as HEALTH (short for Health Equity Academy – Leaders for Tomorrow's Healthcare). It was created by the School of Medicine's Office of Student and Resident Diversity (OSRD) in hopes of producing future health workers that will more accurately reflect California's demographics and eventually reduce health disparities in underserved regions.
About 40% of Californians identify as Latino but fewer than 6% are physicians, according to the Healthforce Center at UCSF. According to the same report, Black doctors represent fewer than 3% of the total number of doctors, despite the Black population comprising 5.6% of the state. In addition, studies have shown that patients have better outcomes when their primary care physicians understand the patients' culture and language.
As for nursing, Hispanics were 39.3% of the California population in 2018, but only 9.6% of the RN workforce.
The academy draws from a cross section of cultures, races and ethnicities.
"Generally, a lot of our students are either underserved or underrepresented, and from rural backgrounds. They are people who definitely benefit from increased mentorship and exposure to careers in health," said Laura Prakash. She is the director of OSRD's K-12 outreach curriculum and an associate clinical professor of adolescent medicine and pediatrics.
"Bringing together diverse groups of people and exposing students really helps to not only create new leaders and diverse groups of leaders throughout the health professions — but really starts to give them the tools, networks, connections, mentorships and guidance they need," Prakash said.
The academy runs three times a year – the daily summer program, and two other sessions on consecutive Saturdays.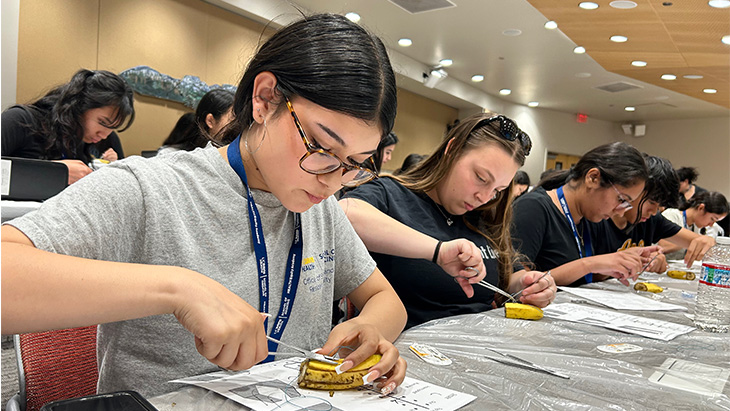 Students interact with health professionals
On the day students learned how to suture, they also got to ask questions of their guest speaker, trauma surgeon Anamaria Robles. She shared what it's like to be on the front lines of treating patients with life-threatening emergencies.
Jackeline Rodriguez, an incoming junior at Rosemont High School, wanted to know how long trauma surgeries last. When Robles responded that she was once in a 20-hour surgery, Jackeline looked surprised and asked a follow-up question: "Does the surgeon have to stay for all 20 hours?"
Surgeons are part of a large team, Robles explained, and they can take short breaks if needed.
That brought relief to Jackeline, who is intrigued by the thought of working in a trauma environment and dreams of becoming a pediatric nurse practitioner. "I like asking questions because it helps me envision what my day-to-day work would be, and what my job could be like," Jackeline said after the session.
The academy is the highlight of Jackeline's summer, who is on track to be the first person in her large family to graduate from high school. "I don't really have any guidance from immediate family," she said, speaking of the valuable career advice she's receiving. "So, I use this academy for guidance."
Jackeline said she's learning practical lessons through the academy, such as how to perform cardiopulmonary resuscitation (CPR), and how to use an automatic external defibrillator, which was taught by a national organization, Project ADAM.
Students took turns pumping their open palms onto manikin torsos in the life-saving exercise led by Rebecca McCormac from the UC Davis Pediatric Heart Center.
"One day if I come across someone that suddenly collapses and they're having a heart attack, I like knowing that I know what to do in that situation because this academy has taught me how to proceed with each step," Jackeline said.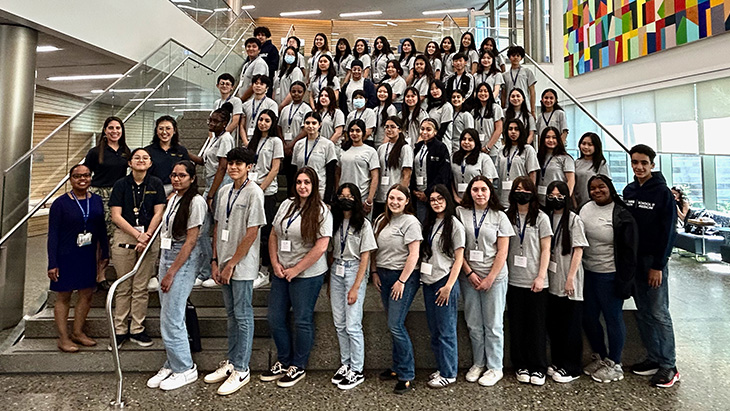 Learning how to become better students
Salvador Garcia-Abrica has aspired to become a family medicine physician after his younger brother died of a medical condition. He appreciates the study tips he's learned, which will help him become a better student.
He learned, for example, that study groups don't work for everyone, because they could be more distracting than studying alone.
"This program is helping me improve more and prepare myself for college and medical school," he said. "I'm able to experience what it's like to be here, before I actually become a student here, and that has helped me better prepare myself."
For Emma Trueblood, who will soon be a senior in Arbuckle, a town along Interstate 5 north of Sacramento, the academy has reinforced her desire to become a psychiatrist.
"It's been extremely helpful, extremely motivating, because I'm seeing what my future can potentially look like," she said. "And it's exciting me because this is showing me that it is possible."
Related story:
https://health.ucdavis.edu/nursingmagazine/issues/fall2022/diversity/shining-a-light-on-the-nursing-profession.html