Cancer center appoints new chief translational officer
Nicholas Mitsiades will also serve as associate director for translational research
(SACRAMENTO)
UC Davis Comprehensive Cancer Center appointed Nicholas Mitsiades as chief translational officer and associate director for translational research, effective Sept. 1, 2022. Mitsiades will oversee interdisciplinary efforts at the cancer center to translate discoveries in the laboratory into new cancer therapies for patients.
Mitsiades has also been appointed professor, Department of Internal Medicine, and is the Albert Holmes Rowe Chair of Genetics Ill, Endowed Chair.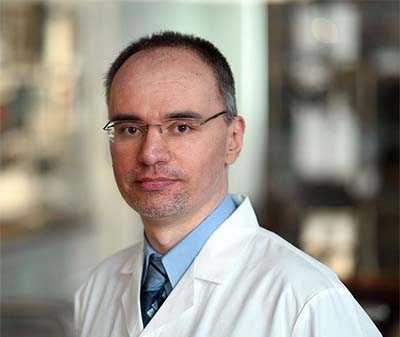 "We are very pleased Dr. Mitsiades has joined our NCI-designated comprehensive cancer center and anticipate he will greatly enhance our mission to leverage biomedical science, from bench to bedside, in an effort to increase efficacy of therapeutics while decreasing the toxicity of cancer treatments," said UC Davis Comprehensive Cancer Center Director Primo "Lucky" Lara Jr.
Mitsiades is a physician scientist and clinically trained medical oncologist and endocrinologist specializing in prostate cancer. He focuses on providing state-of-the-art care to socioeconomically disadvantaged patients and equitable access to molecular testing and to biomarker-driven targeted therapies and clinical trials.
"Translational science can best be described as taking laboratory, clinical and community observations and adapting them into treatment interventions that will make a meaningful difference in the lives of cancer patients and their loved ones," said Mitsiades. "I am honored to join UC Davis Comprehensive Cancer Center. It is truly a pathfinder in pursuing cancer health equity, and I look forward to building upon the multidisciplinary efforts underway to lessen the cancer burden for all."
Previously with Baylor College of Medicine, Mitsiades was associate professor of Hematology/Oncology and taught in the Department of Molecular and Cellular Biology. He was the principal investigator of a National Institutes of Health U54 minority PDX grant, which supports pre-clinical trials to test new therapies that may help minority populations.
In his new role, Mitsiades will oversee administration of translational research projects. He plans to identify opportunities for large multiple principal investigator grants, create grant teams, mentor teams, and submit successful applications. He will engage with the cancer center's Office of Education, Training and Career Development to create programs for trainees and investigators. He will also work with the Office of Community Outreach and Engagement and its Community Advisory Board to foster catchment area-relevant research and design studies based on community feedback.
UC Davis Comprehensive Cancer Center
UC Davis Comprehensive Cancer Center is the only National Cancer Institute-designated center serving the Central Valley and inland Northern California, a region of more than 6 million people. Its specialists provide compassionate, comprehensive care for more than 100,000 adults and children every year and access to more than 200 active clinical trials at any given time. Its innovative research program engages more than 240 scientists at UC Davis who work collaboratively to advance discovery of new tools to diagnose and treat cancer. Patients have access to leading-edge care, including immunotherapy and other targeted treatments. Its Office of Community Outreach and Engagement addresses disparities in cancer outcomes across diverse populations, and the cancer center provides comprehensive education and workforce development programs for the next generation of clinicians and scientists. For more information, visit cancer.ucdavis.edu.