UC Davis Health celebrates community health center opening
Sacramento Native American Health Center expands to South Sacramento
(SACRAMENTO)
For the past six years, physicians and residents from the UC Davis Health Department of Pediatrics have cared for children's medical needs at the Sacramento Native American Health Center (SNAHC) in the city's midtown neighborhood.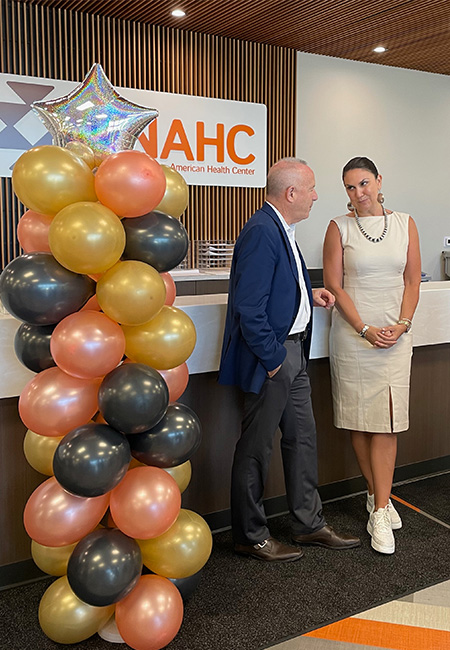 This week, SNAHC offered additional convenience to its patients by opening the doors to its newest location in South Sacramento.
"We eagerly anticipate continuing this valuable partnership at their new, remarkable location," said Erik Fernandez y Garcia, a UC Davis Health pediatrician who spoke at the grand opening Wednesday, which was attended by over 150 people. He has served SNAHC patients for the last five years. "We have already shared the exciting news with our patients, who have expressed genuine enthusiasm for the opportunity to have their follow-up visits at this beautiful new health center."
The celebration brought together community, health care and political leaders including Congresswoman Doris Matsui and Sacramento Mayor Darrell Steinberg. They took turns speaking from the podium before touring the new building, which displays art from local Native American artists. The 35,000-square-foot facility will serve up to 12,000 patients a year.
We eagerly anticipate continuing this valuable partnership at their new, remarkable location"
SNAHC is a nonprofit Federally Qualified Health Center that provides comprehensive health services to individuals with limited or no access to care, including Medi-Cal enrollees. With a thoughtful and intentional approach, SNAHC expanded its services to South Sacramento, recognizing that the Native American community comprises nearly 15% of the area's population.
SNAHC's expansion into an underserved area helps fill the health care gap by providing a comprehensive range of essential services including medical, behavioral health, dental and supportive care, thereby addressing the diverse needs of the community.
Notably, the newly established center at 3800 Florin Road also houses the "Sali To'a'su, Kochang" Youth and Family Center. The name means "the foundation on which it is built," in the Miwok language. The design of the facility embodies a Native American and inclusivity focus, ensuring that culturally responsive care is at the forefront of service delivery.
Despite its name signifying Native American heritage, SNAHC is committed to creating an inclusive and welcoming environment that respects and embraces the cultural diversity of the community it serves.
There are no tribal or ethnic requirements to receive services at the health center.
UC Davis Health, which has long been committed to supporting patient-centered, community-minded care, donated $250,000 toward the expansion project. Additional community partners include Delta Dental Community Care Foundation, Indian Health Service, Sacramento Municipal Utility District and Sutter Health, among others.
"On behalf of UC Davis Health, we are honored to contribute to the development of this exceptional facility," Fernandez y Garcia said. "Its comprehensive health care services will undoubtedly have a positive impact on the lives and well-being of countless individuals in Sacramento, and we are grateful for the opportunity to support this vital endeavor."