Simulation Fellowship Programs
Learn to use medical simulation to enhance health care education by applying for one of our simulation fellowships. Our advanced training program provides valuable hands-on experience in a cutting-edge facility that's accredited as a Comprehensive Education Institute through the American College of Surgeons.
Leaders in Simulation

Scholars from a variety of clinical backgrounds and institutions around the world spend one to two years with us before returning home as simulation leaders.
Each fellowship experience is customized to fit the needs and interests of our scholars. We offer fellowship programs for seasoned clinicians within UC Davis Health who may be new to simulation or thinking of expanding their careers as clinical educators. We can also offer abbreviated programs for visiting scholars.
Becoming a Fellow
Our two primary fellowship offerings include the Medical Education and Simulation Fellowship, which is offered in partnership with the UC Davis Health Department of Emergency Medicine, and our Surgical Simulation Fellowship for UC Davis Health surgery residents.
The Medical Education and Simulation Fellowship is accredited by the Accreditation Council for Graduate Medical Education and the Surgical Simulation Fellowship is accredited by the American College of Surgeons.
In each fellowship, fellows spend their time creating, performing, evaluating and supervising medical simulation training. Scholars also learn about simulation technology, simulation research, center operations and education theory.
Fellows are expected to master the cognitive skills of adult learning theory and understand how to apply this knowledge to simulation education. Scholarship in the form of literature assessment, research project development and national-level presentations with publication are strongly encouraged and supported by the university's research and biostatistics resource programs.
Application Process
Applications are accepted on an ongoing basis; however, spots are limited to ensure that fellows receive appropriate mentorship and direction. For more information, please call us at 916-734-5675.
Current Simulation Fellows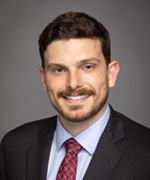 Benjamin Daniel Pirotte, M.D.
Medical Education and Simulation Fellow | bdpirotte@ucdavis.edu
Combining his passions for empathetic emergent care and innovative educational techniques, Benjamin Pirotte chose to pursue further training as a Medical Education and Simulation Fellow at UC Davis Health in 2022. After earning his medical degree from the Keck School of Medicine of University of Southern California, he completed his residency training in emergency medicine at Aventura Hospital and Medical Center, Miami, Florida, where he also served as chief resident. During his residency training he developed an in-situ trauma simulation curriculum which has fueled his interest in interdisciplinary training and in-situ simulation. While in the fellowship program, he hopes to also explore the application of low-fidelity simulation in community emergency medicine. In his free time, he enjoys hiking, reading all things fantasy and playing baseball.
---
Maisa Siddique, M.D., M.S.P.H.
Medical Education and Simulation Fellow | msiddique@ucdavis.edu
New York native Maisa Siddique joins UC Davis Health in 2022 as a Medical Education and Simulation Fellow. While completing her medical degree at Albany Medical College, she took a short hiatus to study Global Disease and Humanitarian Assistance at the Johns Hopkins Bloomberg School of Public Health to advance her understanding of health systems at the international level. After graduating with her medical and master's degrees, Siddique returned home to Brooklyn, New York to complete her residency training in Emergency Medicine at Maimonides Medical Center. She graduated from her residency program with a Distinction in Medical Simulation for her involvement in the residency-wide simulation curriculum. Her academic interests include low-resource simulation activities and methods of strengthening educational infrastructure in rural and global emergency medicine training programs. A city girl at heart, she is far from home but very excited to explore California and all it has to offer. She can be found riding trails on her new bicycle, browsing farmers' markets for baked goods, and spending time at home with her husband and two cats.
Previous Simulation Fellows
Muna Aljahany, M.B.B.S.
Program Year: 2017
Ali Alkhulaif, M.B.B.S.
Program Year: 2015
Sameerah Alsomoli, M.B.B.S.
Program Year: 2014
Saqer Althunayyan, M.B.B.S.
Program Year: 2018
Leland Bourdon, M.D.
Program Year: 2019
Matthew Carlisle, M.D., M.A.S.
Program Year: 2013
James Delgadillo, M.D.
Program Year: 2020
Lee Donohue, M.D.
Program Year: 2018
Ian Julie, M.D., M.A.S.
Program Year: 2015
Matthew Kiefer, M.D.
Program Year: 2016
Jennifer Kirkpatrick, M.D.
Program Year: 2018
Vivienne Ng, M.D., M.P.H.
Program Year: 2013
Jaymin Patel, M.D.
Program Year: 2020
Marybelle Pe, M.D.
Program Year: 2017
Amanda Phares, M.D., M.H.P.E.
Program Year: 2019
Scott Reichelderfer, M.D., M.P.H.
Program Year: 2021
Tiffany Schegg, M.D.
Program Year: 2017
Jeffrey Usui, M.D., M.P.H.
Program Year: 2021
Sandhya Venugopal, M.D., M.S.-H.P.Ed.
Program Year: 2013
Sage Wexner, M.D., R.N.
Program Year: 2018