Hsing-Jien Kung, Ph.D.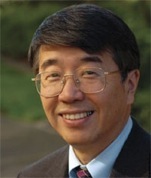 Professor
UCDMC Research III,
#95/room 2400B
4645 2nd Avenue
Sacramento, CA 95817
Ph: 916-734-1538
Fax: 916-734-2589
e-mail
Dr. Kung's lab is engaged in cancer research with specific focus on the identification of genetic and epigenetic factors contributing to the development of human malignancies including prostate cancer and Kaposi's sarcoma. Under investigations are cellular and viral oncogenes, which are involved in posttranslational modifications of signal molecules and chromatins, leading to malignant transformation. They include tyrosine kinases, E3 SUMO ligases and histone demethylases. In collaborative work, the lab is also involved in developing inhibitors or therapeutic agents which target these oncogenes, resulting in specific and enhanced killing of tumor cells. More recent work has been directed toward the understanding of autophagy (self-eating) as a modulator of apoptosis (self-killing). Efforts are being made to develop effective means to measure autophag and to modulate this process.
Upper division courses
192 Internship in Biological Chemistry
198 Group Study
199 Special Study for Advanced Undergraduates
Graduate courses
231 Biomedical NMR (same as BPH 231)
291 Human Genetics Seminar
298 Group Study
299 Research
Professional courses for medical students
410A Molecular and Cell Biology
410B Cell Biology and Metabolism
498 Group Study
499 Research