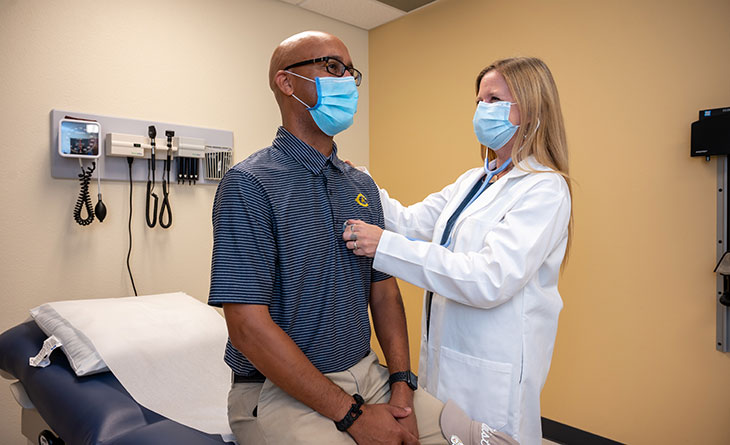 You may have heard the term "primary care" or "everyday care" when looking to see a provider for health issues. But many of us don't really know what that means.
What is a primary care provider? What type of care and treatment can you receive from a primary care provider? And why is it a good idea to have a primary care provider?
It's important to have answers to these questions so you can stay well and get help when you need it.
What is primary care?
Primary care is often your first point of contact when you have a health issue or question. You may have seen a primary care provider for treatment of things like the flu, a sprained ankle, or yearly checkup.
A primary care provider may also be thought of as a "general practitioner," or your personal doctor. They are the person who provides everyday health care and acts as a "health care home base" for your overall wellness. Primary care providers also give referrals to specialists when you need additional medical expertise to treat a specific condition.
Primary care covers prevention, wellness, care for chronic conditions, and treatment for a variety of health concerns. These issues can range from physical to behavioral or social.
Health care providers trained in primary care develop a long-term partnership with their patients. They look at the complete picture of health and consider the patient's family background and health history.
You may see a primary care provider for ongoing diagnosis and management for chronic conditions, such as high blood pressure or type 2 diabetes. Sometimes primary care providers manage these conditions by themselves. In complex cases, they will partner with a specialty care physician, such as a cardiologist or endocrinologist.
What type of providers or areas are part of primary care?
Primary care has five main types of providers patients can see for a variety of health topics. They include:
Family medicine: Providers in this field can care for your whole family and see patients of any age, including newborns. They also provide reproductive healthcare, including prenatal care.
Internal medicine: These doctors, commonly known as internists, provide primary care for adults or older youth only. (There are also internal medicine doctors who practice specialty care instead of primary care. They specialize in specific parts of the body, such as the heart or stomach.)
Pediatrics: Pediatricians provide care for newborns through adolescents.
Obstetrics and gynecology (OB/GYN): Providers in this field provide care for women at every stage of life. They specialize in reproductive health and offer family planning services.
Family nurse practitioners (FNP) and physician assistants (PA): These professionals provide care for people of all ages. They undergo extensive education and training programs that equip them with the knowledge and skills needed to diagnose and treat common illnesses and injuries.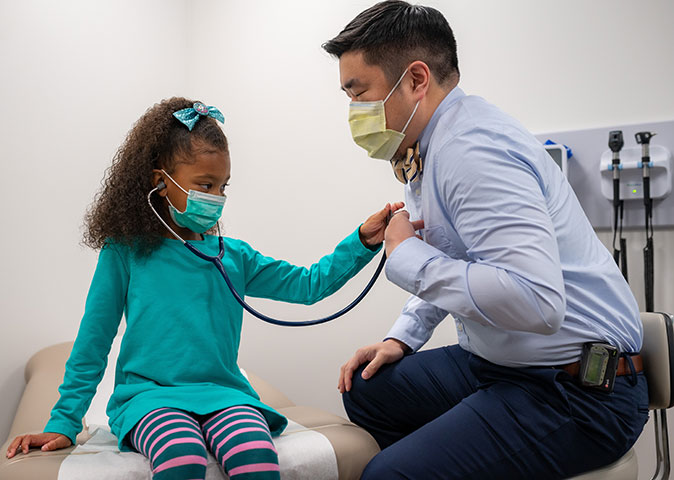 Patients can receive primary care from any of these providers.
See a list of UC Davis Health primary care locations across Northern California
Learn more: Guide to primary care practitioners (PCP), family doctors, and internists
What sets FNPs and PAs apart from other care providers?
Family nurse practitioners (FNP) and physician assistants (PA) are proven to be highly capable health care professionals in primary care settings. They have completed advanced education and clinical training to provide care for people of all ages.
FNPs and PAs often provide care that is comparable to that of medical doctors. They have a patient-centered approach, emphasizing holistic care and building strong relationships with patients.
FNPs are registered nurses with extra training and education. In addition to providing primary care services, they're involved in health teaching and supportive counseling with an emphasis on wellness and prevention of illness. FNPs can also refer patients to other health professionals as needed.
PAs are health care professionals licensed to practice medicine with physician supervision. Within the physician-PA relationship, PAs have the freedom to make medical decisions on their own. This relationship offers a wide range of services for diagnosing and treating various health conditions. PAs may also focus on education and research.
Why is primary care important to your health?
One of the main roles of primary care is to help you stay well and prevent lingering issues from getting worse. Regular visits allow your primary care provider to get to know you and address any changes in your health. Routine screenings and tests can help detect an underlying health concern or prevent diseases. They can also help to catch diseases early when it's usually easier to treat them. This can lead to better outcomes after diagnosis.
Your primary care provider can help you stay up to date on crucial vaccines or screenings. These include mammograms, cervical cancer screenings, and colon cancer screenings.
If you have a health concern for which a primary care provider thinks you should get a more in-depth opinion, they can refer you to a specialist. Your provider and their staff can also help you navigate the health care system and advise you on next steps.
Preventing a potential health issue or finding it before it gets worse are both important things to help you stay well. This can help you avoid major surgeries, medications and/or hospitalizations for life-threatening problems.
No question is off-limits when seeing a primary care provider. Be sure to ask any questions you have to better understand your health.
What type of care can primary care providers offer?
Providers can answer questions or concerns on any health topic. They are trained to administer exams, offer vaccinations, and address any changes in your health.
Primary care providers can prescribe medications. They can also order tests, X-rays, scans, or other imaging to better diagnose what's going on.
If you have an emotional or mental concern, you can and should talk to your primary care provider. They don't just treat problems that can be seen during an exam or test. Your primary care provider also wants to help with things that can hinder your overall well-being. These include mental health challenges such as stress and depression.
Primary care providers also coordinate with specialists. They can provide referrals and advice to see someone with more specific knowledge. This includes specialists who can help with concerns about physical or mental health.
Learn about the personalized primary care at UC Davis Health that's centered on you
How does primary care work with specialty care?
Medical specialty care providers, or specialists, focus on specific parts of the body, specific conditions and treatments, or body systems. This can include the heart, lungs, joints, digestive system, or urinary tract and conditions that affect them.
Most medical specialists require a referral from a primary care provider to get an appointment with them. Primary care providers have expertise about when to refer patients to specialists and which specialists would be most helpful.
Referrals often depend on the type of health care coverage you have. Typically, primary care doctors in one medical group or health system will start by referring to specialists in that same group or health system.
Some specialty care physicians are more likely to accept referrals from within their own health system, rather than from outside health systems. Doing so also ensures your primary care provider and specialist will share your electronic medical records to stay up on your latest treatment plan.
As a major academic medical center, UC Davis Health has specialists in more than 150 areas of health care. Many of them are world-class experts in their fields who teach future doctors and nurses. Most also conduct research about new and improved ways of diagnosing and treating illness. UC Davis Health specialists also work together with doctors and researchers at other University of California health centers to share information and best practices.