Monica Aguilar R.N.-B.C., M.S.N.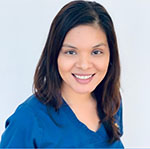 Monica Aguilar R.N.-B.C., M.S.N. started her nursing career at UC Davis Medical Center as a new graduate in 2005 at the Accelerated Access Unit East 4 (Medical- Surgical Unit) after receiving her ADN from Bakersfield College in 2004.

While working full time as an RN in East 4, Monica completed her BSN (2009) and MSN in Nursing Education (2012) at CSU Dominguez Hills. Monica completed her Master's preceptorship at the Center for Professional Practice of Nursing at UC Davis Medical Center where she developed two radiation safety online modules and participated in multiple EMR and new equipment related teaching sessions.

Monica's teaching experiences include unit preceptor for 6 years; clinical resource nurse 6 years; unit in-services 6 years; collaboration with CPPN with CPR skills check-off; salon discussion; and skills teaching for the Nurse Residency Program.

Monica is currently the New Graduate Nurse Residency Program coordinator. She strives to ensure positive learning experiences while developing registered nurse's professional practice and to assist new graduate nurses with their transition to practice from advance beginners to competent professional nurses.
e-mail: miaguilar@ucdavis.edu