Monica Aguilar, M.S.N., R.N., N.P.D.-B.C.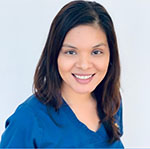 Monica Aguilar started her nursing career at UC Davis Health as a new graduate nurse on November 23, 2005, on East 4 the Accelerated Access Unit. There she served as a CNI, CNII and CNIII. In 2013, Monica joined the Center for Professional Practice of Nursing (CPPN). As a Professional Development Specialist at CPPN, Monica strives to promote professional development for new and experienced staff by providing fun and engaging educational activities that promote learning and growth.

Monica coordinates and has co-led programs such as New Graduate Nurse Residency, Rising Nurse Leaders, Preceptor Program, Bridges to Excellence, and the Rehab to Acute Care-Tele Transition to Practice program. Current course teachings include the Unit Based Practice Council: Tools to Success class, Recognize, Respond and Rescue course, Blended Introduction to Precepting class, and various nursing orientation sessions.

Monica has presented a poster presentation at the 2019 Association for Nurses in Professional Development (ANPD) conference and 2022/2023 UC Davis Health Professional Governance Conference, oral presentations at the 2021 ANPD conference and 6th International Conference on Nursing Science & Practice 2023. Monica co-authored two preceptor columns in the Journal of Nurses in Professional Development (JNPD).
e-mail: miaguilar@ucdavis.edu