Prep Médico inspires Latino students to pursue health careers
About 300 scholars have graduated from summer program since 2016, thanks to partnership between UC Davis and Kaiser Permanente
(SACRAMENTO)
Jair Lopez-Rodriguez, a community college sophomore and child of Mexican immigrants, is intrigued at the thought of becoming a doctor.
His curiosity often leads him to YouTube where he spends hours watching "day in the life" videos of physicians who record their comings and goings in hospitals.
So, imagine his excitement at being chosen for a summer program at the UC Davis School of Medicine, which invites undergrads like him to an exclusive, behind-the-scenes look at medical careers. Over a 6-week period, he shadowed doctors, observed procedures in operating rooms and attended talks led by inspirational physicians. He also learned strategies for how to apply to medical school.
Oh, and he got to dress the part, too, wearing scrubs.
"I could not believe my eyes when I entered through the 'employee entrance only' door," he said. "I actually felt like a doctor, and it was the best experience I could ask for this summer."
Lopez-Rodriguez is one of 25 students who took part in the latest session of Prep Médico, a program designed by the UC Davis School of Medicine and Kaiser Permanente. The goal is to identify the next generations of physicians and other health professionals committed to advancing Latino health. About 6% of California doctors are Latino — a deep disconnect from the state's population, which is about 40% Latino.
When I applied to Prep Médico, I had in mind, 'I want to be a doctor.' But now, I changed my mind to, 'I'm going to be a doctor.'"
An immersion experience
Prep Médico — Spanish for "Preparando Estudiantes Para Ser Médicos," or Preparing Students to Be Physicians — is a multifaceted, year-round initiative that's heavy on mentorship. But the summer program that started in 2016, Navigating Your Path Into Medicine, is the highlight.
Participants are first- or second-year college students from Northern California or the Central Valley who are exploring health careers serving Latino communities.
They stay in dorms at California State University, Sacramento, and get transported to the UC Davis Health campus in Sacramento for classroom meetings on Mondays, Wednesdays and Fridays.
On Saturdays they volunteer alongside UC Davis students at Clínica Tepati, a student-run clinic.
And every Tuesday and Thursday they shadow physicians in a wide-ranging variety of departments at UC Davis Medical Center and Kaiser Permanente hospitals in Roseville, Sacramento and South Sacramento.
"Seeing the excitement in these students' eyes about our profession, and maybe a belief that they can be a part of it too, has been very fulfilling," said UC Davis School of Medicine Professor Amrik Singh, interim chair of the Department of Anesthesiology and Pain Medicine. Faculty and staff in his department have been enthusiastic supporters of Prep Médico since the program started.
The scholars are awestruck year after year when meeting Latino doctors who don't fit the stereotypical profile of students who go into medicine. This includes UC Davis Health cardiothoracic surgeon Luis Godoy, the son of farmworkers who at one point dabbled in a gang, dropped out of high school then turned his life around.
Scholars also hear from doctors such as Jorge Garcia, a professor of internal medicine who confessed to scholars he felt like "el patito feo" (the ugly duckling) in medical school because his background was so different than everyone else's. The experience didn't deter him from his dreams of becoming a physician, and he's now a popular mentor for Latino students at UC Davis School of Medicine.
Prep Médico classroom time includes:
Question-and-answer sessions with panels of physicians who explain what it's like to be their shoes and what it took to get there
Immersion into timely topics such as health equity and social determinants of health
Taking a leadership personality assessment to learn about personality types to know how they'll fit in among a team of health care providers
Advice on how to write an effective personal statement, the essay that is critical for a medical school application
Academic enrichment courses
A hands-on robotic surgery simulation led by cardiothoracic surgeons
CPR training
"Our students are looking at coursework within the six-week program to strengthen and solidify their holistic, scientific and leadership identity," said Prep Médico Director Mercedes Piedra. "Then they identify health disparities, specifically for our historically underrepresented communities that continue to be underserved in medical and health care."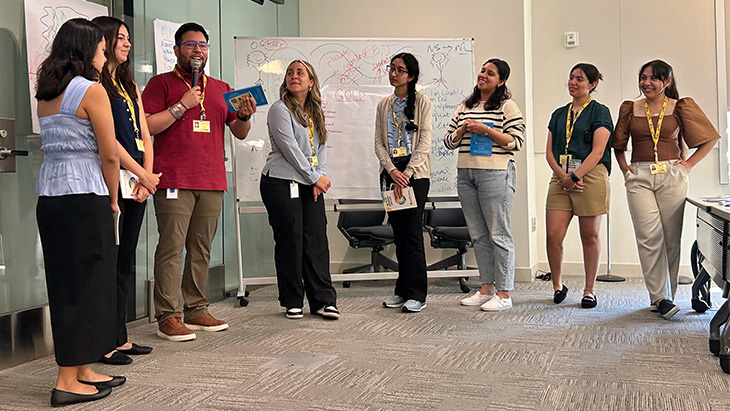 Shadowing an anesthesiologist
On an action-packed afternoon in the middle of July, Prep Médico scholar Melisse Lopez followed anesthesiologist Mathew Malkin at UC Davis Medical Center as he walked a brisk pace from a busy surgery office, through numerous hallways, into and out of elevators and then procedure rooms.
"Today was amazing," said Lopez, wearing green scrubs in a hallway between procedures. "It's been very inspiring just to be able to see different facilities and specialties — it broadens the ideas and possibilities of health care."
Lopez is a sophomore at California State University, Stanislaus. She first became interested in a health career after her grandfather underwent two below-the-knee amputations related to diabetes.
The aspiring occupational therapist remembers accompanying him to appointments during her childhood. She decided on a career that allowed her to "give back and be able to help underserved communities, specifically by being able to translate for Hispanics and Latinos."
The Prep Médico experience was the highlight of her summer. "From hands-on learning, webinars, presentations and clinical observation hours, the Prep Médico team strived to grow our knowledge of health care and succeeded."
She added: "I was like a sponge soaking up all the knowledge I could absorb. They gave us many opportunities that I am extremely grateful for."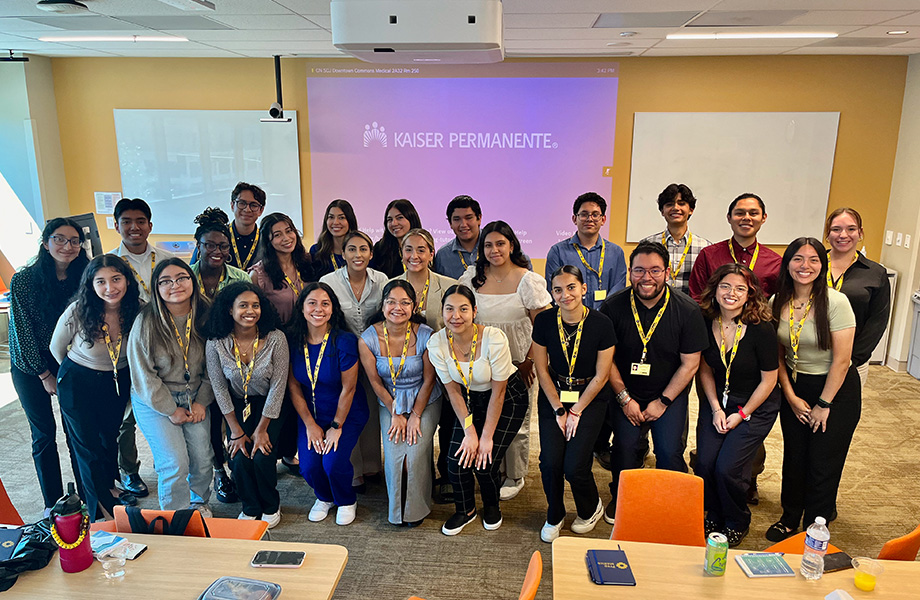 Prep Médico alums are entering health careers
A total of 297 scholars have been through Prep Médico over the past eight years. Many are now studying in a professional school, reports Piedra, the program director.
Some students are at the UC Davis School of Medicine, while others are seeking master's degrees in public health, doctoral programs, nursing and pursuing physician assistant careers.
"It's amazing," exclaimed Piedra, who has been leading the program since its inception. "It is absolutely amazing."
Kaiser Permanente leaders are impressed with the program's potential to boost the number of Latinos in the physician workforce.
"When you are a patient, you want to be seen by somebody that you trust, and oftentimes, the person you trust the most is the person that can speak your language, or identify with you culturally," said David Roldan, a Kaiser Permanente family medicine physician. He cares for patients and hosts Prep Médico scholars at the bilingual "Salud en Español" clinic at Downtown Commons Medical Offices in Sacramento.
When providers share a common language or culture with the patients, Roldan said, the patients have better health outcomes.
"We want to encourage all the underrepresented minority students to pursue that degree in medicine," Roldan said. "The goal of this program with UC Davis and Kaiser Permanente is to help students get to that next level… and hopefully inspire the next generation of physicians."
The program begins to wind down
Prep Médico launched with a generous donation from Kaiser Permanente, a major non-profit health care provider with more than 17,000 doctors in California.
The funding has covered the annual summer program, including stipends for the scholars, but the project is winding down. The class that graduated on July 21 was the last cohort of Navigating Your Path Into Medicine. The program's budget over the next two years will cover support services for alumni. This will include setting up shadowing hours with doctors, creating research opportunities and providing financial aid to help pay for their Medical School Admission Test.
Prep Médico leaders also will be taking part in a research study that tracks the career trajectory of alums and measures the program's success. The goal is to publish outcomes, which could encourage other organizations to start similar pathway programs, Piedra said.
The UC Davis partnership and shared vision with Kaiser Permanente, Piedra added, has provided students "with a wealth of resources and developed a wonderful curriculum that encourages them to be the future leaders and future physicians that we need them to be."
Lopez-Rodriguez, the community college scholar from the College of San Mateo, is immensely grateful for the summer program. It exposed him to dozens of physicians, and the need for "more representation of Latinx people in the health care field to help our underserved Latino population," he said.
"When I applied to Prep Médico, I had in mind, 'I want to be a doctor.' But now, I changed my mind to, 'I'm going to be a doctor.'"
And who knows, maybe he'll star in his own "day in the life" video series and inspire a new generation of Latino physicians.