Cornea and External Disease Service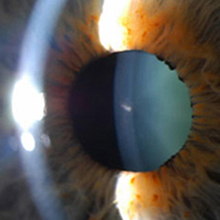 The Cornea and External Disease Service at the UC Davis Health System Eye Center, provides consultation for medical and surgical management of the full range of routine, complex and high-risk corneal and external eye diseases.
Corneas can be damaged through inflammation, degeneration, allergies, infections, injuries and inherited-dystrophies. Treatments may range from lifestyle adjustments, such as eliminating allergens, the use of visual aids and medications, to refractive surgeries and corneal transplantation.
Diagnosis is achieved with the latest precision technologies, including the most exacting digital imaging equipment available and an on-site ocular pathology lab.
Innovative surgical techniques
The Eye Center's cornea and external eye disease team maintains a leading edge in the most innovative surgical techniques, including:
Standard penetrating keratoplasty
Lamellar keratoplasty, a delicate procedure which replaces outer layers of the cornea with layers from a donor cornea.
Descemet's Stripping Automated Endothelial Keratoplasty (DSAEK), a new technique that results in faster wound healing and smoother surfaces.
Keratoprosthesis, a highly specialized procedure in which an artificial cornea is implanted as an effective alternative for patients who cannot receive transplanted donor corneas.
Femtosecond laser surgery (bladeless corneal surgery)
The Cornea and External Eye Disease Service also serves as a regional resource for the management of difficult and sight-threatening external eye diseases, such as bacterial ulcers, severe viral disease, dry-eye syndrome, oculodermal disorders and the broad range of diseases known as uveitis.