Deans' Award for Excellence in Equity, Diversity and Inclusion - Faculty Member
The Deans' Award for Excellence in Equity, Diversity and Inclusion - Faculty Member recognizes outstanding faculty contributions in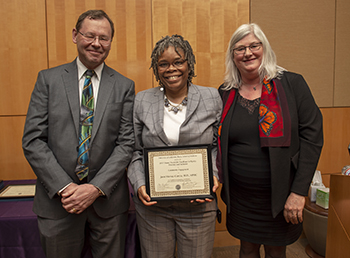 the areas of Research, Education, Clinical Care and Community Engagement.
The purpose of the award is to reward the outstanding performance of an Academic Federation or Academic Senate faculty member and to acknowledge their contribution as a transformative leader in equity, diversity and inclusion in our collegial community.
Each fall we accept nominations of faculty who demonstrate transformative leadership qualities. All faculty are eligible to be nominated. Anyone can submit a nomination.
The award categories are:
Education – provides outstanding learning opportunities by utilizing innovative teaching methods that integrate equity, diversity and inclusion into their curriculum development and teaching
Research – makes high-impact discoveries that focus on reducing/eliminating health inequities
Clinical Care – provides high-quality, patient-oriented, culturally-responsive care services
Community Engagement – enhances the quality of life of our local and regional communities by demonstrating a drive to reduce/eliminate health inequities (Community organizations are also welcome to submit nominations for faculty who have demonstrated transformative leadership qualities in the community.)
Awardees receive a cash award and are honored at a special reception.
The next call for nominations will take place in the fall of 2019.
---