Clinical Staff
Nursing
Judy Kauffman, R.N., M.S., C.P.N.P.
Adult Nurse Coordinator
Judy received her B.S.N. degree from California State, Dominguez Hills and both her M.S. and C.P.N.P. degrees from Georgia State University. She has been a hemophilia nurse for many years. She started her career in bleeding disorders at Emory University, then moved to Kansas City to serve hemophilia treatment center patients for nine years. Subsequently she joined Bayer Healthcare, where she worked as an educator in the Midwest and then on the west coast. Ms. Kauffman has a special interest in women with bleeding disorders and helping patients transition from pediatric to adult care.
When not working Judy enjoys spending time with her family, traveling and riding her bike. She is excited to be at the UC Davis Hemophilia Treatment Center (HTC) and looks forward to meeting the patients and families.
---
Jennifer Michals, R.N.-B.C., M.S.N.
Pediatric Nurse Coordinator
Jennifer received her B.A. from San Francisco State University and began her clinical career at Lucille Packard Children's Hospital. She received her Master of Science in Nursing from San Francisco State University's School of Nursing, and is a clinical nurse specialist in pediatrics.
Jennifer joined UC Davis HTC in 2017, after more than six years caring for pediatric patients on the medical/surgical and cardiac units at Lucille Packard Children's Hospital. As our Pediatric Hemophilia Nurse Coordinator, her duties include providing nursing care for patients with bleeding and clotting disorders, participating in treatment care planning, assisting with medication management and providing ongoing education to patients and their families. Jennifer is also involved with our pediatric clinical trials and qualitative research projects.
Outside of work, Jennifer enjoys dogs, cooking and traveling.
---
Kim Schafer, M.S.N. , F.N.P.-C.
Nurse Practitioner
Kim Schafer is a Family Nurse Practitioner who specializes in caring for children and adults with hemophilia or other bleeding and clotting disorders.
Kim earned a Bachelor of Science degree in Psychology from the University of California, Davis and an undergraduate degree in Nursing from Samuel Merritt University. She earned a Master of Science degree from Sacred Heart University and a Post-Master's Certificate as a Family Nurse Practitioner from Samuel Merritt University.
Kim joined the UC Davis HTC team in 2000. In addition to providing patient centered care to patients and families, she is actively involved in several clinical trials for improving the clinical management of bleeding and clotting disorders. Before turning her focus to the care of patients with inherited bleeding and clotting disorders, she was a hospital nurse for nine years in the pediatric intensive care/special care unit at UC Davis Medical Center.
She is board certified as a Family Nurse Practitioner and as a hemostasis nurse. She serves on the Board of Directors for the Central California Hemophilia Foundation.
Outside of work, she enjoys spending time with her family, traveling and is an avid photographer.
---
Physical Therapy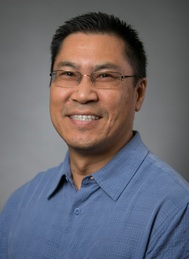 Curtis W. Yee, M.S.P.T., R.M.S.K.
Physical Therapist
Curtis is a native of Sacramento. He received a degree in Psychology from CSUS and a Master's degree in Physical Therapy from the University of the Pacific. He has been a therapist for over 30 years and has worked in most settings, including Acute Care, Home Health, Skilled Nursing Facilities, Outpatient, and Sports Medicine. Curtis has interests in Orthopedics and Sports and Work injuries.
He also enjoys helping rehabilitate the community to optimal physical health, as well as teaching others to rehabilitate in fun and functional ways versus "exercising." Teaching Tai Chi for Rehabilitation classes is one way in which Curtis makes this process fun. He especially enjoys attempting to pin-point the causes of musculoskeletal problems and then empowering patients on their path of recovery and rehabilitation.
UC Davis HTC is a leader in the application of Musculoskeletal Ultrasound (MSKUS) imaging in joints and muscles for the bleeding population, and in 2019 Curtis earned the Registered in Musculoskeletal Ultrasonography certification.
When not at work, Curtis is known as Sensei Yee, teaching self-defense classes to children and youth.