Faculty 2022

Faculty awards
A sampling of recent research awards at the Betty Irene Moore School of Nursing. For more listings and news, please visit our newsroom and follow us on social media.
Julie Bidwell secures K01 Award
Assistant Professor Julie Bidwell received a National Institutes of Health Mentored Research Science Career Development Award. The three-year, $450,000 grant investigates hospital-to-home transitions for older adult couples who are managing heart failure. Bidwell's study, "The Symmetry-HF Study: Symptom Dynamics and Clinical Biomarkers of Heart Failure in Older Adult Care Dyads After Heart Failure Hospitalization," examines hospital-to-home transitions for older adult couples who are managing heart failure, with the goal of developing interventions to support better symptom response and management during these transitions. Known as a K01 award, the grant provides support and protected time for an intensive career development experience leading to research independence.
Harnessing informatics solutions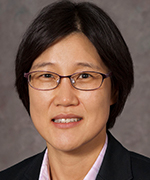 Associate Professor Tae Youn Kim provides health informatics expertise as coinvestigator on two National Institutes of Health (NIH) Research Project Grants led by colleagues in the UC Davis School of Medicine. These two five-year studies examine associations of patient-reported fatigue with the objective assessment of physical dysfunction in individuals with chronic kidney disease and metabolic acidosis and the impact of a home-based exercise program on improving both self-reported patient outcomes and objective measures of physical function in individuals with end-stage renal disease. Kim, a health informatics expert, says harnessing informatics solutions for data processing, visualization and mining is important to assist patients to understand their health status, maintain functional independence and prevent mobility disability.
"Impact of Metabolic Acidosis on Muscle Mitochondrial Energetics, Metabolic Health and Physical Endurance in Persons with Chronic Kidney Disease"
"Role of Mitochondrial Dysfunction in the Response to Exercise in Patients with Advanced Kidney Disease"
National League for Nursing supports research for inclusive teaching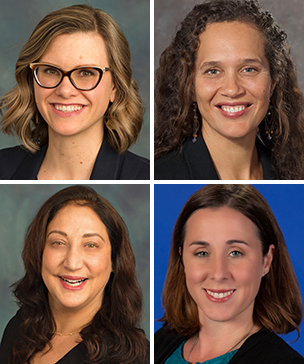 Nursing faculty Jessica Draughon Moret and Piri Ackerman-Barger, pictured from top left to right, along with Amy Nichols and Jennifer Edwards, pictured bottom left to right, received a $30,000 award from the National League for Nursing for the project, "Exploring Inclusive Teaching Practices during Simulation Experiences." The project explores whether the strategies that health professions educators engage in during simulation are inclusive of underrepresented, underserved or marginalized students and do not inadvertently embed bias and stereotypes into the learning outcomes.
Family Caregiving Institute evaluation unit advances caregiver services work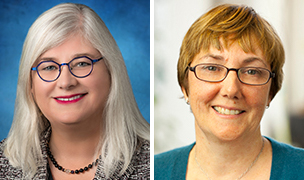 Thousands of California caregivers tap into a statewide network of organizations for support in the complex tasks they handle. Now those organizations benefit from an evaluation team at the Betty Irene Moore School of Nursing. Professors Heather M. Young, pictured left, and Janice F. Bell, pictured right, along with Family Caregiving Institute program team members Jennifer Mongoven, Benjamin Link and Jessica Famula work with the Family Caregiving Alliance. The team secured a five-year contract to evaluate a statewide expansion of the California Caregiver Research Centers' (CRC) CareNav™ system. As part of this $1 million contract, the team will evaluate the new technology application utilized by the 11 CRCs to promote uniform quality practices and increase the number of caregivers who receive services in the state. This expansion is funded by the California Department of Health Care Services.
This team, along with former postdoctoral scholar Tina Kilaberia, worked with a group of Lou Gehrig's disease, or ALS, participants to conduct a systematic review to explore support systems for those with ALS and their caregivers. The team recently received a $10,000 donation to hold focus groups to identify the needs of caregivers in terms of home care.
Young also served as a subject-matter expert with AARP to produce a series of videos based on pain management. The $42,878 project is part of the Home Alone Alliance's Family Caregiving How-To Video Series. The results are published in a special issue of the American Journal of Nursing and the videos are available online in both English and Spanish and are free of charge.
HIV exposure decision aid
Among individuals exposed to HIV, post-exposure prophylaxis (PEP) is effective and potentially cost saving if initiated in a timely manner and completed fully. In this three-year, $750,000 study, Assistant Professor Jessica Draughon Moret develops, refines and validates a technology-delivered patient-provider decision aid to assist providers in better understanding and effectively implementing HIV PEP in practice. Funded by the National Institutes of Mental Health, the study also aims to assist patients to better understand their HIV PEP decision and successfully complete the treatment.