Apheresis

---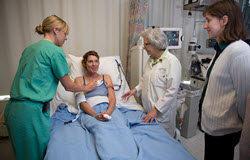 Apheresis patient Karen Euse traveled from Reno, Nevada for photopheresis treatment.
The primary function of apheresis services is to provide consultation and support to the stem cell transplant and other transplant programs by:
Collecting adequate numbers of peripheral blood stem cells for transplantation. Collection standards meet all clinical, laboratory and regulatory requirements.
Serving as an official apheresis collection center for the Be the Match National Marrow Donor Program (NMDP).
Providing extracorporeal photophoresis (ECP) to patients with acute and chronic graft vs. host disease (GVHD) following stem cell transplants, as well as to patients with lung transplant rejection.
Participating in protocols that involve plasma exchange to avert kidney transplant rejection.
The Division also provides 24-hour consultation, execution, and monitoring of therapeutic apheresis procedures to all UC Davis clinical services, as well as other health systems in the greater Sacramento area. Therapies include plasma exchange, red cell exchange, leukoreduction and platelet reduction in addition to photopheresis. Members of the division are also involved in clinical apheresis research.
In addition to contributing to the professional development of the transfusion medicine fellow, members of the apheresis faculty are involved in teaching pathology residents and other medical trainees in the clinical applications and appropriate use of this specialized therapeutic modality.
Contact Apheresis Services at 916-734-3732.