Sickle cell patient rings the bell to celebrate milestone
(SACRAMENTO)
Equipped with bubble blowers and noise makers, doctors, nurses and staff members lined both sides of the patient walkway in the UC Davis Pediatric Infusion Center recently. They were there to cheer on 10-year-old sickle cell patient Cameron Bowers Woods as he walked to the brass bell.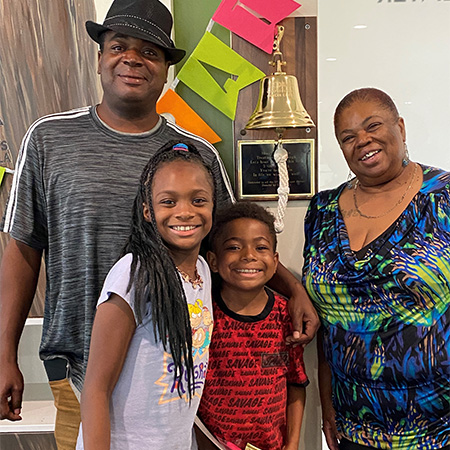 Cameron gave high fives and big grins to the team members that have become like family.
Once he reached the bell, pediatric hematology-oncology physician Arun Panigrahi read a short poem, written just for Cameron:
Congratulations, Cameron!
Hooray for you!
You made it through
Your meds are in, your port is out
You'll ring the bell and we'll give a shout
Three times strong
Let's not delay
It's time to give a big hooray!
Then, with a big smile and a strong hold on the rope hanging from the bell, Cameron rang it three times strong. The room erupted in applause and cheer.
For cancer patients, ringing the bell is a tradition that marks the end of treatment. It is a celebration for the patient, their family and their care team. But a sickle cell patient had never rung the bell before. Until now.
This month, Cameron became the first sickle cell patient to ring the brass bell in UC Davis Comprehensive Cancer Center history. It signified a monumental milestone in Cameron's patient journey at UC Davis Health.
"You were the first sickle cell patient to ring the bell here," said child life specialist Jenny Belke, explaining the magnitude of this moment to Cameron.
"In history?" Cameron asked.
"In history," Belke confirmed.
"Wow," Cameron whispered.
The bell ringing commemorated Cameron's recent accomplishment of taking his medication orally, every day without fail, meaning fewer clinic visits. His port-a-cath, an implantable port that provides direct access to his central line, was removed since he no longer needs to receive his medicine through the port.
Now, Cameron only needs to come for treatment every three months.
"We are all so proud of Cameron and his dad for their hard work," Belke said. "It has been a journey, but they have persevered and it has paid off."
When asked what it felt like to ring the bell, Cameron declared, "It feels good!"
What is sickle cell disease?
It is an inherited genetic illness caused by a DNA mutation. The sickle mutation causes hemoglobin, which is found in red blood cells and carries oxygen to all the parts of our body, to form fibers that change round and flexible red blood cells to a shape that is stiff, sticky and sickle shaped. These misshapen cells may get clogged in the smaller blood vessels in the body, leading to tissue damage. That causes many of the complications of the disease that affect every organ system and create both chronic and acute pain.
Sickle cell disease (SCD) is the most common inherited genetic illness in the United States, affecting more than 100,000 people in the country and about 7,000 people in California. UC Davis Comprehensive Cancer Center cares for more than 200 individuals with SCD. September is Sickle Cell Awareness month.
Cameron and his 11-year-old sister Nyla Bowers Woods have received care for sickle cell disease at UC Davis Health since 2019.
"The staff, the whole organization go the extra mile for the kids," said Major Woods, father to Cameron and Nyla. "They really roll out the red carpet for us! When we're there for all day appointments, they have arts and crafts, puzzles, fun things. The kids really look forward to their appointments."
Nyla said that she plans to be next in line to ring the bell. She has been motivated to take her medication every day and follow in her brother's path to success.
"If you have sickle cell, you can beat sickle cell," Nyla said.