Welcome Remarks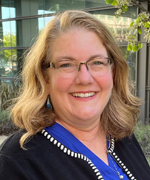 Dr. Angela E. Usher, Ph.D., L.C.S.W., Supportive Oncology and Survivorship Manager holds a doctorate from UC Davis in nursing science, is a Licensed Clinical Social Worker and has a specialty certification in oncology social work. She serves as the Manager of Supportive Oncology and Survivorship at UC Davis Health Comprehensive Cancer Center. Dr. Usher has worked in patient care, program development and education and research at the cancer center for the past 10 years, as well as chairs the Financial Navigation Workgroup, and the Supportive Oncology Research and Education Steering Committee. (preferred pronouns: she/her)
Create Arts Therapy
Jennifer Miller, M.A., A.T.R. is a registered art therapist specializing in a person-centered, integrative approach. As an art therapist, Jennifer provides a safe, non-judgmental, and creative space for patients to cultivate self-expression, foster self-esteem, and process trauma and loss. She is a facilitator of Opening Minds through Art (OMA), trained in Mind Body Stress Reduction techniques as well as reiki. In addition to providing art therapy at UC Davis Health Comprehensive Cancer Center, Jennifer co-facilitates several support groups for bereaved children and young adults. (preferred pronouns: she/her)
Music Therapy
Celeste A. Keith, MT-BC has been a board certified music therapist for 42 years. She is the owner of THE MUSIC WORKS Music Therapy Services headquartered in Sacramento, CA. Celeste served as Chair of the Certification Board for Music Therapy, Inc. overseeing consumer quality assurances and regulatory practice in music therapy. Her work covers oncology, traumatic brain injuries, autoimmune diagnoses, aging, developmental progress, self determination, and community wellness groups including cancer survivors. She has worked with persons from 3 weeks to 104 years old and partners with individuals, caretakers, neurological rehabilitation, special education as well as large medical systems using tailored music experiences to better the psychological and physiological needs of the people she serves. (preferred pronouns: she/her)
Contact Info: 916-531-1930 | celestekeith.mwmts@gmail.com

Jammin' Jivin' Jazzin' Joy! — I've Got the Music In Me! Music plays a subtle yet powerful role in our lives. It shapes our attitudes and pulls at our heart strings. It directs our biology and inhabits our vitality. It welcomes everyone and speaks a language all understand. This session will be filled with fail safe—-musician-proof "I can't carry a tune in a bucket" fun experiences that celebrate your journey in survivor—thriver-—ship while also providing practical tips on how to use music in your ongoing self care customs.

CAUTION!!—this session may cause sudden outbursts of joy-energy-satisfaction-and the ever-worrisome "grooving."
Dance Movement Therapy
Nandi Szabo, M.A., ADTR, is an Expressive Art Therapist and Registered Dance Movement Therapist and offers an energetic and integrated healing opportunity using words, art, movement, music, writing and drama. In a safe environment she focuses on what seeks expression and the growth opportunity during times of change and transitions. high stress, emotional trauma, spiritual angst, life threatening illness, a broken heart or big losses.
Explore opening to greater well-being and a sense of wholeness through the dynamic guided methods of Expressive Arts Therapy, which offer clients a creative lens for gaining insight and healing connections with one's mental, emotional and spiritual integrity, experiences which may not be available through the more traditional types of verbal or behavioral therapies.
Dance Movement Therapy offers a creative lens on healing bridging how we feel how we think and how we move. Explore how to listen to the wisdom of the body and try on some tools to put in your medicine bag. When we move we feel. Bring awareness to what is seeking expression.
Writing as Healing
Writing as Healing Write into Life After Cancer
Presenter: Terri Wolf, Terri Wolf, R.N., M.S.
Find out how a pen and paper can help you write into life as a cancer survivor. Zero writing experience needed to put a few words on the page in this inspiring session about our Writing as Healing program. BONUS —get a sneak peek at our first anthology of writing by survivors and others impacted by cancer.
Download sentence starters here
Download 'Writing Through Life' the first Writing as Healing Anthology here
Closing Remarks
Mia Wilson, R.N., B.S.N., O.C.N., is a Nurse Navigator for cancer survivors who holds an Oncology Nurse Certification and expertise in effects of cancer treatment, surveillance needs, and quality of life issues in cancer survivors. One of her primary goals is to help cancer patients make a smooth transition from cancer treatment to post-treatment recovery. Mia has been with UC Davis Comprehensive Cancer Center for over 17 years and has experience in multiple areas of oncology care. Mia serves as a member of the Cancer Center Unit-Based Practice Counsel and Supportive Oncology Research and Education Steering Committee. (preferred pronouns: she/her)
Mistress of Ceremonies
Silvia Molina is the Community Education Specialist in Supportive Oncology and Survivorship at UC Davis Health Comprehensive Cancer Center with experience in Palliative Care, Hospice, and over 16 years in non-profit business development and administration. Silvia networks with local and national organizations to promote access to the latest information in oncology care, supportive resources, and advocacy efforts. She has a passion for conference development, learning about and sharing information on innovative services, and organizing and promoting educational opportunities for cancer patients and their families. Silvia holds a bachelor's degree in Gerontology, from CSU, Sacramento. (preferred pronouns: she/her)
See the list of art submissions featured in the virtual gallery here