School of Medicine leads effort to vaccinate vulnerable people who lack access to care
Dozens of volunteers are setting up tents to provide COVID-19 shots at community events in medically underserved areas
(SACRAMENTO)
Mark Henderson and his fellow physicians were alarmed when they noticed that nearly 90% of COVID-19 patients they treated this summer at UC Davis Medical Center were unvaccinated.
Many of those patients, they observed, spoke either Spanish or Russian, which seemed to suggest that immigrants from Latin America and Ukraine lacked accurate information about the vaccine or had refused receiving it all together.
Henderson and his colleagues from the UC Davis School of Medicine pored over California Department of Public Health vaccination data, which confirmed some of their suspicions. Then, they shifted their concern into action: They quickly connected with community partners and launched a vaccine effort that operates pop-up clinics. They visit grocery stores, festivals, churches, schools, a farmers market and apartment complexes – often in neighborhoods with dismal vaccination rates.
The all-volunteer initiative is headed by the School of Medicine, which has long made it a priority to reach out to underserved communities. The mobile clinics are staffed by UC Davis Health doctors, employees and dozens of students from the School of Medicine and the Betty Irene Moore School of Nursing at UC Davis.
Everyone involved is eager to advance health equity during the pandemic.
"The populations we are reaching out to are vulnerable," said Henderson, a professor of internal medicine and an associate dean with the School of Medicine. The zip code data provided by the state, he said, shows that people with the highest risk of infection and death live in lower-income communities and are the least likely to be vaccinated. Those in higher-income communities, he noted, have the easiest access to the COVID-19 vaccine.
"This is a classic example of a disparity in health care," Henderson said, "so we're trying to turn that around."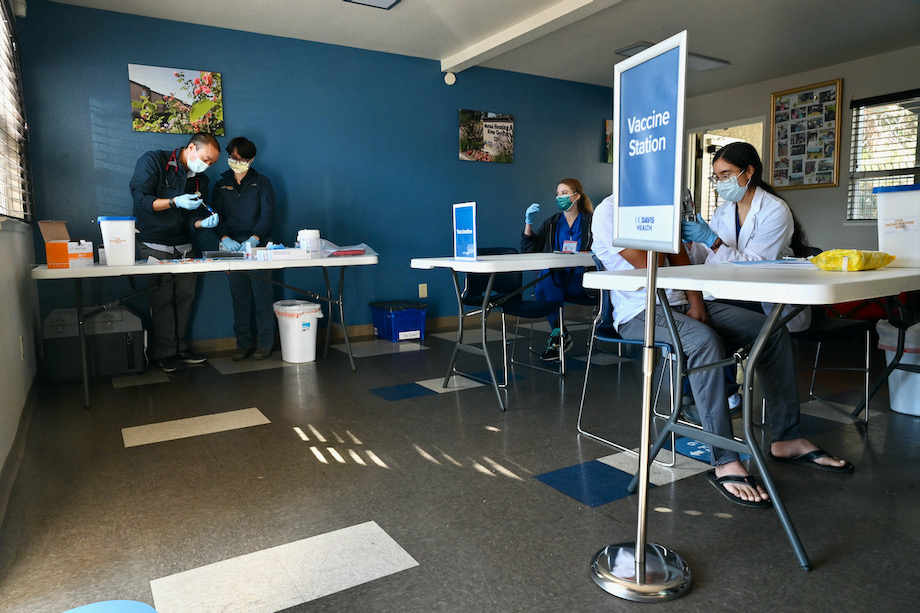 A history of reaching the underserved
This isn't UC Davis Health's first effort to vaccinate the local community.
Ambulatory Care Operations at UC Davis Health and several community partners administered tens of thousands of vaccines when the COVID-19 shot became widely available earlier this year. As interest in the vaccine declined, however, the community vaccination efforts ceased.
But when the summer surge sent unvaccinated patients to the hospital, faculty members worked closely with the School of Medicine dean's office to develop a targeted approach to educate and vaccinate residents of disadvantaged neighborhoods.
"It's an inspiring volunteer-driven effort that highlights the dedication of our faculty, staff, medical and nursing students, and medical residents, to improve care for our most vulnerable communities," said Allison Brashear, dean of the UC Davis School of Medicine. "This is yet another example of UC Davis' long-standing commitment to health equity."
The latest data show the lowest vaccination rates are in highly diverse pockets of unincorporated Sacramento County: North Highlands, Rio Linda and Elverta top the list.
This volunteer effort is built on contributions in time, expertise and supplies from units across UC Davis Health including the Ambulatory Care Division and Pharmacy. Several current and retired faculty members attend the clinics to answer questions from the public, provide medical oversight and teach students how to administer the injections. Vaccine doses are graciously provided by a team led by UC Davis Health Assistant Chief of Pharmacy Tim Cutler.
More than 120 students from the medical and nursing schools responded to the initial call for volunteers, said A. Elise Bryant, office manager for Dean Brashear who helps coordinate the clinics.
What motivates me is that even one shot in one arm makes a difference, in that you reduce the risk of that person acquiring COVID and spreading it to someone who is vulnerable.
Meeting people where they are
"I feel very good about being part of this effort and I'm glad to be here," said Elizabeth Ruiz, a first-year student in the Master's Entry Program in Nursing who has volunteered at numerous clinics. "Every opportunity that comes up, I'm there to sign up because we need to get people vaccinated," she said, "and I love what UC Davis is doing."
Ruiz noted the importance of bringing the vaccine to locations convenient to the people who need it, such as an apartment complex where many Afghan families live. Or across the street from the complex, where Ruiz vaccinated a man living in his camper.
People receiving the shots are grateful to get vaccinated near where they live, work or shop – and they appreciate that volunteers are often bilingual.
Oscar Pineda said he typed a Google search on his phone to the effect of "vaccine near me," which led him to the UC Davis booth at the Oak Park Farmers Market one afternoon. "I was looking for somewhere where I can get it really fast," he said.
Since the effort began in mid-August, UC Davis has provided several hundred vaccines, mostly in Sacramento County.
The success of the clinics is due in large part to solid partnerships with established organizations such as the Health Education Council, which is well connected to many community groups. Other partners include La Familia Counseling Center, Gardenland Northgate Neighborhood Association and local elected officials, who have been critical to the success of this effort.
Three vaccination clinics took place in the parking lot of La Superior, a grocery store in North Sacramento popular with Latinos. At a recent Sunday clinic there, Ruiz and first-year medical student Patrick Hazelrigg vaccinated 68 people.
The store's manager, whose son is a UC Davis School of Medicine graduate, is an enthusiastic supporter of the clinics.
Another popular site is River Garden, a 123-unit apartment complex in South Natomas where the average household income is roughly $32,000. Dozens of tenants have been vaccinated in the leasing office of the complex, which is owned by Mutual Housing California.
Dealing with vaccine hesitancy
Other venues have proved more challenging.
Pediatrician Douglas Gross spent a late afternoon walking around the Oak Park Farmers Market near UC Davis Medical Center, trying to entice people to the UC Davis Health pop-up tent for a Pfizer vaccine. Only two people accepted.
"This is one of the communities that has a lower vaccination rate," said Gross, who also teaches anatomy to medical students. "We know from the data that this community is not saturated yet, but there's a lot of hesitancy. So, all we can do is show our presence and offer the vaccine – not make people feel guilty but to try and educate them."
Physician assistant student Thuy Nguyen also walked through the farmers market seeking patients, including, she recalled, a woman who refused a flyer stating facts about the vaccine. "Doing something out here to help us fight the pandemic makes me feel really great for the experience," Nguyen said.
First-year medical student Skyler Pearson is in a unique position to provide the vaccine. Prior to medical school, Pearson was a senior clinical research coordinator who helped lead many of the COVID-19- related clinical trials within the School of Medicine, including the clinical trial for Pfizer's COVID-19 vaccine. The trial, under the guidance of Professor Timothy Albertson and others in the division of pulmonary and critical care medicine, allowed participants at UC Davis Health to receive the COVID-19 vaccine about six months before the general public.
"I appreciate the opportunity to volunteer with my fellow classmates at these important UC Davis outreach events," Pearson said. "It is satisfying to play a part in the pandemic response by offering the community an FDA-approved vaccine that was developed in part by our team here at UC Davis."
It makes me really proud to be an employee with UC Davis and part of this team that's vaccinating. This gets us into the community and builds trust, especially with our underserved communities.
Motivated to make a difference
Leaders of the vaccination effort said they're not discouraged at events where only a few people want the vaccine. The days when hundreds of shots were administered at a single event, they said, are over. The focus now is on meeting individuals where they are.
Reducing vaccine skepticism in someone who is hesitant can be a long process, yet the volunteers aren't pushy.
"What motivates me," Henderson said, "is that even one shot in one arm makes a difference, in that you reduce the risk of that person acquiring COVID and spreading it to someone who is vulnerable."
The volunteers said they are determined to make a difference.
"It makes me really proud to be an employee with UC Davis and part of this team that's vaccinating," said Andrea Núñez, chief administrative officer for the UC Davis Center for Reducing Health Disparities. "This gets us into the community and builds trust, especially with our underserved communities."
School of Medicine leaders plan more vaccination events through December.