Mark Henderson, M.D.
Mark Henderson, M.D.
Vice Chair for Education and Associate Dean for Admissions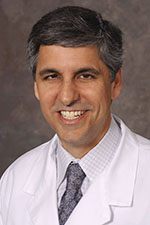 Mark Henderson, M.D. is a professor of internal medicine and the Vice Chair for Education and Associate Dean for Admissions at the UC Davis School of Medicine. He previously served as Residency Program Director for internal medicine at the University of Texas Health Science Center San Antonio and at UC Davis.
Dr. Henderson has won numerous teaching awards and currently holds the Dean's Endowed Chair in Teaching Excellence. He leads the Master Clinician Educator Academy at UC Davis School of Medicine, and has edited several books including The Patient History: An Evidence-Based Approach to Differential Diagnosis and the Toolkit for Internal Medicine Education. He is co-principal investigator of the Accelerated Competency-based Education in Primary Care (ACE-PC) program and the California Oregon Medical Partnership to Address Disparities in Rural Education and Health (COMPADRE), both funded by the American Medical Association.
Henderson has studied the MMI method for medical school interviews, including as principal investigator of the California Longitudinal Evaluation of Admissions Practices (CA-LEAP) consortium study across the University of California system, funded by the National Board of Medical Examiners. Other scholarly interests include medical student career choice, workforce development, utility of the medical history, and development of clinical reasoning. He has traveled extensively and done medical work in several Latin American countries, including Nicaragua, Costa Rica and Paraguay. His hobbies include downhill skiing and attending Bruce Springsteen concerts or major league baseball games with his family.