Larissa S. May, M.D., M.S.P.H, M.S.H.S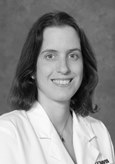 Title
Professor
Administrative Responsibilities
Director of Emergency Department Antibiotic Stewardship
Board Certification
Medical School
M.D. George Washington University School of Medicine and Health Sciences, Washington DC 2002
Residency
Emergency Medicine, George Washington University Medical Center, Washington DC 2003-2006
Research Interest
Antibiotic Stewardship
clinical infectious disease epidemiology and management
application of rapid diagnostic test in the ED setting
Publications
Qadri F, Mazer Amirshahi M, Fox ER, Hawley KL, Pines JM, Zocchi MS, May L. Antibacterial Drug Shortages from 2001 to 2013: Implications for Clinical Practice. Clinical Infectious Diseases 2015; 60(12):1737-42.
May L, Gudger G, Armstrong P, Brooks G, Hinds P, Bhat R, Moran G, Schwartz L, Cosgrove S, Klein E, Rothman RE, Rand C. Multisite Exploration of Clinical Decision-Making for Antibiotic Use by Emergency Medicine Providers Using Quantitative and Qualitative Methods. Infection Control and Hospital Epidemiology 2014; 35(9):1114-25.
May L, Klein E, Rothman RE, Laxmarinayan R. Trends in Antibiotic Resistance in Coagulase Negative Staphylococci, United States, 1999–2012. J of Antimicrobial Agents and Chemotherapy 2014; 58(3):1404-9.
May L. Mullins P. Pines J. Demographic and Treatment Patterns for Infections in Ambulatory Settings in the United States, 2006-2010. Academic Emergency Medicine 2014; 21(1):17-24.
May L. Cosgrove SE. L'Archeveque M. Talan DA. Payne P. Jordan J. Rothman RE. A Call to Action for Antimicrobial Stewardship in the Emergency Department: Approaches and Strategies. Annals of Emergency Medicine 2013; 62(1):69-77.e2