Robert E. Stowell Lectureship
Department of Pathology and Laboratory Medicine
2021 Robert E. Stowell Lecture
5 - 6 p.m.
Wednesday, September 8, 2021
Medical Education Building, #2222
Reception to follow in Breezeway Lobby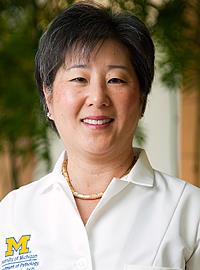 Kathleen R. Cho, M.D.
Peter A. Ward Professor of Pathology
Vice Chair for Academic Affairs
University of Michigan Medical School
"Ovarian Cancers: Where do they come from, why does it matter, and what are we doing about it?"
Objectives:
Recognize the potential for routine histopathological observations to be paradigm-shifting and practice-changing.
Understand how animal model systems can be used to address fundamental questions about disease pathogenesis that are difficult to answer in humans.
Observe examples of how animal model systems can serve as platforms with which to test novel strategies for cancer prevention, early detection, and treatment.
The Robert E. Stowell Lectureship supports the annual appointment of a distinguished scientist as a visiting lecturer at the UC Davis School of Medicine. The lectureship, established in 1991, is named for its founder, an internationally renowned pathologist and educator who, before his retirement, served as the first chair of the School's Department of Pathology and Laboratory Medicine. Dr. Stowell is the recipient of the nation's highest award in pathology, the American Association of Pathologists Gold-headed Cane.
Previous Recipients of the Stowell Lectureship
| | |
| --- | --- |
| 2018 | Abul K. Abbas, M.B.B.S. |
| 2017 | Eric J. Huang, M.D., Ph.D. |
| 2016 | Satdarshan Monga, M.D., Ph.D. |
| 2015 | Arlene H. Sharpe, M.D., Ph.D. |
| 2014 | Jeremy K. Nicholson, Ph.D. |
| 2013 | Thomas J. Giordano, M.D., Ph.D. |
| 2012 | Yuan Chang, M.D. |
| 2011 | Vinay Kumar, M.D. |
| 2010 | Stanley Cohen, M.D. |
| 2009 | Geoffrey S Ginsburg, M.D., Ph.D. |
| 2008 | Godfrey Getz, M.D. |
| 2007 | Stephen J. Galli, M.D. |
| 2005 | William A. Gardner, Jr., M.D. |
| 2004 | Helen M. Blau, Ph.D. |
| 2003 | Irving L. Weissman, M.D. |
| 2002 | Francis V. Chisari, M.D. |
| 2001 | Donald Orlic, Ph.D. |
| 2000 | Ronald S. Weinstein, M.D. |
| 1999 | Richard D. Klausner, M.D. |
| 1998 | Stephen J. DeArmond, M.D., Ph.D. |
| 1997 | Michael A. Gimbrone, Jr., M.D. |
| 1996 | Andrew H. Wyllie, MD, Ph.D. |
| 1995 | Fred Gorstein, M.D. |
| 1994 | Cheryl L. Willman, M.D. |
| 1993 | Peter M. Howley, M.D. |
| 1992 | Robert W. Wissler, M.D., Ph.D. |
| 1991 | Benjamin F. Trump, M.D. |