Xavier Becerra visits UC Davis Health pop-up COVID vaccine clinic at elementary school
Health and Human Services Secretary focused on improving health for Latinos, underserved communities
(SACRAMENTO)
U.S. Health and Human Services Secretary Xavier Becerra today visited a Sacramento elementary school where UC Davis Health hosted a COVID-19 vaccine clinic.
Becerra toured Language Academy of Sacramento near the edge of the Oak Park neighborhood where he observed some of the dozens of people getting first-time shots and boosters. He also chatted with parents, met with leaders of grassroots organizations and thanked UC Davis Health for focusing its community immunization efforts on reaching vulnerable populations.
At the visit, Becerra kicked off a national tour to discuss Latino health with a focus on addressing health disparities and increasing health equity.
"We are committed to closing the health disparities that set our community back — improving access to care and closing COVID vaccine gaps — because I want Latinos to not just survive but succeed," Becerra said.
UC Davis Health has been a leader in immunizing hard-to-reach communities in Sacramento and surrounding rural regions since early 2021 when the first COVID vaccines became widely available.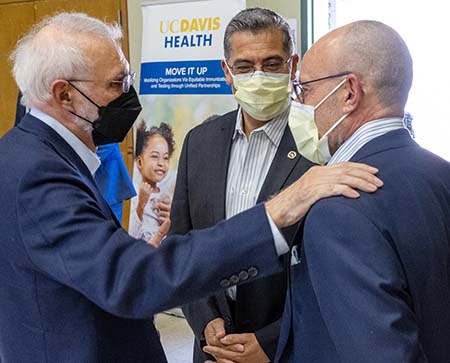 The Friday afternoon pop-up clinic in the school multipurpose room was part of a far-reaching initiative known as MOVE IT UP: Mobilizing Organizations Via Equitable Immunizations and Testing through Unified Partnerships.
MOVE IT UP is headed by the UC Davis Center for Reducing Health Disparities (CRHD), a national leader in research to improve health equity. The center's role expanded when statistics showed astonishingly high COVID death rates among Latinos and African Americans in the early days of the pandemic – that's when CRHD sought federal grants and established full-fledged vaccination and testing initiatives for a significant geographical area stretching from Yolo County to Fresno.
Supported by a $5 million FEMA grant, MOVE IT UP is part of a collaboration with the California Department of Public Health's (CDPH) Office of Health Equity, the Sacramento and Yolo counties' public health departments, the Consulate of Mexico, Health Education Council and other community-based organizations.
Under the grant, FEMA provides the funding to the CDPH, which in turn contracts with UC Davis Health for the personnel, equipment, vans and other expenses related to delivering vaccines.
More than 6,000 vaccine doses have been administered under MOVE IT UP, nearly half to Latinos.
Dozens of temporary vaccine clinics have been held at churches, farms, nonprofit agencies, festivals, health fairs, Latino-themed grocery stores and other locations easily accessible to essential workers on evenings and weekends.
Schools in ethnically and racially diverse neighborhoods have been popular sites for vaccination clinics because they are institutions that immigrant parents trust and are easy to access.
The clinic at Language Academy of Sacramento, on 49th Street near UC Davis Medical Center, drew parents who were on campus to pick up their children after school.
"Any time we can help our community gain access to vaccines, or any other kind of health care is great for us," said Eduardo de León, the school's executive director. "We are proud to be part of a larger effort that makes COVID vaccine access as easy as possible, by meeting people where they are."
The vaccination phase for MOVE IT UP, which began in December, ended Friday. The initiative will transition into a testing and treatment phase in partnership with CDPH.
"We are excited to see that our community is using this resource and elated that we were able to deliver over 6,000 doses through these vaccine clinics," said Sergio Aguilar-Gaxiola, director of the UC Davis Center for Reducing Health Disparities. "Working toward equitable access to COVID vaccination and testing has been at the core of our work here at UC Davis and the success of this campaign exemplifies this effort."