UC Davis leads grassroots effort to screen migrant workers and their families for COVID-19
Novel initiative supports farmworkers to slow the spread in vulnerable population
(SACRAMENTO)
A crucial effort by UC Davis Health to detect COVID-19 among farmworkers and other vulnerable populations has resulted in more than 17,000 coronavirus rapid tests given to residents of four Central California counties.
Underway since early February, the effort known as ÓRALE offers free COVID-19 screening primarily to Latinos with a focus on agricultural essential workers at locations and hours convenient to them, including churches, community centers and migrant housing centers. ÓRALE is the product of a $3.7-million National Institutes of Health grant to UC Davis intended to improve the health of populations disproportionately affected by the pandemic.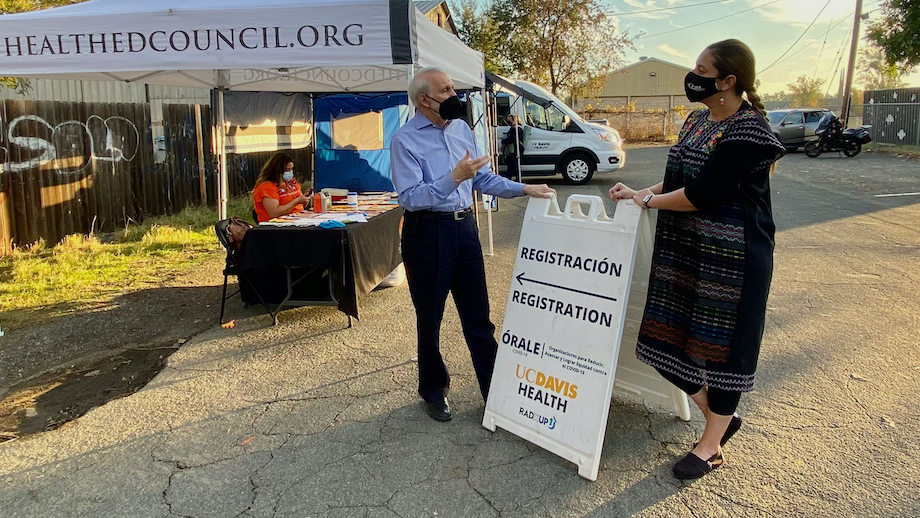 Of those screened, about 1,050 people tested positive, all of whom were offered counseling on next steps, such as quarantining or isolating to reduce chances they infect others in their household or at work.
Detecting COVID-19 among farmworkers is an important way to slow the spread of the coronavirus in a migrant population. Farm labor is an occupation that – due to a number of factors, including a propensity to work while sick – has a higher rate of infections than other jobs.
Latinos, who are nearly 40% of California's population, make up 52% of COVID-19 cases, according to the California Department of Public Health.
"By many indicators this has been a very successful project," said Sergio Aguilar-Gaxiola, a principal investigator on the grant and founding director of the UC Davis Center for Reducing Health Disparities. "Farmworkers and food workers are the most negatively impacted by COVID-19 with excess mortality of the essential worker sectors in California."
ÓRALE is a Spanish acronym for Organizaciones para Reducir, Avanzar y Lograr Equidad contra el COVID-19 (Organizations to Reduce, and to Advance, and Lead for Equity against COVID-19). ÓRALE is also an informal word used to convey affirmation, which undoubtedly helps relate to and build trust among Spanish-speaking immigrants from Mexico.
Four UC Davis principal investigators planned ÓRALE in mid-2020 when they noticed a significant number of essential workers were being infected and dying from COVID-19.
In addition to Aguilar-Gaxiola, the investigators are: Irva Hertz-Picciotto of the Environmental Health Sciences Center, Ted Wun of the Clinical and Translational Science Center and Luis Carvajal-Carmona of UC Davis Comprehensive Cancer Center. Carmona is also founder and director for the cancer center's Latinos for Cancer Health Advancement (LUCHA).
When the ÓRALE project was first planned, vaccines had not been released and COVID-19 testing was not widespread. In addition, community testing sites largely operated only on weekdays and during daytime hours – when many essential workers are unable to leave their jobs to get screened.
ÓRALE's strength lies in being created by the well-known institution of UC Davis, which then partnered with grassroots community-based organizations, and in turn offers testing in dozens of locations that are easily accessible.
This whole effort embodies the commitment of UC Davis to serve the most vulnerable during this pandemic."
"Our sites are staffed by Spanish-speaking UC Davis employees working alongside community health workers and promotoras," said Hertz-Picciotto, referring to the trusted individuals who raise awareness about health resources to their peers.
"We are able to deliver a rapid, free test – with results within 15-20 minutes – and science-based information and advice about how people can protect themselves, their families, and their communities," she added.
The grant is part of a $234 million funding package from the NIH's Rapid Acceleration of Diagnostics (RADx) initiative and the RADx Underserved Populations (RADx-UP) program.
Convenience is everything for COVID testing
On a mild autumn day at the Madison Migrant Center east of Woodland, Maria Lopez was eager to get tested.
The next morning, her family would be returning to Mexico for the winter months, and she wanted to leave Yolo County knowing they were COVID free before the two-day drive. So, she headed toward the testing office by walking across the center where 88 migrant families live in small, single-family households.
"It's easy," Lopez said, describing the nasal swab she was about to undergo. "And they're very friendly and attentive."
ÓRALE sets up shop in a vacant house every week, and Lopez is usually there too. Her sample has always been negative. Lopez said she won't be able to keep her testing regime in Mexico where asymptomatic screening costs the equivalent of $60.
When someone tests positive, the ÓRALE staff or its community partners explains how the worker can seek financial assistance while off the job. And if the worker is unable to quarantine at home, he or she will be directed to a hotel paid for by the state.
At some testing sites ÓRALE staffers are aided by interpreters who are fluent in indigenous languages including Mixteco, Triqui y Zapoteco.
Esmeralda Garza, who works for Yolo County's community health COVID program, said ÓRALE plays a vital role in increasing equitable access to testing for farmworkers and Latinos.
"Its service delivery model speaks volumes about the thought that went into developing a service that is culturally and linguistically sensitive and eliminates barriers not only to getting tested, but obtaining results," Garza said.
"ÓRALE makes COVID-19 tests more accessible by bringing regular testing directly to our rural communities, eliminating the need for an appointment and the need to have an email or a phone to receive your results," Garza added. "For a population where technology is either not easily accessible or difficult to navigate, receiving rapid COVID-19 results is crucial."
ÓRALE makes COVID-19 tests more accessible by bringing regular testing directly to our rural communities, eliminating the need for an appointment and the need to have an email or a phone to receive your results."
An operation with 12 people and two vans
The NIH grant enabled UC Davis Health to hire 12 people that travel on weekdays and weekends to mostly rural locations in Yolo, Stanislaus, Madera and Fresno counties, where tens of thousands of farmworkers toil the fields. UC Davis Health, outside of the grant, donated two vans that carry the testing supplies.
ÓRALE has been to 419 sites that are strategically selected by UC Davis and its nonprofit community partners who help with awareness and logistics.
Although ÓRALE was designed to offer free testing to anyone who needs it, farmworkers have always been a priority because of their limited access to health services, potential for exposure on their jobs and housing conditions.
For example, Aguilar-Gaxiola said, a large share of farmworkers labor in low-wage jobs where they lack health insurance and sick leave benefits that enable them to take days off if they have COVID symptoms. As a result, many continue working even if they're sick. In addition, many agricultural workers travel to the fields in employer-provided vans and buses where physical distancing is impossible, or they live in crowded homes.
Also, Latino farmworkers are more likely to have higher rates of underlying health issues such as obesity and diabetes, which are known to worsen COVID-19 symptoms and related illnesses, said Aguilar-Gaxiola.
Among the 18-34 age bracket, Latinos are 3.5 times more likely to die from COVID-19 as compared with white non-Latinos. Similarly, their likelihood of dying from COVID-19 is 4.2-fold higher at ages 35-49.
Grassroots partners are the conduits to the community
ÓRALE leaders credit the testing effort's success with well-established community partners who provide social services in the four counties.
The initiative's partners are: Central California Environmental Justice Network, Lideres Campesinas, Centro Binacional para el Desarollo Indigena Oaxaqueño, Radio Bilingue, California Rural Legal Assistance Foundation, West Modesto Community Collaborative, Building Healthy Communities-Fresno, the Health Education Council, the General Consulate of Mexico in Sacramento., Rise Inc., and Madera Coalition for Community Justice.
These ear-to-the-ground partners know which Catholic priests are more likely to allow testing in their parish halls. The partners also keep tabs on community events that draw large numbers of people without health insurance who would benefit from testing.
"We tap primarily into networks of organizations that are trusted by those communities," Aguilar-Gaxiola said. "Building trust is a huge thing, especially in the farmworker population."
At a Día de los Muertos festival in Knights Landing, ÓRALE parked its large white van and raised a UC Davis pop-up tent in a high foot-traffic area.
Patricia Tamayo showed up after seeing an ad on one of ÓRALE's social media accounts.
"This actually saves me quite a bit of money," said Tamayo, who works at a local cannery and sometimes buys $14 COVID-19 home testing kits.
Tamayo and a friend of hers, Paula Felipe, 58, are both volunteer first responders in Knights Landing, so they test for COVID-19 once or twice a week. "This is very convenient," Felipe said.
Demand for testing is on the rise
As with many startups, ÓRALE had a fairly slow beginning but got crazily busy in mid-summer when the Delta variant caused many people to get sick.
In July, ÓRALE administered an average of 50 daily tests, but in August that number shot up to 127. By September, it hit a record 138 daily tests.
Now the Omicron variant is driving an increase in numbers again.
"People are believing in COVID-19 more than before and they want testing now," said Alfredo Lopez Aguirre, a clinical research coordinator for ÓRALE and aspiring medical student. He swabbed more than 2,500 noses since April.
People sometimes drive two hours to get tested, he said.
Perhaps not surprisingly, ÓRALE's effort in Yolo has been the most fruitful of all four counties. Driven by the success of Healthy Davis Together and Healthy Yolo Together, and other factors, Yolo County's residents and migrant workers are very aware about the importance of COVID testing.
ÓRALE's COVID-19 positivity rate since testing began is an astonishingly low 2.2% in Yolo County.
By comparison, the cumulative positivity rate is 6.8% in Fresno, 9.4% in Madera, and 9.9% in Stanislaus.
Under current terms of the grant, ÓRALE is scheduled to continue testing well into 2022.
"Other testing sites have closed down, and many others never provided Spanish-speaking staff, so our ÓRALE mobile test sites are more important than ever," Hertz-Picciotto said. "We are being responsive to the needs of the communities."
She added: "This whole effort embodies the commitment of UC Davis to serve the most vulnerable during this pandemic."