Ted Wun M.D., FACP
Ted Wun M.D., FACP
Associate Dean for Research, and CTSC Director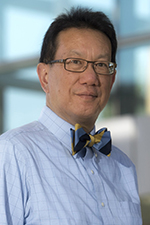 Ted Wun M.D., FACP, is the Associate Dean for Research for the School of Medicine, the director and principal investigator of the UC Davis Clinical and Translational Science Center (CTSC), and chief of hematology and oncology for UC Davis Health. He also serves as co-principal investigator of the California Cancer Reporting and Epidemiologic Surveillance (CalCARES) program, which manages the California Cancer Registry.
As Associate Dean for Research, Wun has broad oversight and responsibility for the research enterprise at the School of Medicine. The CTSC is charged with building the research teams of the future to improve human health, and is committed to enhancing the rigor of, and growing the breadth and depth of, research at UC Davis.
Wun's primary areas of research interest are in sickle cell disease (SCD) and cancer-associated thrombosis (CAT). He and co-investigators were first to describe the presence of platelet-erythrocyte and platelet-monocyte aggregates in patients with sickle cell disease, as well as increased leukocyte activation potential. Also, they confirmed the presence of significant platelet activation. This body of evidence has informed numerous trials of anti-platelet and anti-adhesive therapy, for which he has served on steering committees and/or as lead investigator.
More recently, through an innovative use of state administrative data, Wun's team has described the epidemiology of complications – such as venous thromboembolism, osteonecrosis of the femoral head, bleeding, and malignancies – in the California sickle cell disease population. This work has been funded by the National Heart, Lung, and Blood Institute (NHLBI), National Blood Foundation, American Heart Association, and industry partners. He has served as chair of the NHLBI Sickle Cell Disease Advisory Committee and chair of the Data and Safety Monitoring Committee for the NHLBI SCD Clinical Research Network. He is currently a member of the American Society of Hematology (ASH) SCD Guideline Committee and the NHLBI Sickle Cell Disease Implementation Consortium Registry Steering Committee.
Wun and UC Davis colleagues were the first to report the increased risk of venous thrombosis associated with the use of erythropoietic stimulating agents in patients with cancer, which eventually lead to a practice-changing FDA Black Box warning. They have used the California Cancer Registry to describe the epidemiology of cancer-associated thrombosis and complications of other hematological and oncologic conditions. This body of work is widely cited, and has informed and influenced practice guidelines.
Professor Wun also has been highly involved in education, and has served as an associate program director of internal medicine, program director for hematology oncology, and the instructor of record for the medical student hematology course. He is the recipient of the Distinguished Teaching Award from Harbor-UCLA and the Dean's Excellence in Education Award from UC Davis. Nationally, he was a member of the Test Materials Development Committee of ASH for eight years, and is presently chair of the Committee on Training. He is currently associate editor for the ASH Self-Assessment Program (ASH SAP) textbook, the most widely used board review text for hematology board preparation.
Professor Wun is a graduate of the six-year accelerated medical education program of Union College/Albany Medical College, and completed his internal medicine residency at Harbor-UCLA Medical Center, where he also served as chief medical resident. He completed a hematology fellowship at Harbor-UCLA before a combined hematology and oncology fellowship at UC Davis, with additional training in hematopoietic stem cell transplantation at the City of Hope National Medical Center. He is board-certified in internal medicine, hematology, and medical oncology.