"Hold on to your loved ones": Wildfire survivor who lost children in wildfire offers advice
"I'd tell people to put on pants. Know your evacuation route. Have a backup."
(SACRAMENTO)
It's déjà vu all over again.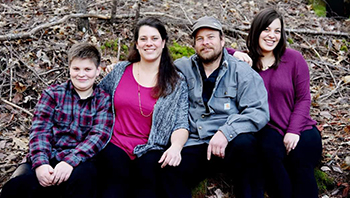 The Dixie Fire, the largest wildfire in Northern California so far in 2021, has burned nearly 200,000 acres and is already one of the top 15 largest wildfires in the state's history.
As officials order residents of Plumas County to evacuate, wildfire survivor Sara Shepherd knows the fear all too well. So much so, she can't bring herself to watch the news.
"My heart hurts when I watch other people suffering," Shepherd explained. "Watching evacuations from around other parts of the state only causes panic and anxiety. But I am hyper-vigilante with the weather warnings affecting friends and family in my immediate area."
That vigilance did not come by chance.
Dream home setting turns into a nightmare
In October 2017, the Redwood Valley Fire killed eight people in Mendocino County and burned through an estimated 36,523 acres.
14-year-old Kai and 17-year-old Kressa Shepherd are among those who lost their lives. Their parents, Sara and Jon, survived severe burns after months of treatment at the Firefighters Burn Institute Regional Burn Center at UC Davis Medical Center and years of rehabilitation.
Prior to the fire, after six years of construction, the Shepherds were finally in their dream home on their 72-acre rural mountain property in Redwood Valley, California. "We were on top of the world," Sara Shepherd said.
Then, the night of Oct. 8, fire swept into the area. "We get a call from our neighbors. They said, 'We're leaving the mountain. You should, too,'" Shepherd recalled. "I told Kressa, who was an artist, 'get your portfolio.' I told Kai, who built his own computer, to grab it as well."
The Shepherds headed down the mountain. Less than two miles down, they hit a wall of fire, jumped out of their vehicles and ran back up the hill to find another way out.
Kai, who suffered from asthma, could not outrun the smoke. He died less than 20 minutes after running from the vehicles. Jon, Sara and Kressa were overtaken by smoke and flames, which rendered them unconscious. Jon, who regained consciousness first, ran for help. Sometime later, a firefighter rescued Sara and Kressa, who were both lying unconscious in the smoldering ash. All three were taken to Ukiah Valley Medical Center, stabilized, then transported to burn centers in the region.
"I was immense pain," Shepherd recalled. "And, shock."
Three weeks later, Kressa Shepherd succumbed to her injuries while Sara remained in a medically induced coma and Jon was recovering from his injuries.
Ready to respond to neighbors' needs
Being prepared for and focused on the needs of burn patients is not just a mission, it's a clear responsibility for the burn center.
Launched in 1974 following a multi-casualty accident that called attention to gaps in the region's burn care, today the UC Davis burn center is one the nation's top programs for burn care, research and training. And with 2021 already gearing up to be an active wildfire season, its experts are ready.
In late July 2021, the center received re-verification as an Adult Burn Center from the American Burn Association (ABA). Center leaders say the verification is a true mark of distinction and an indicator of the high-quality patient care it provides to burn patients from the time of injury through rehabilitation.
"Verification is reserved for burn centers that meet strict quality of care, resource, staffing and patient outcome requirements," said Tina Palmieri, surgeon and burn surgery chief at UC Davis Health. "Disaster preparedness, such as for wildfires, is also an essential element of verification, as burns are frequently associated with disaster."
Fires like the one that devastated the Shepherd family — Mendocino Complex, Camp, Valley—have become all too common. The center's surgeons, nurses and rehabilitation specialists are always preparing for the next one. They have been on the front lines of treating patients injured by wildfires.
"While we always hope for no wildfire injuries, we recognize we have a lot of weeks ahead in this year's wildfire season. We are entering August, which has traditionally been a very hot, dry month for us," said Len Sterling, nurse manager of the burn center. "I am hoping for a break from the trends we have seen in the past few years. At the same time, the entire burn center stands ready to respond to the needs of our neighbors."
While the experts prepared to serve, Sara Shepherd started over.
A survivor rises from the ashes
Sara Shepherd had third-degree burns over 60% of her body. She underwent eight surgeries. Her healing began slowly.
"I had to learn to walk again. Had lots of speech therapy. Even today, I have dexterity issues," she said. "There's also the survivor's guilt and the 'what ifs.' Thank goodness Jon and I are here together. I don't know what I'd do without a partner."
She has also found strength and connection through support groups at UC Davis Health and the The Phoenix Society, the leading national nonprofit organization dedicated to empowering people affected by a burn injury.
UC Davis' burn center provides outreach and peer support initiatives, such as the Phoenix Survivors Offering Assistance in Recovery (SOAR) program. SOAR, designed by The Phoenix Society , addresses the needs of burn patients and their families by providing one-on-one peer support and mentoring during the journey of recovery.
Shepherd attended Phoenix's World Burn Congress in 2019, the world's largest gathering of the burn community, connecting attendees with support, resources and each other. She can't wait until the next in-person event.
"When I was ready to search out resources, the Phoenix Society had so much to offer. I realized I'm not alone. Because we're all burn survivors, there's commonality in everyone's story. I really benefitted from that," she explained.
Shepherd's experience can also benefit people who live in wildfire-prone areas. "I'd tell people to put on jeans or long pants when you evacuate. Know your evacuation route and have a backup. One of those mylar emergency survival blankets would have been good to have on hand."
"We know from years of experience and research, cool tap water — not ice-cold water — is the best first approach to first aid of a burn," added Palmieri. "If you cannot get to emergency department immediately, wash and apply clean dressing, or sheet if that is all you have, before you can receive medical treatment."
The Shepherds now reside in Ukiah, California, with the reality that another wildfire is possible and the memories of what they've endured.
"I miss my children and wish I had more time with them. But I never took a day for granted even before this," Sara says. "Not just the big things, but those special little moments, the day-to-day interactions are so meaningful. Hold on to your loved ones."