UC Davis Health's Ashish Atreja listed among top chief digital officers
Becker's Hospital Review recognizes 35 hospital and health system chief digital officers
(SACRAMENTO)
Ashish Atreja, chief information and digital health officer at UC Davis Health, has been recognized by Becker's Hospital Review as one of the top 35 chief digital officers of health systems to know.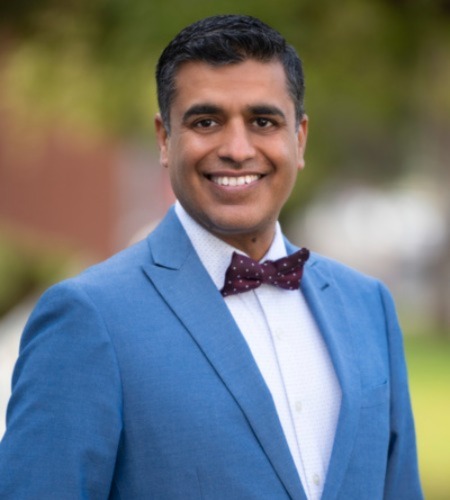 Becker's list recognized this prestigious group of leaders for their efforts to oversee digital technology integration and improve the digital patient experience.
"I am deeply honored and humbled to be included in this elite group of accomplished leaders, who are making a significant impact in the digital health and artificial intelligence space," said Atreja. "This recognition reaffirms UC Davis Health's position as an innovative stand-out as we strive to not only improve patient outcomes through digital health and AI but be a game-changer for the entire health care sector."
A leading voice on evidence-based digital health and artificial intelligence, Atreja oversees UC Davis Health's expansion of its digital footprint. That includes bridging the gap between IT, academia, research and innovation, as "Digital Davis" becomes a global validation hub for digital health.
His impactful projects include:
Atreja came to UC Davis Health in December 2020 from Mount Sinai Hospital in New York, where he trained as a gastroenterologist and served as the chief innovation officer. At Mount Sinai, Atreja established one of the first innovation hubs within an academic medical center to build and test disruptive digital health technologies – those that transform the industry. He is credited with coining the term "evidence-based digital medicine." He is also often referred to as "The App Doctor" for his work in pioneering digital therapeutics and prescribing mobile health apps for patients.
In addition to a medical degree, Atreja holds a master's in public health, and is a fellow of the American College of Physicians and fellow of the American Gastroenterological Association. As an intrapreneur, he has won innovation awards at Cleveland Clinic and Mount Sinai, successfully licensed technologies from academic centers, and advises startups, accelerators and Fortune 500 companies in digital medicine.