Our Catchment Area
The UC Davis Comprehensive Cancer Center (UCDCCC) serves a highly diverse catchment area of 19 inland northern California counties (23,800 square miles, approximately the size of West Virginia). This region, home to five million people, is where UCDCCC conducts its research, engage its communities and performs its outreach to decrease the cancer burden among catchment area population.
The majority of the area's residents are people of color, with 57% of the population belonging to the following racial/ethnic categories: 28.1% Latinx/Hispanic; 11.6% Asian/Pacific Islander; 8.0% Black/African American; 2.7% American Indian/Alaska Native; and 6.6% multiple races/ethnicities. Nearly 30 percent of our residents speak a non-English language at home.
The UCDCCC catchment area is geographically heterogeneous. The 2010 rural-urban commuting area (RUCA) codes classify U.S. census tracts using measures of population density, urbanization, and daily commuting classifies eight of the UCDCCC catchment counties as rural. Together these eight rural counties constitute 42% of the catchment's land area. The catchment area also accounts for 28% of California's total land in farming (i.e., cropland, pastureland, woodland) with three counties in the catchment area among California's top ten agricultural counties (Stanislaus, Merced, and San Joaquin).
Cancer burden in our catchment area
Below are details of cancer incidence, mortality and disparities in the communities we serve.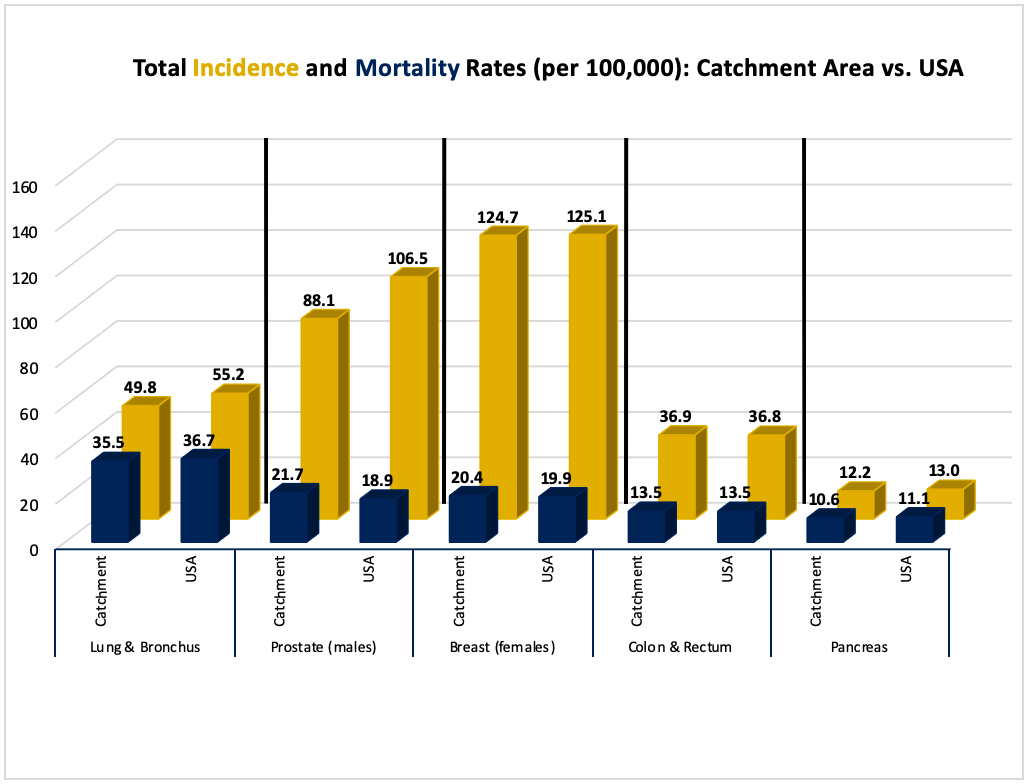 The five leading types of cancer in our catchment area are (ranked by incidence):
Lung and bronchus
Prostate (males)
Breast (females)
Colon and rectum
Pancreas
The five leading types of cancer in our catchment area are (ranked by mortality):
Lung and bronchus
Colon and rectum
Breast (females)
Pancreas
Prostate (males)
African Americans/Blacks residing in the catchment area have excess mortality and incidence observed for all five top cancers compared to Whites residing in the U.S. (except for breast cancer incidence). Compared to Whites, Latinos and Asian Americans and Pacific Islanders experience proportionately higher incidence and mortality rates of liver and bile cancers. While Non-Hispanic Whites and Blacks have the same rank order except for the gender-specific cancers, liver cancer rises to be the fourth most deadly cancer for Latinos and the fifth deadliest cancer for Asian Americans (data not shown).
Read more about the programs