Advanced practice programs at UC Davis Health earn accreditation
Transition-to-practice residency and fellowships earn national validation
(SACRAMENTO)
Two programs at UC Davis Health have earned the highest accreditation possible. The Nurse Practitioner Residency Program and the Advanced Practice Fellowship program earned three-year accreditation from the Consortium for Advanced Practice Providers after a recent review. Both are geared toward preparing nurse practitioners (N.P.s) and physician assistants (P.A.s) for practice soon after graduation.
This national designation means the programs are recognized for the highest standards of rigor and quality, with an expert health care workforce prepared to meet the needs of patients and society. It is also a testament to the teams who have developed the curriculum and clinical experiences for participants.
"Seeking accreditation was a collaborative effort between the Betty Irene Moore School of Nursing and UC Davis Health Advanced Practice Fellowship. Leveraging the expertise of our entire advanced practice group between the school and health system provided opportunities for greater collaboration on education and clinical training," said School of Nursing Associate Dean for Practice Deb Bakerjian.
Transitioning from student to provider
More than 400 advanced practice providers (APPs), including certified registered nurse anesthetists, N.P.s, P.A.s and clinical nurse specialists work in multidisciplinary teams at UC Davis Health. Residency and fellowship training programs allow new APPs to receive intense focused training to increase their competency and skills as they move from the classroom to the clinical or community setting.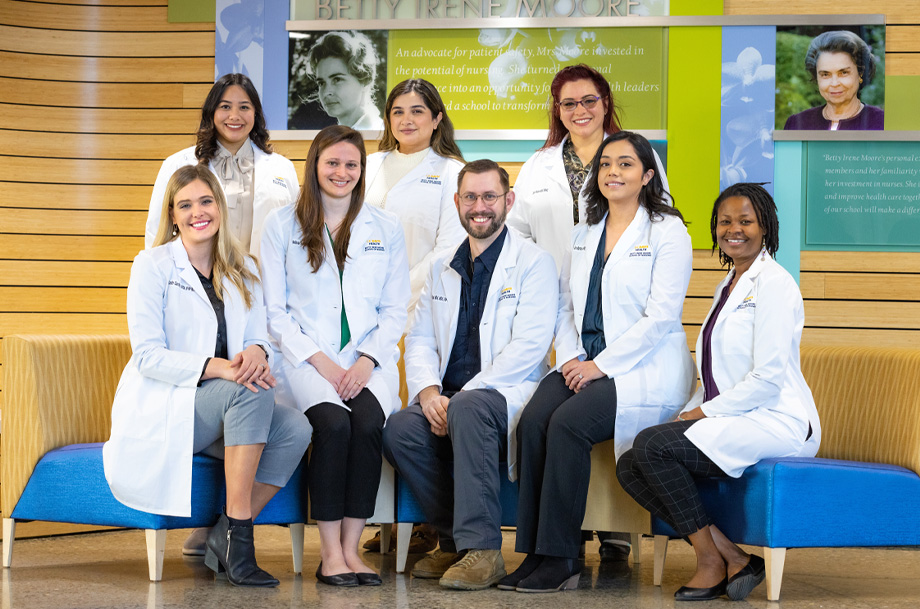 "Seeking accreditation was an opportunity to showcase our transition-to-practice programs and validate the program structure, curriculum, educational content, clinical experience and distinguished program graduates," said Christi DeLemos, chief of Advanced Practice Providers at UC Davis Health. "Achieving accreditation was a collaborative process with many contributing and valued team members."
The health system partners with the School of Nursing in its primary care N.P. residency program, which is led by Bakerjian and Associate Program Director Laura Van Auker. The program takes 10-12 primary care and psychiatric mental health nurse practitioners each year. It is designed to sharpen recent N.P. graduates' knowledge and skills in evidence-based practice, critical thinking and independent decision-making, and enhance their clinical teaching skills.
"The goal is that by the time they finish their residency in 12 months, they are ready to step into practice at a more advanced level than if they had gone straight into a clinical setting after graduation," Bakerjian explained. "Residents learn about team-based care at UC Davis Health and through community clinics throughout the area."
At the health system, a specialty track led by Danise Seaters, director of APP fellowship and education, offers eight specialty practice fellowships to support new graduate N.P.s and P.A.s in the critical first year as they transition into practice. Those include burn surgery, endocrinology inpatient glycemic, neurological surgery, neurology, oncology, orthopedic surgery, radiology and trauma surgery.
This is an investment in advocating for and developing the next generation of advanced practice providers.
From fellow to employee
"Our fellowships allow new graduates to develop specialty care skills in complex care environments during the critical first year as they move from being a student to a provider," Seaters explained. "This is an investment in advocating for and developing the next generation of APPs."
Leaders report that 81% of fellowship program graduates stay on as employees at UC Davis Health.
APP program leaders work to achieve two goals of the health system: increasing patient access and improving patient experience.
Later this month, residents and fellows will showcase their evidence-based projects at a poster session to be held during National APP Week.