Alumni
Alumni Class Notes
Betty Irene Moore School of Nursing alumni updates
Pamela Salgado, P.A.-C. '10, B.S. '06
I've worked as a physician assistant for 10 years in pediatric otolaryngology, head and neck surgery at Rady Children's Hospital in San Diego. The pandemic brought me a temporary furlough and an amazing opportunity to discover my second calling of becoming a chaplain. I saw visiting restrictions during COVID-19 lead to more hospitalized patients feeling alone and afraid. As a chaplain, I hope to offer spiritual comfort to patients during their most difficult times. I begin my master's degree program in pastoral studies at Loyola Marymount University this fall, while returning part-time to peds ENT.
My husband Moses and I celebrated our 10-year wedding anniversary in May. He is a 2011 UC Davis otolaryngology, head and neck surgery residency graduate and a 2005 UC Davis School of Medicine alumnus. In our free time, we enjoy raising our three young daughters, sailing, scuba diving, Brazilian Jiu Jitsu, golf and supporting our colleagues in the ICU. We are proud UC Davis alumni! Feel free to reach out to us any time!
---
Daniel Aquino, M.S.-L. '13, C.S.S.G.B., R.N.-B.C.
I recently accepted a professional development specialist position at UC Davis Health's Center for Professional Practice of Nursing. It seems like I hit the ground
running the moment I graduated from the Betty Irene Moore School of Nursing back in 2013. Shortly after graduating, I taught clinical nursing education at California State University, Sacramento and became a new graduate nurse residency program facilitator at UC Davis Health. My graduate degree definitely led
to more opportunities I didn't anticipate!
---
Rebecca Lash, Ph.D. '15, R.N.
I recently accepted a tenure-track assistant professor position with the Indiana University Fort Wayne School of Nursing.
---
Sara Marchessault, M.S. '15, F.N.P., P.A.-C.
COVID-19 brought a challenging landscape for everyone to navigate, with ever-changing perspectives, politics and rules. Working in Modoc County, Calif. as a health care professional in a primary care setting, my greatest concerns are adverse effects of isolation on our older adult population, including physical and behavioral health changes. Three months into the stay-at-home order, we still have no recorded positive cases in our county, but we know it's only a matter of time. As the pandemic progresses and we continue to measure the fallout, I believe it is our professional duty to advocate for the health of our patients and become even more proactive, encouraging them to be healthy while reassuring them of what is safe. As I wear my mask today and continue to see patients, I know we all continue to watch out for our patients in any way we can. I applaud the efforts of all my colleagues in health care as we continue to take care of our people.
---
Jason E. Nesler, M.H.S. '18, P.A.-C.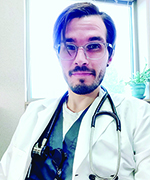 As a student in 2018, I completed an emergency medicine rotation in Lake County near the Mendocino Complex Fire. Working and learning in this environment led me to pursue a career in urgent care and fulfill my passion as a volunteer first-responder.
Yet, I can't say that my first couple of years as a PA were what I expected. I didn't anticipate a pandemic, record unemployment and lost health insurance for millions. I didn't anticipate the civil rights movement that would take roots in my city (Minneapolis) and expand into massive protests across the country.
Quarantines, telemedicine, riot injuries, national mental health decline, public confusion, medical misinformation from our country's leaders, and daily changes in guidelines were a lot to chew on as a new grad. It quickly became overwhelming.
I found myself naturally gravitating back towards several of the Betty Irene Moore School of Nursing's values. Community connection: In a chaotic world, what problems can I alleviate in my immediate community? Collaboration and diversity: How can I bring a wide range of people and experience from my community to build strong and healthy neighborhoods? These ideas strengthened my resolve and helped me serve as a more focused provider in unsettling times.
Ultimately, I decided to volunteer providing first-aid to protesters during the Black Lives Matter movement here. These experiences have been incredibly rewarding as a PA and a citizen.
---
Melissa Johnson-Camacho, M.S.-L. '19, R.N.
When I go to meetings with management, as a union leader, I'm able to understand how systems change work. It's been so helpful!