Rankings

Rankings
A sampling of recent major achievements and developments from UC Davis Health. For more listings and news, please visit our newsroom and follow us on social media.
Schools of medicine and nursing listed among nation's best
#7 in America for primary care training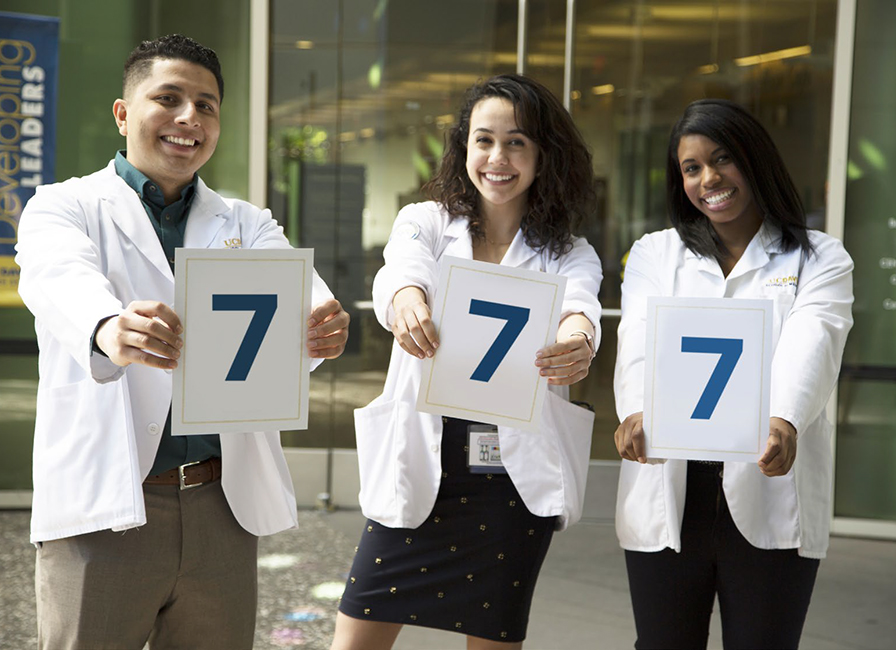 The UC Davis School of Medicine continued its rise this year as one of the nation's top medical schools, improving from 9th to 7th for primary care in U.S. News & World Report's 2021 graduate school rankings. Primary care has been the most popular career path at the school since its founding 50 years ago, and more than half of the Class of 2020 chose primary care residencies at Match Day this year.
The master's degree nursing programs at the Betty Irene Moore School of Nursing at UC Davis also rose in rankings to 40th, up six spots from last year and tied with four other programs. U.S. News has rated the fast-growing nursing school among the nation's best since its first year eligible for inclusion in the survey.
9 departments among the top 20 for NIH research funding
The School of Medicine continued its medical research leadership in 2019, with nine departments ranking in the top 20 — including two in the top 10 — for research funding from the National Institutes of Health (NIH).
The rankings by the nonprofit Blue Ridge Institute for Medical Research, published each year in early February, place UC Davis among the nation's leading medical schools for NIH funding. The School of Medicine ranked 35th nationally for NIH funding in 2019. In the last three years, the school has maintained steady levels of NIH-funded research grants and number of principal investigators who received awards to conduct innovative research.
UC Davis Health reached $315 million in overall external research funding in 2019, making up 37% of all research funding at UC Davis. Over the last 10 years, external research funding for the School of Medicine has grown more than that of all other UC Davis colleges combined.
3 of 2019's top-10 autism studies from MIND Institute
Autism Speaks, the largest autism advocacy organization in the U.S., named three studies from the UC Davis MIND Institute's Collaborative START Lab among its top 10 of 2019. The selection came from more than 2,000 autism research reports.
In the Journal of the American Academy of Child and Adolescent Psychiatry, Sally Rogers, Ph.D., and colleagues compared the effectiveness of the Early Start Denver Model (ESDM), an evidence-based early intervention, to community interventions.
A study by Allison Nahmias, Ph.D., Aubyn Stahmer, Ph.D., and colleagues at the University of Pennsylvania, published in the Journal of Child Psychology and Psychiatry, pointed to large gaps in outcomes of early intervention programs.
A study by Stahmer and Peter Mundy, Ph.D., highlighted the need to develop "systems of support" to guide students with autism and their families through new school transitions, and identified three effective strategies.
24 researchers among top 10% for NIH research funding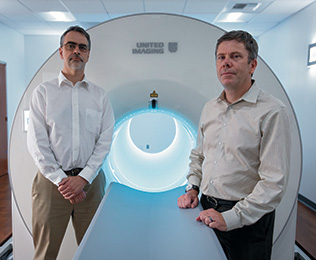 Twenty-four principal investigators from the UC Davis School of Medicine ranked in the top 10% of their respective fields for 2019 National Institute of Health (NIH) funding, according to the Blue Ridge rankings.
Biochemistry – Kit Lam; Chengji Zhou
Dermatology – Yoshihiro Izumiya; William Joseph Murphy
Internal Medicine – Nipavan Chiamvimonvat; Primo Lara; Julie Sutcliffe; Theodore Wun
Microbiology – Andreas Baumler; Dennis Hartigan-O'Connor; Janine Lasalle
Neurology – John Morrison
Pediatrics – Alice Tarantal
Pharmacology – Donald Bers
Physiology – Oliver Fiehn; Vladimir Yarov-yarovoy
Psychiatry – Leonard Abbeduto; David Amaral; Cameron Carter
Public Health – Diana Miglioretti; Irva Hertz-Picciotto; Kumar Rajan
Radiology – Ramsey Badawi
Surgery – Kent Lloyd
Ranked among America's best
Nationally ranked in nine adult specialties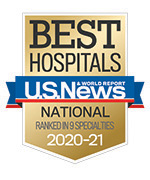 U.S. News & World Report ranked UC Davis Medical Center among the nation's best hospitals in nine adult medical specialties for 2020–21, including: cancer care; cardiology and heart surgery; ear, nose and throat; geriatrics; nephrology; neurology and neurosurgery; orthopaedics; pulmonology and lung surgery; and urology.
The hospital also earned "high performing" acknowledgement in gastroenterology and gastrointestinal surgery.
High-performing in common adult procedures
U.S. News & World Report also released ratings for common types of care and procedures, with "high-performing" considered the highest level of recognition. UC Davis Medical Center earned that rating in: abdominal aortic aneurysm repair; chronic obstructive pulmonary disease (COPD); colon cancer surgery; heart failure; lung cancer surgery; and transcatheter aortic valve replacement (TAVR).
The hospital met expected standards of care for aortic valve surgery, heart bypass surgery, hip replacement and knee replacement.
Nationally ranked in four pediatric specialties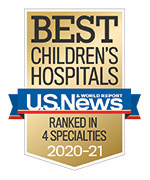 U.S. News & World Report ranked UC Davis Children's Hospital among the nation's best in four pediatric medical specialties for 2020–21, including: neonatology; nephrology; orthopaedics; and urology.
Orthopaedics and urology rankings were received in collaboration with Shriners Hospitals for Children – Northern California, UC Davis' longstanding partner in caring for children with burns, spinal cord injuries, orthopaedic disorders and urological diseases.
A Newsweek Best Maternity Care Hospital
UC Davis Medical Center is one of Newsweek's Best Maternity Care Hospitals in 2020, according to rankings released in July. Its maternity care program was ranked among the best in the U.S. as verified by the 2019 Leapfrog Hospital Survey administered by The Leapfrog Group, an independent national health care watchdog organization. The Leapfrog Group uses data voluntarily submitted by health care facilities to the annual Leapfrog Hospital Survey and Leapfrog Ambulatory Surgery Center (ASC) Survey. Leapfrog also deploys teams of experts and analysts to review available data and identify high performers.
One of '100 Great Hospitals in America'
UC Davis Medical Center has again been named one of the "100 Great Hospitals in America." The annual honor by Becker's Hospital Review identifies excellence, leadership and innovation in the hospital and health care sector. Becker's selected hospitals for its 2020 list based on analysis of several ranking and award agencies, including U.S. News and World Report's 2019–20 rankings, CareChex, Healthgrades, CMS star ratings, Leapfrog grades and IBM Watson Health top hospitals. The publication also sought nominations. Among UC health systems, UCLA Medical Center, UC San Diego Health-Jacobs Medical Center and UCSF Medical Center were also named to the list.