A powerhouse couple
Married couple Nam Tran and Kristin Grimsrud put previous research on hold to play prominent roles in COVID-19 testing and vaccine development.
Tran (B.S., '03, Ph.D., '08, M.S., '11) and Grimsrud (B.S., '06, D.V.M., '12, Ph.D., '15) are leaders in efforts by both UC Davis Health and California to combat COVID-19.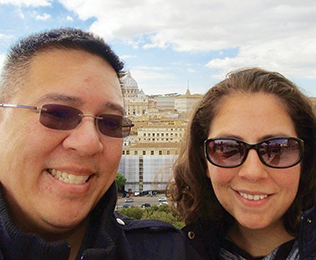 Tran, an associate professor of pathology and laboratory medicine, is the senior director of clinical pathology overseeing COVID-19 testing at UC Davis Health. He consults on pathology around the world and has served California during the pandemic as a member of Gov. Gavin Newsom's COVID-19 testing task force.
Grimsrud, an assistant clinical professor in the same department, is a recipient of a prestigious K award research grant from the National Institutes of Health, as well as a UC Davis veterinarian and lead scientist in the Mouse Biology Program. It's here that she's worked on a collaboration to develop a COVID-19 vaccine and dermal patch delivery system that could enable the vaccine to be sent by mail.
"Early stage animal research for vaccine efficacy is pivotal in expediting human studies," she said. "These studies previously would have taken years, but we are working diligently to significantly shorten that time frame thanks to the early pilot studies in the rats."
Grimsrud had been working with Verndari Inc., a biopharmaceutical company, for more than four years to develop a vaccine patch for influenza. The team quickly put that work on hold to focus on the coronavirus SARS-CoV-2 when the pandemic hit.
Tran's work also changed suddenly, and his team went to work creating COVID-19 testing capacity from the ground up that didn't exist before March 19.
He guides a team that works with novel testing techniques and analytical tools, including machine learning, to provide data to researchers at UC Davis and scientists around the world. They also provide leadership for testing practices at the local, regional and state levels.
"Our continuing goal is to increase testing capacity for COVID-19 to sustain our institutional and community needs," he said, "and to identify innovative means to better diagnose and manage the condition."
---
Helping Nairobi prepare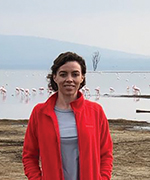 When the last international flight left Kenya in late March, Sarah Ashley (M.D. '14) wasn't on it. The 31-year-old — a former global health and leadership fellow at the University of North Carolina, and a surgeon with the U.S. Army Reserve 450th Civil Affairs Battalion — had decided to stay.
Not only because she volunteered as an ER oversight physician at Nairobi's busy Kenyatta National Hospital, and was helping to set up the country's first emergency medicine residency. Ashley was also part of a team working to find more PPE for the pandemic's arrival in earnest.
"It seems the place for me to be right now," she told communicators in April at UCSC, where she's an '08 grad in health sciences.
During Ashley's first year of med school, she traveled to Kenya as part of an HIV-AIDS project. The next year she came back to ride along with Nairobi's EMTs — who worked in a chaotic system with little infrastructure or funding — and was inspired by their commitment. This January she moved to Kenya to help create the residency, teach at medical school, and coordinate UNC research.
Since March, she's transitioned from Nairobi's national hospital to volunteering at a busy public county hospital with limited PPE, testing and critical care capacity. Staff initially made their own face shields and used reusable cloth gowns to cut costs, she said; N95 masks are still scarce.
"The biggest challenge is being able to continue emergency care for very sick patients, in a small space with limited staff and resources, without knowing whether they have COVID or not," Ashley told UC Davis in late July. "Before COVID there were already a lot of barriers and delays, such as not being able to get blood quickly, or no access to a CT scan, monitor or ventilator. Now everything's even more difficult."
Outside, she said the pandemic has caused huge strain, with people out of work and struggling to pay for food, isolation centers and critical care units at capacity — and cases still increasing.
"There's a feeling things can't continue like this, but we don't have any other choice," she said. "The emergency medicine community has really been leading the response, and it looks like they will continue to do so for a long time."
– Partially adapted from a story by UCSC's Peggy Townsend
---
A well-being toolkit for nurse leaders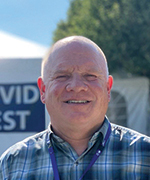 As a nurse scientist for Utah's largest health system, Intermountain Healthcare, Perry Gee (Ph.D. '14, R.N.) is frequently asked to conduct research in areas outside of his own expertise. And he said that was true when he was asked to study burnout, resilience, compassion fatigue and its impact on nurse well-being.
When the COVID-19 pandemic struck, leadership asked Gee — who serves as an adjunct assistant professor for the University of Utah, Arizona State University, and UC Irvine — if he could accelerate his intervention and research work to support the Utah system's more than 10,000 nurses who could be potentially impacted by the disease.
Networking with colleagues and several national nursing organizations, Gee and team identified evidence-based well-being strategies to implement immediately during the pandemic, and built research methodologies to evaluate impact. The team ultimately rolled out a well-being toolkit for nurse leaders that was informed by frontline nurses.
"Just months later, examples of our COVID-19 nurse well-being response can be seen in not only my health system, but also in facilities across the nation," Gee said earlier this year. "My education at the Betty Irene Moore School of Nursing gave me the knowledge and confidence to tackle scholarly topics outside my comfort zone — and this work has transformed me to an expert who can positively impact the lives of my fellow nurses."
Also see updates from Jason Nesler and other alumni in Class Notes for the School of Nursing and the School of Medicine.
---
Parking garage triage
When the novel coronavirus reached the Bay Area, Sutter Health family physician Maryam Dolatshahi (B.S. & B.A. '09, M.D. '14) and colleagues had to adjust their practices rapidly for shelter-in-place.
Their medical group soon created a drive-up respiratory clinic in the basement parking garage, where symptomatic patients would be seen in their cars by physicians in full protective gear. Dolatshahi — who had just returned from maternity leave, and had an asthmatic husband at home— was one of them.
"It reminded me of scrubbing into surgery," she said. "We decked out in gowns, double gloves, face shields, masks and surgical caps to take vitals and conduct exams. The medical assistant who was 'clean' would drop instruments into our hands without touching us, we would use them and drop them into a tray to be immediately sanitized and returned by a designated 'cleaner.'
"It was certainly strange at first, especially since the last time I took my own vitals was in medical school! But only one person could go near the patient, and that was me" due to her enhanced PPE. Compared to an exam room, Dolatshahi said the intricate, anxious (and drafty) experience was also naturally somewhat frustrating from a bedside-manner perspective.
"People were scared and anxious… I was peering over them in their cars, and they seemed so vulnerable!" she said. "I normally sit with patients to be at the same physical level as them, and I couldn't do that here. And I couldn't use a comforting facial expression or body language to help. Nor could I reassure them verbally, because I didn't know for certain if they had the virus or not. "I felt helpless other than being able to offer a test — and even that wasn't for everyone, since kits were limited and we were only testing specific populations."
As health providers everywhere learn more about the virus, practice is continuously improving, Dolatshahi said this summer. She's grateful to be a part of a large physician group, and imagines a more isolating and unsettling experience at smaller practices. Still, she admits it still hasn't always been easy on a personal level due to her unique circumstances.
"I have definitely felt discouraged at moments, and wondering whether I should have returned to work or not — which is natural as a new mother, but it was amplified going back to work in the pandemic," she said in June. "We've all been slowly adjusting, and doing our best with the circumstances. But overall, I am so grateful for the opportunity to have studied medicine, and to be able to provide essential care during these difficult times."