In the photo on the front page of The New York Times city section, Lawrence Haines (M.D., '05) examines two children in the emergency room at Brooklyn's Maimonides Medical Center, including one wearing an oxygen mask. The headline reads " 'Underlying Conditions' May Add to Flu Worries."
That was during the previous global pandemic in 2009, for a novel strain of H1N1 influenza that caused an estimated 12,000 American deaths during its first year.
When Haines appeared in the news again this April, during a weeklong national news report inside hard-hit Maimonides, the novel coronavirus had caused nearly as many U.S. deaths in just two months — including more than 700 in a single Big Apple day.
Haines, an attending emergency physician and ultrasound division director in the Maimonides emergency medicine department, was willing to be explicit — and bravely, publicly vulnerable — on camera about what he experienced, in order to highlight the gravity of the situation and the threat to the unwary.
At times, his hospital in the virus epicenter was caring for 600 coronavirus cases at once.
"I've never seen it like this, Haines told the reporters from ABC's World News Tonight program. "It's like a mass-casualty event. It's like war.
"I had a birds-eye view of the ER, and saw all the people struggling to breathe, and all of the monitors with low oxygen, and I broke down crying," he said. "It's been like a bad dream."
'We have each other to lean on
Haines himself has provided care for hundreds of COVID-19 patients, and intubated dozens. He and his wife Christine, also an attending emergency medicine physician at Manhattan's Lenox Hill Hospital, sent their young son and daughter to stay with family early in the surge, to protect them from risk of parent-to-child transmission.
When interviewed by ABC, the couple hadn't seen their kids for three weeks.
"We have each other to lean on and hug and talk about our experiences, and it's been really consoling" Lawrence told the camera crew. "What also really lifts my spirits is at 7 p.m., when we open the window and hear the cheering. It brings tears to our eyes."
The Maimonides physicians and nurses feted in those cheers have also been some of the many thousands of health care workers nationwide to become infected themselves. One was Maimonides' chair of medicine and pulmonary clinical care, who at age 72 had helped orchestrate a doubling of the hospital's capacity during the pandemic. He became a COVID-19 patient in April, and two months later was one of the providers to die from the virus.
"It continues to weigh heavy on all of our minds," Lawrence said. "I still don the PPE before every shift with the knowledge that I can still contract this virus from any of my patients, or my colleagues who may be asymptomatic."
There have also been heartwarming moments as well — such as the day a 30-year-old patient went home after roughly 70 days hospitalized with COVID-19, including a month on extracorporeal membrane oxygenation or ECMO.
Firsthand triage insights
When interviewed in early July, the overall situation had greatly improved in New York City, with the number of Maimonides ER COVID-19 patients "a slow trickle, rather than the tsunami we experienced in April." After 8 weeks living apart, Lawrence and Christine were finally able to reunite with their children on Mother's Day.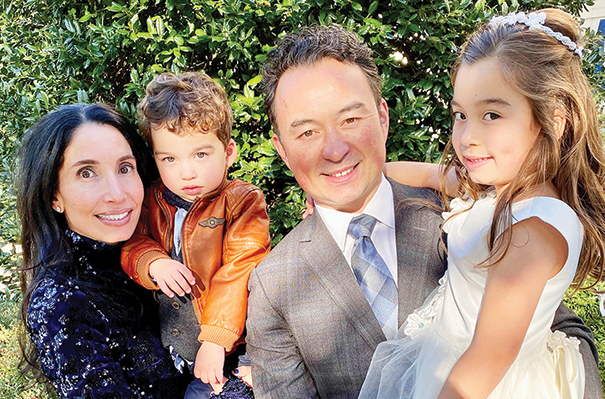 "It was incredibly hard to be without them for 2 months," Lawrence said. "We missed two teeth falling out and changes in shoe size. Not witnessing milestones like this was the hardest part."
Both Lawrence and Christine are directors of emergency ultrasound at their respective institutions, and set policy for use and decontamination of the technology during the pandemic. With CT scans difficult to employ en masse during surges, Haines is one of several clinicians from epicenter areas worldwide who have suggested that lung ultrasound might play a significant role in care going forward during the pandemic.
"It's hugely helpful in the undifferentiated dyspneic patient," he said. "COVID-19 patients have been described having a typical pattern on lung ultrasound, and it has the potential to help identify these patients in a triage-type setting. I eagerly await some real data on the sensitivity and specificity for identifying COVID-19 with ultrasound."
Meanwhile, as other states dealt with their own surges, he encouraged diligence in both social distancing and use of personal protective equipment.
"Christine and I find a lot of ongoing strength in the bravery of all essential workers who soldier on in harm's way, and do their jobs despite the risks," he said.