Alumni

Alumni Class Notes
School of Medicine alumni updates
1970s
David M. Freeto – 1972

I have finally retired, ending my practice in Napa last December. My son Brian continues to practice orthopedics here in Napa, my son Michael just moved his ER practice to Houston, and my daughter Jill works as a hospitalist in Santa Rosa. My seven grandchildren are all healthy but too young to attend UCD.
Geoffrey A. Smith – 1972
This is the first year in 25 years that I am not doing volunteer medical work in Southeast Asia... also the first in 20 years that I am not teaching 4th graders for the GIA Junior gemologist program. Needless to say I am not pleased with the COVID-19 virus and hope things get back to normal by 2021… and back to seeing kids and grandkids in person not FaceTime... I continue (masked) consulting three half-days each week.
Paul Wilson Cosby – 1973
Emergency Medicine Lifetime Fellow. Worked my entire career in over 40 different permanent and locum tenens locations throughout Pennsylvania, Ohio, and upstate New York. Now retired in Honesdale, Pennsylvania. Planning to relocate to live aboard a boat at a marina in Key West.
William B. Jones II – 1977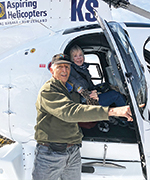 Finally retired completely in mid- December 2019. I'd like to say that I had a premonition of COVID-19, but it was just the feeling that it was time to hang it up. Nancy and I took a nice long cruise last year and at the end spent two weeks on the South Island of New Zealand. Absolutely beautiful country.
Anthony G. Terrace – 1977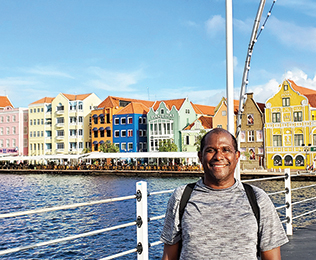 AKA: George Johnson. Well, I worked totally in Emergency Medicine for 28 years in the Long Beach, CA area, acquiring board certification in Emergentology. Upon retirement in 2006, I have bought and sold several residential properties in SE Florida, currently living lakeside in a gated 55+ community in Palm Beach County. I have traveled for decades to six continents and learned five additional languages. For the last four years prior to COVID-19, I volunteer at a local assisted living facility, and am planning upon returning my services there whenever declared safe to enter again. I only have glaucoma, under control, and people unanimously tell me I still look in my upper forties; no brag! I am truly blessed.
Praveen Prasad – 1978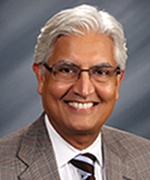 Greetings to everyone. Well, I finally hit 65 and suddenly have to face decisions on how long to work. Still healthy, practicing neurosurgery full time at Dignity Health in Sacramento, Chief of Neurosurgery, Director at Dignity Neurosciences Institute. Daughter finished MBA at Columbia, now at BCG consulting, one son already doing management consulting in San Francisco, and the other still exploring. No grandkids yet, dang it. The recent COVID-19 slow-down has made me realize NOT working 60 hours a week feels just fine! Friends and colleagues all agree: there will be a wave of retirements soon. So, here is to the next phase of life! Look forward to hearing from old friends.
Linda Copeland – 1979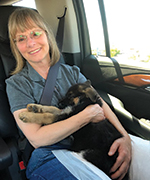 My husband and I have followed the California stay-at-home order while tending to our garden and three dogs. Fortunately, I'm able to do my independent contracting jobs from home by phone. I volunteer with the Sacramento Medical Reserve Corps at the Sacramento Public Health Department and completed online training from Johns Hopkins for contact tracing. I and a colleague submitted our manuscript to OSF Preprints: Spearow, J. L., Ph.D., & Copeland, L., M.D. (2020, May 16). Review: Improving Therapeutics for COVID-19 with Glutathione-boosting Treatments that Improve Immune Responses and Reduce the Severity of Viral Infections. Additionally, I work with HealO Medical LLC, a company founded by longtime friend, Dr. Ed Lin. He is a Yale-trained anesthesiologist with award-winning technologies that include the high efficacy oxygenator SentriO system currently under acquisition review by U.S. Special Operations Command (USSOCOM) that will improve oxygenation in COVID-19 infection.
James Macon – 1979
I am close to the end of a satisfying career as a pediatrician in the state of Washington, where I have been practicing since 1982. And I am also a published author of a fantasy series with a touch of mystery. The first book in the series is titled Purveyors and Acquirers. Like all of you, the COVID-19 pandemic is impacting life. Fortunately, it has not taken the life of anyone close to me. I want everyone to stay safe and healthy. I am sure that you are aware of the importance of taking care of yourself. Take care.
---
1980s
D. Malcolm Shaner – 1981
See Angeli Agatep – 1986
Randall D. Reed – 1983
We're doing well after losing our Paradise home to the fire 11/08/18, and have relocated to a much smaller home in Sonoma. We love the town of Sonoma and have found the people quite welcoming and understanding. Being closer to our son Grant and daughter-in-law Anna has been wonderful and they are pregnant with our first grandchild, nicknamed "the Bean" for her lovely look on the first ultrasound. Her arrival in late July is anxiously awaited by eager grandparents on both sides. COVID-19 has been a terrible societal strain made worse by the [president – Ed.], but this country will survive both. Be well!
Linda Davis-Reed – 1986
See Randall Reed – 1983
Angeli Agatep – 1986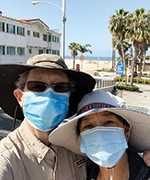 Hi everyone in the classes of 1981 and 1986!!! Malcolm and I are doing well in our sheltered, almost monastic, actively disinfecting life! Kids are in grad school — and if we're lucky, graduating by 2023. We expect that the Zoom experience will not come close to our UCD graduation excitement. Malcolm was given a one-day learning experience of how to function as an internal medicine hospitalist and ER physician for surge planning. Eight hours of dogging an internist and the neurologist struts around proclaiming he's good-to-go. As a retired hospitalist, I find this irritating! Luckily, so far he has not been called to action : ) Angeli and Malcolm ... Love to all and stay safe!
Dawn Motyka – 1987
Wow, what a strange, unexpected turn of events we find ourselves in. Reminds me of HIV in the early 1980s at medical school. Here's my adventure story: I was on vacation in Morocco and left two days before the king shut down the borders, trapping many U.S. citizens there. Spent the night at an airport hotel in Madrid on March 12 but alas I'm still IgM negative. Seeing about half my patients via videoconference and the rest in a breezy covered patio with masking. Ventilation is KEY and it's not discussed enough. I continue my podcast — AskDrDawn and was recently in the news in Argentina. I have a concierge Functional Medicine Family Practice in Santa Cruz incorporating acupuncture and have a "lifestyle first, pharmaceuticals second" approach to chronic disease. Check out my website for a science-based guide to Nutraceuticals and COVID-19 and a YouTube video on this.
---
1990s
Barbara Klencke – 1990
After more than 25 years in San Francisco, Doug and I moved to Lake Tahoe (Incline Village) in 2017 as I began to work remotely as head of R&D for a biotech company. While there is much to be missed in SF, Tahoe is such a great place to recharge. I love the physical beauty and being able to regularly hike, ski, snowshoe, bike, and, especially, swim. That said, work has always been (and remains) a big part of my life. I was an oncologist at UCSF for many years and have more recently specialized in oncology drug development in various biotech companies. Despite the long hours and the emotionally heart wrenching aspects of oncology, I absolutely love my chosen career, and have always realized how privileged I am to get to do what I do.
Jason Giles – 1996
Hello to my classmates, co-workers, and teachers from UCD and the
Medical Center. I hope you are all well and healthy. I'm busy with new behavioral health tech startup aimed at substance abuse and other habits. Fortunately, there's a great team of professionals. Together we will change how addiction is perceived and treated. You can find us at vhab.com.
My 24-year update: after anesthesia residency, I also earned boards in addiction medicine. I've been in private practice since 2005, helping people get sober, like I did twenty years ago. I wrote a book and it is due for release this summer. I live in Malibu with Rebecca (M.D., '99). Our son is pursuing undergraduate studies in economics and history (sophomore). His sister is working toward a career in classical ballet (HS senior). Sad news about Dr. Blaisdell. May he rest in peace. Warm regards and best wishes.
Rebecca Giles – 1999
See Jason Giles – 1996
---
2000s
Radha Raman – 2006
I did a rotation at a grassroots makeshift clinic in New Orleans months after Katrina, during my last year of medical school. The devastation and lack of care in the Deep South reminded me of India, and is in unparalleled to anything I've seen in the U.S. There was no choice, I was going to be a PCP in Louisiana. After residency here, I worked in a Medicaid clinic for years. After trying to improve conditions there, butting heads with admin, I was fired. If I wanted to give the care every human deserves, I was going to have to do it myself. I opened up my own family practice clinic. It is successful, and I am able to treat COVID-19 patients the best way I can.
Mihal Emberton – 2007
I recently published the accumulation of 20 years of study on learning and leadership with my manuscript, "Learning in Humans versus Hierarchies." This work came about as I began to recognize that the patterns of engagement have been described by thousands of years of human observations in disciplines such as education, social science, psychology, medicine, political science, business, art, literature and music. Albert Einstein noted: "A theory is the more impressive the greater the simplicity of its premises, the more different kinds of things it relates, and the more extended its area of applicability," which describes my framework as it applies to all hierarchies such as parent-child, teacher-student, physician-patient, supervisor-subordinate, legislator-constituent, and it is not bounded by culture, discipline, or time. I am also excited to be collaborating with organizations and academic institutions to implement my framework to drive innovation and learning, and to obviate the global problem of burnout and unconscious bias.
---
Residency/Fellowship alumni
Ross Leighton – 1986
Fellowship – Orthopedics

I remain in Canada and doing much like everyone else — nothing except saving the world by staying home!! We are of course taking calls and fixing fractures as people still fall and trauma continues to happen despite all the pleas to stay at home. It is always nice to hear from UC Davis and remember my fellowship year there. One of the best years of my life??? Great people, wonderful mentors and a fantastic experience. I hope this finds everyone making it through this very unreal COVID time of our lives. Warm regards, Ross
Praveen Prasad – 1987
Residency – Neurosurgery

See M.D. 1978