David Tom Cooke recognized for care and compassion in medicine
2022 Ethnic Physician Leadership Award given by Physicians for a Healthy California
(SACRAMENTO)
David Tom Cooke, UC Davis oncology surgeon and chief of the Division of General Thoracic Surgery, is being recognized by Physicians for a Healthy California (PHC) with the 2022 Ethnic Physician Leadership Award.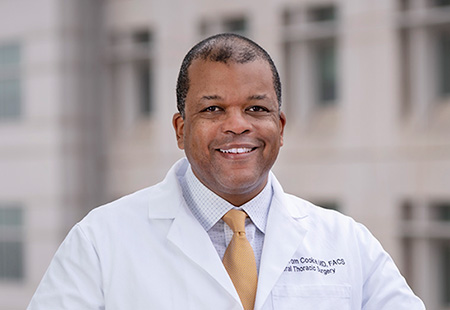 PHC, formerly the California Medical Association Foundation, is dedicated to improving community health, growing a diverse workforce and promoting health equity. Its annual awards program celebrates the commitment, compassion and contributions of doctors who are improving community health and reducing health disparities in California.
"The Ethnic Physician Leadership Award recognizes an individual physician's contribution toward improving the health of ethnic communities," said PHC President and CEO Lupe Alonzo-Diaz. "Dr. Cooke earned the award by showing great success in helping eliminate health disparities, addressing access to care and improving cultural competency and patient advocacy."
The purpose of the Ethnic Physician Leadership Award, Alonzo-Diaz said, is to honor an ethnic physician, inspire other physicians, and promote leadership, caring and compassion in medicine.

"I am humbled and honored to receive this important award presented by Physicians for a Healthy California," said Cooke. "Increasing access to health care for all is essential to ensuring that the progress we are making to prevent and cure diseases is available to everyone, no matter their ability to pay, their race or their cultural background."
PHC has grown into one of California's leading advocates for improved community health. It offers programs that improve public health, provide clinical practice support and improvement, and address social determinants of health and access to care.
UC Davis Comprehensive Cancer Center
UC Davis Comprehensive Cancer Center is the only National Cancer Institute-designated center serving the Central Valley and inland Northern California, a region of more than 6 million people. Its specialists provide compassionate, comprehensive care for more than 100,000 adults and children every year and access to more than 200 active clinical trials at any given time. Its innovative research program engages more than 240 scientists at UC Davis who work collaboratively to advance discovery of new tools to diagnose and treat cancer. Patients have access to leading-edge care, including immunotherapy and other targeted treatments. Its Office of Community Outreach and Engagement addresses disparities in cancer outcomes across diverse populations, and the cancer center provides comprehensive education and workforce development programs for the next generation of clinicians and scientists. For more information, visit cancer.ucdavis.edu.