Ron Amodeo
Ron Amodeo
Chief Strategy Officer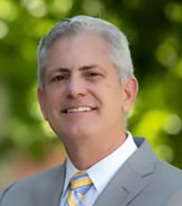 Ron Amodeo is the Chief Strategy Officer for UC Davis Health. In addition to formalizing and operationalizing UC Davis Health's strategic planning processes, Amodeo's primary focus is on envisioning, identifying and quantifying new business opportunities for the organization.
As a key member of the Clinical Leadership team at UC Davis Health, Amodeo works closely with the UC Davis Medical Group, the Medical Center, the School of Medicine, Betty Irene Moore School of Nursing, and with university leadership to guide, develop, and execute strategic and business plans across the entire clinical enterprise.
Before joining UC Davis Health in March 2020, he was an expert advisor with Dorsey Health Strategies, a health care consulting firm affiliated with international law firm Dorsey & Whitney LLP.
Previously, Amodeo was the Chief Innovation and Growth Officer at Regional Health in South Dakota, where he was responsible for strategies for business growth, service line enhancement, connected health, innovation and ventures, and partnerships/collaborations. Additionally, he oversaw marketing and sales, patient experience, community relations, clinical research, and new revenue streams. He was also instrumental in helping to address gaps in care for the Native American community.
Prior to Amodeo's work at Regional Health, he spent nearly a decade at Mayo Clinic overseeing the enterprise-wide evaluation and development of strategic new business opportunities. His key projects included building Mayo Clinic's 2020 plan, directing joint venture activities in retail health/wellness, regenerative medicine, and remote condition management via digital health.
Amodeo holds a master's in Information Design from Carnegie Mellon University and a bachelor's in Biology and English from Allegheny College, with doctoral studies in History of Science and Technology from the University of Minnesota.