Medical anthropologist seeks to improve care in Black birthing communities
Meet Adeola Oni-Orisan: New assistant professor with Family and Community Medicine and 2022-23 CAMPOS faculty scholar
(SACRAMENTO)
Adeola Oni-Orisan joined UC Davis Health as an assistant professor in the department of Family and Community Medicine this month. Oni-Orisan is a medical anthropologist and family physician whose research engages critical race theory, Black feminist studies, and science and technology studies. She has conducted research on issues related to reproductive health in Nigeria, Zambia, and the United States.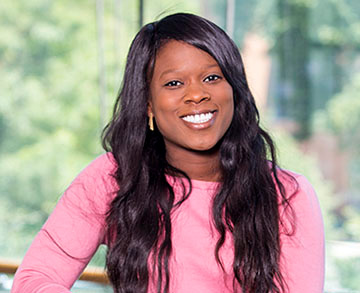 Oni-Orisan has been selected for the 2022-23 cohort of CAMPOS, an acronym for the Center for the Advancement of Multicultural Perspectives on Science. She is one of two scholars in this year's CAMPOS cohort from UC Davis Health.
The mission of the CAMPOS program at UC Davis is to promote women in science, starting with Latina scholars and expanding to all underrepresented groups in STEM (Science Technology Engineering and Mathematics).
Oni-Orisan took some time to talk to us about her interests, her vision moving forward and why she chose to join UC Davis.
How do you feel about joining UC Davis Health?
I am thrilled to be starting here at UC Davis. The Family and Community Medicine Department was extremely supportive and I'm finding wonderful colleagues and great mentors. There's a thoughtfulness and carefulness here that I think is important when attempting to tackle tenacious problems in healthcare; systemic, structural problems that have been around for a long time, that we've approached in different ways and yet for which we still haven't embraced lasting solutions.
What are some of your priorities as you begin working at UC Davis?
As a physician-anthropologist, I am dedicated to expanding scientific knowledge that improves care in the clinic, but also understands how this is dependent on the larger world around it. My work reflects my commitment to research that reveals and responds to the ways sociohistorical processes and structures determine the health of communities.
As I start work here at UC Davis, my focus is on improving prenatal, pregnancy, delivery and postpartum care for Black birthing communities. Because these disparities are still here in the United States and in some ways have worsened throughout the pandemic.
What is most important in my work, which is always grounded in community wisdom, is to spend time listening. Look at the landscape, identify the organizations that are doing the work already in their communities and identify their strengths along with the areas in which they need support. In addition to connecting with colleagues at UC Davis, I am looking forward to getting out in the community and learning from local Black birth workers and birthing organizations. I hope to partner with community organizations at every stage of my research aimed at improving the quality of birth experiences and outcomes.
My work reflects my commitment to research that reveals and responds to the ways sociohistorical processes and structures determine the health of communities."
How did it feel to be nominated as a CAMPOS scholar by the chair of the Department of Family and Community Medicine?
That Dr. Anthony Jerant believed in me and my work so much to take the time and initiative to nominate me meant a lot. I felt very honored to have been chosen. Meeting the other CAMPOS scholars was a wonderful experience. To look around the room and see a group of brilliant people, all doing very different things, makes me excited to be a part of that community.
How have your experiences influenced your work?
As a first-generation Nigerian American, what I learned about Nigeria was through the stories my parents told me. Many of them were joyful, but I also remember hearing stories of family and friends who died as a complication of pregnancy. These stories stayed with me and when I finally had the opportunity to visit Nigeria for a summer internship at a teaching hospital during college, I found that what I was learning in the lab as a pre-med, Biology major, was insufficient to answer the question of why pregnancy seemed so much more dangerous there than here.
After completing my first year of clinical rotations, I found that this disparity in pregnancy outcomes existed for Black populations in the United States as well, despite what seemed like unlimited resources. My experiences as a Black woman occupying various roles (patient, volunteer, medical student, resident) in different health care settings have required me to become attuned to recognizing intersecting systems of oppression including racism, sexism, ableism, etc. It is that attunement which led me to want to better understand how these structures operate to create these disparities and how we might work to dismantle them.
I decided to pursue a PhD in medical anthropology at UC San Francisco and UC Berkeley to get more in-depth training in critical analysis of the social processes that impact health. As I went through the program, I became involved in organizing, activism and advocacy work which shifted my focus towards family medicine because it would allow me to care for the entire family and communities within the context of thinking of social justice and the social factors that affect the provision of care.
Tell us about the book you are working on
My book project, "To Be Delivered: Pregnant and Born Again in Nigeria," based on research completed during a year I spent living in Nigeria funded by Fulbright, is an ethnographic, historical, and literary exploration of the lived experiences of pregnant women as they navigate intersecting yet competing systems of care proposed by state, church, and international development organizations in search of successful deliveries.