Tips to help kids with autism transition back to in-person school
MIND Institute experts offer advice to help with the change, as well as what's likely to be different in the classroom this year
(SACRAMENTO)
Heading back to school after summer break can be tough for some students, but this year is unique. Because of the pandemic, distance learning and hybrid schedules have been the norm for over a year, and many kids haven't spent a full, regular week at school since March of 2020.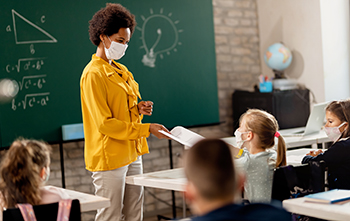 For children with autism and other neurodevelopmental differences, transitions like this can be extra challenging. "Routines are important for kids, and the long absence from the classroom, the mask-wearing and other changes mean they have to learn an entirely new school routine," said Patricia Schetter, a board-certified behavior analyst who coordinates the Autism Education Initiatives for the Center of Excellence in Developmental Disabilities at the UC Davis MIND Institute.
Kids and masks
"The biggest thing I've been working on with patients throughout this pandemic is mask-wearing," said Erin Engstrom, a licensed clinical psychologist at the MIND Institute who specializes in anxiety treatment for kids with neurodevelopmental conditions. "Masks themselves are a big transition. For some kids, it's wearing the mask – especially for a long period of time. For others, it's seeing other people, like teachers and cafeteria staff, wearing masks. I have patients who are venturing out for the first time in awhile and they have expressed a lot of uncertainty about seeing everyone wearing masks. That can be challenging to process," Engstrom explained.
How to help: To get students used to wearing a mask, have them wear one at home for a short period and gradually increase it to a significant period of time. This social story, a step-by-step guide with photos about wearing masks from the MIND Institute may help. This guide for helping kids get comfortable with masks is also useful.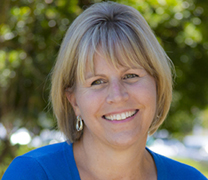 "COVID has really emphasized social-emotional issues and moved them to a level playing field with academics."
— Patricia Schetter
Getting used to being back at school all day
"A big part of the transition back to in-person school is getting back into the routine of being out of the home most of the day," Engstrom explained. For some kids, it's a really big deal to be away from their family, as they have gotten used to being around them all the time. I have patients for whom this will be the first time being away from their parents for more than an hour or two since the start of the pandemic. This separation from family or caregivers can cause a lot of anxiety."
How to help: "When possible, it's great to walk the campus before the school year begins, to help your child get reacquainted with the grounds – or to learn about a new campus, if they're starting middle school or high school," Engstrom said. "But I also have a lot of success using maps. I've done google map tours with patients – telling them, 'Here's your school, here's the cafeteria, here's the parking lot,' and so forth. This kind of preparation and practice can help."
Dealing with anxiety
"I've seen the most severe anxiety in this past year that I've ever seen in my career," Engstrom said. "In many young people, and adults too, mental health concerns have really increased. Now, heading back to school, they may be anxious about COVID, masks, meeting new people, being away from home, a new classroom, a new teacher and much more."
How to help: Engstrom specializes in Cognitive Behavioral Therapy, a form of treatment that helps patients overcome fear or anxiety by gradually being exposed to the things that challenge them. She says this approach can be applied to the back-to-school transition. "Think about breaking down the transition into small steps. Then you can slowly build confidence with each step. For example, we might practice getting up and getting ready for school, a week or two in advance to get used to waking up or getting out of bed at a certain time. Then you start adding in getting dressed, then getting in the car, all those places where transition challenges are."
This Minds Behind the MIND video has many practical strategies for coping with anxiety around the back-to-school transition. These Autism-Focused Intervention Resources and Modules provide training for both educators and parents to help children get the support they need.
"I have patients for whom this will be the first time being away from their parents for more than an hour or two since the start of the pandemic. This separation from family or caregivers can cause a lot of anxiety."
—Erin Engstrom
"For a lot of my families, it's been very, very tough in terms of not being able to access mental health services during the pandemic that they might have previously gotten at school," Engstrom noted. "I'm very hopeful that things will improve with more kids back to school in person."
Schetter echoes that optimism. "COVID has really emphasized social-emotional issues and moved them to a level playing field with academics," she said. Schetter expects that to be one of several key changes this school year, based on what schools have learned and experienced during the pandemic:
A renewed emphasis on mental health. "Some schools are using COVID relief funds to beef up services, supports and resources around social-emotional learning, such as hiring more counselors," Schetter said. "That's really going to benefit all kids that are having any emotional or mental health challenges around this transition. It's a huge positive."
A focus on learning recovery. "Schools are also using additional funding to create opportunities for learning recovery when they discover it, so kids who may need additional intensive instruction in reading or math because they haven't progressed as much as expected should have more opportunities," noted Schetter.
More parents are home-schooling or choosing virtual options. "This was a trend even before COVID, as families who have children with neurodevelopmental differences and social challenges looked for other options, but the pandemic really forced the issue and many parents who might not have otherwise considered it have figured out that home-schooling is a long-term option for them," said Schetter. She noted that many are taking advantage of charter schools that offer a home-school option, which allows students to continue to access speech and occupational therapy and other services. "I think the number of families choosing this option may be a little bit of a shock to people," she said.
More virtual meetings between parents and school staff. During the pandemic, many meetings between parents, teachers and school staff took place online, by necessity. For example, parents of students with Individualized Education Plans, or IEPs, meet regularly. An IEP is developed to make sure children with a disability that is impacting their educational performance are getting the instruction and services they need. "Now, a lot of parents are saying that they prefer the virtual meetings," said Schetter. "I think this trend will continue, because it allows for a lot more meaningful parent involvement in the IEP process. It allows a parent who works fulltime to attend the meeting during their lunch break, without having to take extra time off to get to the school," Schetter explained.
Improved parent-teacher communication. Schetter said the increased use of learning and communicating online opened up a lot of opportunities for interaction between families and teachers. "I think everyone is more familiar with how to use Zoom, and now teachers can more easily share strategies. For example, telling someone over the phone how to do something is different than holding it up online and showing them. I hope the improved communication we've seen thanks to technology will continue," she said.
Schetter's team at the California Autism Professional Training and Information Network (CAPTAIN) put together an excellent list of resources for educators and families.
The UC Davis MIND Institute in Sacramento, Calif. was founded in 1998 as a unique interdisciplinary research center where families, community leaders, researchers, clinicians and volunteers work together toward a common goal: researching causes, treatments and potential prevention of challenges associated with neurodevelopmental disabilities. The institute has major research efforts in autism, fragile X syndrome, chromosome 22q11.2 deletion syndrome, attention-deficit/hyperactivity disorder (ADHD) and Down syndrome. More information about the institute and its Distinguished Lecturer Series, including previous presentations in this series, is available on the Web at mindinstitute.ucdavis.edu.