UC Davis MIND Institute camp for kids with neurodevelopmental disabilities a big success
(SACRAMENTO)
The UC Davis MIND Institute was home to a unique day camp this summer. All activities were geared toward kids with autism, fragile X syndrome, Down syndrome and other neurodevelopmental disabilities.
This year was the first in-person camp since 2019. Virtual camp activities were offered for the last two years due to the pandemic.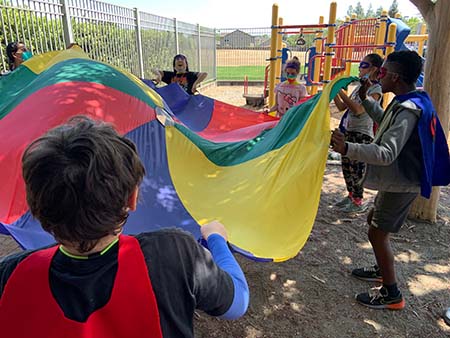 Erin Roseborough, a MIND Institute child life specialist, created the camp five years ago. She explains that traditional summer camps can't always meet the needs of all children.
"We get a lot of inquiries from family members saying, 'My child got kicked out this camp,' or 'They didn't understand my child's needs at the camp we went to last summer, do you have anything available?'" Roseborough said. "So, we developed a fully inclusive camp for kids with neurodevelopmental disabilities."
The camp is for children ages 6-13. There were three, week-long sessions in July and August, each geared toward a different age group. Spanish-speaking staff were also available for translation support.
The camp MIND team reached out to each family to assess the child's needs to create a safe and enjoyable experience for them before camp started.
A unique, inclusive camp
Aisha Taylor's 12-year-old son Samuel was one of this summer's campers. Samuel is autistic and has selective mutism, an anxiety-related condition that can make a child unable to communicate in social settings.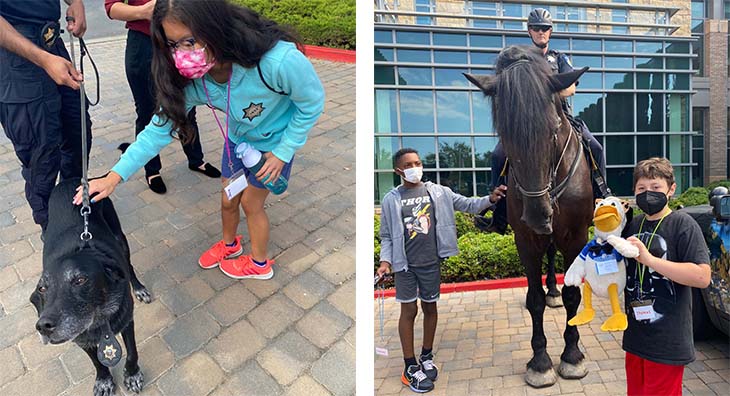 "He had a really great time. He was able to do the activities and not feel like he stood out because he was doing things or maybe not understanding them the way other children were understanding them or doing them," Taylor explained.
Taylor said Samuel's favorite activities included the graduation ceremony, a celebration held on the last day of each session, and the popsicle snacks.
"He had done camps with other neurotypical peers but struggled with that social component. It was really refreshing to bring him someplace with other peers that had similar challenges that he had," she said.
Campers did crafts, played outside, learned songs and did yoga. Each day of camp also featured a different theme, including the great outdoors, animal adventures, superheroes, science and more. Special guests visited the campers as well.
Special guests
One of the biggest hits during all three weeks of camp was a visit from local law enforcement and fire officials. Veronica Tuss, a MIND Institute child life specialist, coordinated visits with the Sacramento Police Department and Sacramento Sheriff's Office. Sacramento Fire and UC Davis Police also stopped by. The departments sent vehicles, including fire trucks and cruisers for the kids to climb in and check out, as well as police dogs and even horses.
The partnership between the MIND Institute and local law enforcement is important, notes Tuss.
"Our families of children with autism and other neurodevelopmental disabilities tend to have a hesitancy towards law enforcement because they're a little concerned about them understanding their child's behavior and their sensitivities," she explained.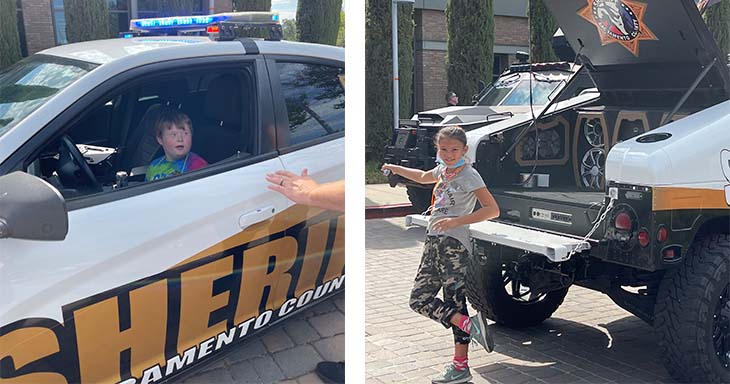 The goal is to be a connection between law enforcement and families.
"We're working to build this relationship to help train and educate officers and youth service programs and helping them understand our children and meet their needs. It also helps the families feel comfortable by introducing positive experiences before they actually are ever in a scenario where they might need law enforcement," Tuss said.
Other special guests included:
The cost for Camp MIND was $150/session. Registration typically opens in May or June.
The UC Davis MIND Institute in Sacramento, Calif. was founded in 1998 as a unique interdisciplinary research center where families, community leaders, researchers, clinicians and volunteers work together toward a common goal: researching causes, treatments and potential prevention of challenges associated with neurodevelopmental disabilities. The institute has major research efforts in autism, fragile X syndrome, chromosome 22q11.2 deletion syndrome, attention-deficit/hyperactivity disorder (ADHD) and Down syndrome. More information about the institute and its Distinguished Lecturer Series, including previous presentations in this series, is available on the Web at mindinstitute.ucdavis.edu.