Multiple Sclerosis
Multiple sclerosis (MS) is an unpredictable neurological disease that can affect people of all ages. Symptoms usually include impaired muscle control, weakness, and/or vision problems, and they can range from mild to debilitating. Symptoms can also be intermittent, chronic, or slowly progressive. Because of this variability, MS can be difficult to diagnose correctly.
The UC Davis Department of Neurology provides expert diagnosis and treatment for patients with MS. Our faculty members also conduct both basic research and clinical research studies for MS that are aimed at developing new treatments.
For more information about MS, please see the National Institutes of Health's Multiple Sclerosis Information Page.
Multiple Sclerosis Clinic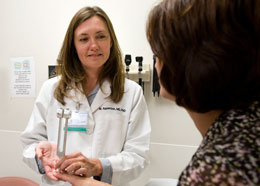 The Multiple Sclerosis Clinic evaluates and treats a large number of diverse patients who have multiple sclerosis and other neuroimmunological disorders.

Our MS team comprises two neurologists or neuroimmunologists, an MS nurse, and a study coordinator. The team also includes additional study coordinators and research associates.
Clinical Trials
Our researchers have helped to develop new drugs that have shown promise as future treatments for MS. Patients who qualify may be eligible to participate in several clinical trials designed to test these and other new therapies to manage MS.


For more information on the available clinical trials for patients with Multiple Sclerosis or Neuromyelitis Optica, please visit our UC Davis Study Pages website.