Clinical Research Overview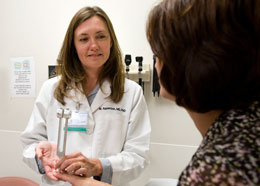 The UC Davis Department of Neurology offers some of the best neurology care in Northern California. In some cases, our clinics are considered the most advanced in Western U.S. and even the country. Our neurologists are recognized experts in the study and treatment of everything from increasingly common disorders like Alzheimer's disease to relatively rare ones like myasthenia gravis, an autoimmune disease that causes muscle weakness.
Caring for patients is not only a service to families affected by neurological disorders; it is also a way for our physician researchers to take what they learn from patients and work to improve diagnoses and treatments.
Clinical trials: research that leads to real solutions
The department is committed to translating basic research into real solutions and making them available to patients. That's why our patient care includes offering the latest treatments through participation in clinical trials. Our researchers take part in national and international clinical trials that offer potentially effective therapies to current patients, as well as hope to future ones. For example, they have helped bring new drugs to patients suffering epilepsy, Huntington's disease, and Alzheimer's disease, to name just a few.
To learn more about clinical trials in general – including Frequently Asked Questions and information about participating in studies – please visit the pages at Clinical Trials at UC Davis Health.
For more specific information about clinical research conducted by the UC Davis Department of Neurology, please visit the subspecialty pages linked below:
OUR SUBSPECIALTIES
Neurology Researchers