Lin Zhang, M.D., Ph.D.
Brief Biography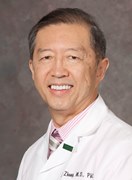 Lin Zhang, M.D., Ph.D., is co-director of the UC Davis Deep Brain Stimulation (DBS) Program along with Kia Shahlaie, M.D., Ph.D. Both directors have joint appointments in the Departments of Neurology and Neurological Surgery.
Dr. Zhang received his medical training at Beijing University School of Medicine and completed his residency in Internal Medicine at Beijing Hospital. Then, after immigrating to the United States, Dr. Zhang completed a Ph.D. at Tulane University, followed by a residency in Neurology at the Cleveland Clinic. He then completed a fellowship in movement disorders and experimental therapeutics at the University of Rochester.
As medical director of the DBS program, Dr. Zhang directs and engages in comprehensive medical evaluations to identify appropriate patients for DBS surgeries to ensure the best outcome possible. He also supervises and oversees clinical trials in Parkinson's disease (PD) and dystonia. He has published and author/coauthored extensively in movement disorders and experimental therapeutics. Dr. Zhang's research interests extend into genetic and environmental risk factors (GER) for PD for populations both in the United States and internationally. He also chairs the GER working group for Parkinson Study Group, the largest consortium of parkinsonologists.
Deep Brain Stimulation Program
Established in 2011, the Deep Brain Stimulation Program at UC Davis has experienced an exponential growth in patient volume and clinical scope. The initial pilot of 8 surgeries in 2012 led to the official establishment of the program and the recognition of its clinical comprehensiveness at the level of hospital administration and in regional medical communities.
HOW DBS SUGERIES ARE DONE: Accurate anatomic localization is the key to successful and safe DBS surgery. Prior to the operation, high resolution MRI scans are used to develop a surgical plan for electrode implantation. On the morning of surgery, a stereotactic head frame is placed and the patient undergoes a 3D CT and is then transported to the operation room:
WHERE WE STAND: While there has been an expansion of clinical indications from medically refractory PD and essential tremor to dystonia; the program has seen and evaluated cases of blepharospasm, severe spasticity in patients with stroke, Fragile X Tremor Ataxia Syndrome, Tourette's syndrome, multiple sclerosis, and cerebral palsy. The DBS Program has experienced significant growth in clinical volume, and we are receiving numerous referrals from providers in our immediate and expanded catchment area. With continued growth, we forecast performing 2 operations per week in the next year.
Future Directions
(1) DBS treating tremors associated with other disorders:
A recently defined clinical syndrome, Fragile X-associated Tremor Ataxia Syndrome (FXTAS), usually presents with intractable tremors. Based on the findings of our collaborative research group at UC Davis, DBS is to being further studied clinically on these patients.
(2)Low Frequency stimulation (LFS) paradigm to be tested:
Dr Shahlaie is leading a pilot clinical trial to determine if DBS can provide cognitive benefits in addition to motor improvement. In the study, patients with PD will receive low frequency stimulation of the ventral subthalamic nucleus (conventional target for PD) to determine if learning and memory performance can be improved. This work is based on research from Dr. Shahlaie's laboratory in Davis, CA, and includes NIH-funded medical student and residency physician researchers.
(3) Potential collaborations with Pain management, psychiatry, and epilepsy services; and integration of Neuromodulation services:
DBS surgeries are being studied in the management of chronic pain syndromes, intractable major depression, and medically refractory epilepsies With the strong clinical collaborative culture of UC Davis, between-department initiatives are being contemplated with a vision of establishing a compressive Center of Neuromodulation at UC Davis in the near future.
(4) Application for recognition as a Fox Foundation designated Center for Excellence in PD research and clinical care, and as an NIH Udall Center for PD translational research:
Strongly encouraged by the support of the health system and the overwhelming enthusiasm of the community and general public, we, as a team, have started to gather information on center statistics (cases operated of each indication, patients' demographics, and a variety of outcome indicators including risks and rates of complications), and to have run multidisciplinary team conferences, in order to follow through on these applications.