Cerebrovascular Disease and Stroke
The UC Davis Medical Center Stroke Program features acute inpatient care as well as outpatient management of cerebrovascular disease. Patients are triaged in the Department of Emergency Medicine and receive aggressive medical care and treatment that includes:
Thrombolytic therapy
Interventional neuroradiologic techniques
New medications under clinical investigation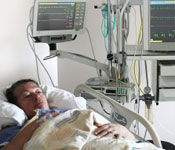 Our inpatient stroke unit provides intense monitoring and rehabilitation of stroke patients. After discharge from the unit, patients can receive follow-up services through our weekly outpatient clinic at the UC Davis Midtown Ambulatory Care Center.