Resident Leadership Program
Neurosurgery residents are placed in leadership positions early in their clinical training, and our program aims to provide them with the insight and skills necessary to be effective leaders during complex and challenging situations. Our residents participate in a comprehensive leadership development program throughout their residency and demonstrate increasing leadership abilities as their experience and training progresses.
Meet the Instructor: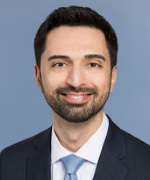 Kia Shahlaie, M.D. Ph.D
Professor and Program Director
In addition to his clinical and research activities, Dr. Kia Shahlaie has a strong interest in resident and medical student education. He is an award winning instructor at the UC Davis School of Medicine, where he serves as a mentor and student advisor. Dr. Shahlaie has a particular interest in professional development and leadership, and has completed the UC Davis School of Medicine Junior Career Leadership Program and the UC Davis Faculty Leadership Academy. The Neurosurgery Resident Leadership Program that Dr. Shahlaie co-founded with Dr. Gene Crumley, with an emphasis on emotional intelligence, is the first of its kind at UC Davis.
`Leadership Opportunities
Neurological surgery residents will have opportunities to:
Participate in committee service
Present at institutional conferences
Teach at the medical school
Teach regional courses such as ENLS
Lead quality improvement projects
Obtain funding for independent research
Residents of Neurological Surgery participate and provide service on a variety of department and hospital committees.
List of committee participation opportunities:
PGY1 Inpatient Care Committee
PGY2 Program Evaluation Committee
PGY3 Resident Medical Staff Committee
PGY6 Program Evaluation Committee
PGY7 Inpatient Care Committee