Skull Base Surgery
Overview
The UC Davis Center for Skull Base Surgery is an internationally recognized program that provides state-of-the-art care for patients with a variety of tumors and other disease processes that affect the skull base. Skull base tumors are disorders can be among the most challenging conditions to treat, as they can affect critical blood vessels and nerves that are responsible for vision, speech and swallow, hearing, facial sensation and movement, and brainstem function. At UC Davis, we believe that our experience, expertise, and dedication to treating patients with skull base diseases allows us to provide the best care available to our patients.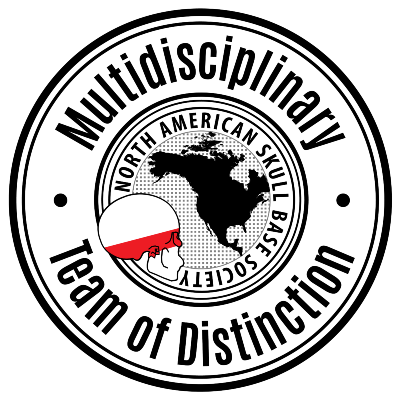 Philosophy of Care
The Center for Skull Base Surgery at UC Davis has been an international leader in the field of skull base surgery for many decades. We are dedicated to providing our patients with state-of-the-art care. When appropriate, minimally invasive approaches are used and quality-of-life is prioritized when developing treatment plans. At UC Davis, care for skull base tumors and disorders is provided in a multidisciplinary manner, with discussion and input from a variety of surgical and medical experts in the group.
Skull Base Disease and Tumors
The skull base is among the most complex anatomic area of the human body and treatment of diseases in this area require highly trained physicians with specialized equipment and expertise. Our collection of fellowship-trained skull base experts treat a variety of diseases and tumors that affect the skull base, including the following:


Meningioma
Schwannoma/Acoustic Neuroma
Pituitary tumors
Craniopharyngioma
Chordoma
Cranial nerve disorders (trigeminal neuralgia, hemifacial spasm)
Encephalocele and CSF leak
Tumors of the sinus, face, head, and neck
Skull base fractures/trauma
Multidisciplinary Care
The Center for Skull Base Surgery at UC Davis includes a diverse group of specialists with training, experience, and expertise in managing diseases and tumors that involve the skull base. Our team is led by fellowship-trained experts in skull base surgery, and includes individuals that are national and internationally recognized for their expertise in patient care, educational, and research in management of skull base disorders. Team members include the following:
Neurosurgeons
Otolaryngologists
Neuro-otologists
Head and neck surgeons
Plastic Surgeons
Ophthalmologists
Radiation oncologists
Medical oncologists
Neuroradiologists
Neuropathologists
Therapists (speech, swallow, balance)
Audiologists
Our group of experts meets on a biweekly basis to discuss patient management decisions, developing surgical, medical, and radiation treatment plans customized for each patient.
As a result, the North American Skull Base Society (NASBS) has recognized the UC Davis Center for Skull Base Surgery as a NASBS Multidisciplinary Team of Distinction (https://www.nasbs.org/nasbs-mtd/). NASBS is the international society that brings together leading experts in skull base surgery from around the world. Their recognition of UC Davis as the only center in Northern California, one of just two centers in all of California, is a significant distinction!
Innovation
The UC Davis Center for Skull Base Surgery offers world-class, innovative treatment options for patients with skull base tumors and diseases. Our team works closely with technology and engineering leaders to incorporate state-of-the-art tools into our treatment plan. For example, virtual/augmented reality and patient-specific 3D models are often used to prepare for complex surgical procedures. Intraoperative imaging, live surgical 3D navigation, and robotics are often used to maximize patient safety and surgical success. Many skull base tumors can be removed with small "keyhole" approaches or using natural corridors through the nasal cavity and sinuses, resulting in less risk, less discomfort, and shorter hospital stay when compared to more traditional open procedures. Examples of minimally invasive approaches often used for skull base surgery include the following:
Endoscopic endonasal approaches
Supraorbital eyebrow keyhole approach
Retrosigmoid keyhole approach