Green Commuter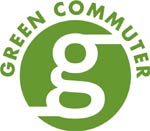 The Green Commuter Program is designed to promote sustainability and environmental stewardship while reducing the cost and stress of an employee's commute by encouraging use of alternative transportation options. The Green Commuter Program works to reduce campus congestion and ease parking demand. As well as promoting good health practices through the development of a "walkable/bikeable" campus.
Becoming a member says you are committed to the reduction of greenhouse gas emission and air pollution through carpooling, vanpooling, biking, walking and taking Regional Transit to work or school at least three times a week.

To access your Green Commuter 1-Day Permit, log into ucdmc.aimsparking.com.
Carpooling to UC Davis Medical Center
A carpool is when two or more UC Davis Health employees or students commute together in the same vehicle from a similar location. This allows commuters to save money by sharing the expense of driving. Carpooling allows access to HOV lanes on most major highways which can also save time on your commute.
Please note that only UC Davis Medical Center employees count towards permit eligibility.
If you are interested in joining a carpool, but do not know of anyone making your commute please complete the form below:
To purchase a carpool permit, all members of the carpool group will need to come into the parking office together to register.
| | |
| --- | --- |
| Carpool Permit | Monthly Cost per person |
| 2-Person | $23.50 |
| 3-Person | $14.00 |
| 4-Person | $7.00 |
| 5-Person | $5.00 |
Vanpooling to UC Davis Health
A vanpool may consist of 5 or more employees who work on site at least 3 days per week. Vanpoolers must commute a minimum of 15 miles one way to the Medical Center, and they must reside in the same or neighboring zip codes. Vanpools can either be granted reserved parking or park in any "B" designated space, depending on the location and availability. Currently, UC Davis Medical Center's vanpool program is administered through Enterprise Vans.
The cost of joining any vanpool is determined by the number of miles traveled divided by the number of passengers. Parking Services offers a monthly $65 subsidy to each passenger to offset the monthly leased cost. If you are interested in exploring the possibility of starting a vanpool, please complete the carpool interest form, and indicate that you would like to start a vanpool.
If you are interested in joining a vanpool, but do not know of anyone making your commute please complete the form below:
Bicycling to UC Davis Medical Center
Every day tens of thousands of Californians experience the benefits of commuting by bicycle: regular healthy exercise; reduced stress; savings on fuel, insurance and parking permits -all while helping reduce traffic congestion and air pollution. A one-way commute less than 5 miles is a very comfortable distance to cover on a bike. There are, however, many cyclists who commute to the Medical Center whose one-way distances are over 20 miles!
Where to Park
Most facilities have standard bike racks available on a first-come, first-serve basis. In addition, Parking and Transportation Services provides locked bike shelters and lockers to secure your bike. Locations include Parking Structure 2, Parking Structure 3, North Addition, X Street (near Parking Structure 4), Broadway Building, and the Midtown Clinic. Employees may obtain a key to one of the shelters or lockers at the Parking and Transportation Services office for a small refundable deposit. Please contact the Green Commute Coordinator for more information about obtaining one of these.
For employees wishing to bike to work, showers and lockers are available in some buildings. Check with your supervisor or the Green Commute Coordinator to learn about available amenities.
Bicycle Licenses
All cyclists wishing to access bike lockers and bike cages on the UC Davis Health System campus and its outer lying buildings must have a current California Bicycle License on their bikes. As part of the department's Green Commuter Program in the support of the campus' 2011-2016 Strategic Plan, Goal 7: Sustainable Resources, Strategy 7.5, Environmental Stewardship, registration of bicycles allow the department to further encourage the reduction of greenhouse gas emissions through the use of alternative transportation options to the UC Davis Health System campus.
The cost for newly registered bicycles is $10 which includes registration and license. The renewal cost of $5. Both are valid until December 31st of the expiring year. Bicycle licenses are valid for up to 3 years.
Bicycle licenses are renewals can be acquired by visiting the Parking and Transportation Services office Monday thru Friday, during business hours. Bicycles must be present for licensing and registration.
When licensing/registering your bicycle, you will need to bring it into the office and provide the following information:
Make/Model
Color
Frame Size
Wheel Size
Serial Number
To be an eligible Bicycle Green Commuter, both Bike License and Renewal Sticker must be active.
Police Reporting
If you are the victim of bike or bike part theft it is imperative that you report the incident to the UC Davis Police.
Reporting these crimes provides data to help us better understand the needs of the campus. When bicycles are registered through Parking & Transportation,
UC Davis Police can easily locate ownership of found bicycles. Please call Parking & Transportation for any questions.
Walking to UC Davis Medical Center
Employees and students who live within one mile of the Medical Center may choose to walk for their daily commutes. Choosing an active commute method, like walking, there are many overlooked benefits such as incorporating exercise into everyday life, increased productivity and reduced stress levels.
Employees who are dropped off on campus may register as a green commuter and receive benefits.
Taking Regional Transit / Light Rail to UC Davis Medical Center
Sacramento Regional Transit (RT) runs bus and light rail services throughout the Sacramento Region. The UC Davis Medical Center is conveniently located near two RT buses and the Gold Line Light Rail. Discounted monthly passes for Regional Transit are available for purchase at the Parking and Transportation Services office.
Parking and Transportation now utilizes Connect Transit Cards for Sacramento RT and El Dorado Transit passes.
Passes can be reloaded online or by cash at the following locations: Connect Card Transit Card Retail Locations
For assistance in planning your transit route please contact the Green Commute Coordinator.
Other Transit Options
There are many public transit providers that service the Medical Center area, but their passes may not be sold in our office. Employees may be issued Commuter Checks to subsidize $65 of their monthly transit costs. Commuter Checks are accepted by all transit agencies including eTrans, Roseville Transit and Amtrak. For more information, please contact the Green Commute Coordinator.
The School of Medicine Permit provides courtesy parking for School of Medicine students who are actively registered in the Green Commuter Program. The School of Medicine Permit is ONLY valid after hours and weekends: 5 p.m. — 6 a.m. Monday—Friday and all day Saturday—Sunday. This permit is valid in any B-permit zone. To obtain the School of Medicine permit, you must come into the Parking and Transportation office and:
• Show student ID
• Be registered in the Green Commuter Program
If you have any questions or concerns, please contact the Green Commuter Program assistant, Marissa Barber.
Have You Considered the Benefits?
There are a number of great benefits from using alternative "green options" to get to work. Here are a few to consider:
| | |
| --- | --- |
| | Reduction in car maintenance |
| | Savings in commute time through the use of commuter lanes |
| | Guaranteed Ride Home Program to get you home in cases of emergency |
| | Reserved parking |
| | Courtesy parking options available each fiscal year when you have to drive |
Emergency Ride Home Program
All registered Green Commuters are eligible for up to five (5) Emergency Rides Home a year. This is a complimentary service that provides a ride home in the event of an emergency. You must be registered with the Sacramento Region 511 to access this benefit. For additional information see the Emergency Ride Home page here.
Courtesy Parking
Employees participating in a Green Commuter Program, receive up to 24 Green Commuter 1-Day Permits for courtesy parking days each fiscal year. Green Commuter 1-Day Permits are valid for any B parking space, or spaces marked "Green Commuter Permit Required". Please check with the Parking and Transportation Services office for details.
You Could Win Prizes Too!
UC Davis Medical Center has partnered with Sacramento Region 511 to bring additional transportation benefit to our employees, including the Emergency Ride Home.
All employees are eligible to register with Sacramento Region 511, regardless of how you commute to work. The program is an interactive way to track your daily trips throughout the year and see what impact your efforts have on the environment.
As a reward for logging your miles, randomly selected winners will be chosen to receive gift cards to local locations. These will be awarded by the Sacramento TMA.
Register as a new user or Log in to start earning points: www.sacregion511.org