Residency Training Program

General Psychiatry
A tangible commitment to community and equity
I chose the general psychiatry residency at UC Davis because it stood out as a program that mirrored my values. During the interview itself, UC Davis stood out from other programs in its tangible commitment to community and equity. Sacramento provides the opportunity to work with an underserved patient population that includes not only immigrants and refugees but also those experiencing incarceration. I've been at UC Davis for over a year and am convinced I chose the best program that will train me to become the psychiatrist I aspire to be.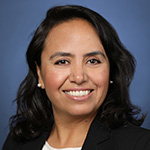 Emma Zavala-Suarez, M.D., J.D.
PGY-3 resident

Welcome from our training directors
---
If you take a walk down Sacramento's Stockton Boulevard, you'll come across UC Davis Medical Center, almost immediately followed by the Sacramento County Mental Health Treatment Center. This standing side-by-side of two worlds — the world of community mental health service and the world of the large academic center — is emblematic of our UC Davis general psychiatry residency training program.
Both academically minded and community oriented
UC Davis Health's mission leads with the statement, "Grounded in equity, we provide unparalleled care…." In turn, our residency program's educational goal is to develop outstanding, well-rounded, values-driven clinicians, scholars, educators, advocates, and leaders, who are equipped to serve underserved and diverse populations and contribute to the mental health of local and global communities. Our faculty are committed to this educational process and bring depth and diversity to the teaching and supervision of our trainees.
Both robust core training and ample professional exploration
We strive to offer each resident a thorough and nuanced training experience, balancing rich core rotations with abundant opportunities to explore clinical specialization, research, teaching and advocacy. Residents pursue elective interests starting from the PGY-2 year. We have tracks for research and for global mental health, and there is ample exposure to focus areas including child and adolescent psychiatry, consultation-liaison psychiatry and integrated behavioral health, cultural psychiatry, early psychosis, forensic psychiatry, and more. Our general psychiatry residents train closely together with colleagues in the Family Medicine and Psychiatry, and Internal Medicine and Psychiatry combined residencies, and benefit from the cross-pollination across medical specialties.
In this professional community that is dynamic, collaborative and growth-minded, you would be joined by colleagues who are enthusiastic about co-creating the best residency experience possible. We hope you'll take a look at all our general psychiatry residency program has to offer, and if it piques your interest, consider joining us.
We wish you all the best as you pursue the next stage in your career.
Belinda Bandstra, M.D., M.A.
Program Director
bsbandstra@ucdavis.edu
Emilie Bhe, M.D.
Associate Training Director
ebhe@ucdavis.edu
Poh Choo How, M.D., Ph.D.
Associate Training Director
phow@ucdavis.edu