Research
FACULTY SPOTLIGHT
Early psychosis network aims to collect data statewide and bring best practices to clinician's fingertips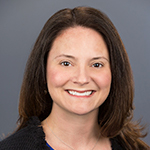 Tara Niendam, Ph.D.
Executive Director, UC Davis Early Psychosis Programs

Associate Professor,
Psychiatry and Behavioral Sciences
Project: Tara Niendam, Ph.D., leads the Early Psychosis Intervention in California and Learning Health Care Network projects. The primary aim of the projects are to increase the quality of mental health services for early psychosis (EP) programs across California by bringing measurement-based care and best practices to clinicians' fingertips using a custom EP-focused application.
Update: The projects are in their second and third years, respectively. Several California county partners are in the process of joining the existing network to increase participation in the collection of treatment and outcomes data. To date, we have conducted 26 focus groups across the network to prioritize core outcomes for the application.

Our research programs
One of the primary goals of academic psychiatry is to expand our understanding of psychiatric illness and improve psychiatric care through research. Research in our department is carried out by more than 30 federally-funded faculty working on research programs including investigation of basic mechanisms of brain function, translational research into the underlying causes of psychiatric disorders, clinical studies in adult and child psychiatry, forensic psychiatry, and methods for improving medical education and clinical practice.