Julie Dang named to Cancer Health's 25: Champions of Health Equity
(SACRAMENTO)
Alongside high-profile individuals such as President Joe Biden, UC Davis Comprehensive Cancer Center's Julie Dang has been named one of the top 25 people nationally who is breaking down barriers to cancer health equity. Dang is the executive director of the cancer center's Office of Community Outreach and Engagement.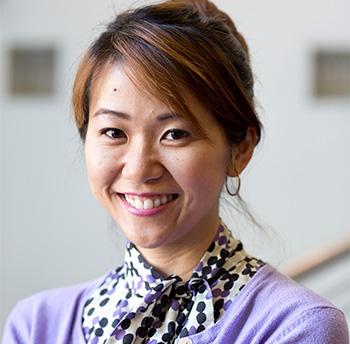 The fourth annual Cancer Health 25: Champions of Health Equity award recognizes Americans who are working tirelessly to define and address health disparities. This year, they include doctors, nurses, researchers, volunteers, patient navigators, grassroots advocates and one world leader.
"It's an honor and a privilege to be recognized among this amazing group of individuals. This award is not just for me but is for the community who continues to inspire and challenge me in my career, for the cancer center's Office of Community Outreach and Engagement team for walking this path with me, and for my mentors for their unwavering support," Dang said.
In announcing the award, Cancer Health magazine explained that not everyone faces the same risk for getting cancer. Nor does everyone receive access to the latest treatments. Many communities and minority populations experience health disparities, ranging from unequal access to cancer screenings and increased barriers to care to higher rates of late diagnoses and a reduced quality of life.
For instance, in the United States, the cancer mortality rate is 19% higher for Black men than for white men.Health equity advocates want to address such imbalances, whether they are linked to race and ethnicity, gender, socioeconomic status, sexuality, geography (living in rural areas), education, language or some other factor.
As a cancer health disparities behavioral scientist, Dang works to ensure that diverse and underserved populations have access to cancer prevention and intervention tailored to their culture and community. Her areas of expertise include breast and colorectal cancer screenings for Black, Latino and Native American communities. She is also committed to boosting Asian-American participation in cancer research and clinical trials and promoting testing for hepatitis B, which can lead to liver cancer.
HPV prevention draws major research funding
Dang's work also encourages more young people and those in rural areas to get vaccinated against human papillomavirus (HPV), another cause of cancer. Recently, Dang was awarded a five-year National Cancer Institute Mentor Research Scientist Development Award to Promote Diversity (K01). Dang is using the federal grant to increase uptake of the HPV vaccine, which will reduce racial/ethnic disparities in HPV-associated cancer.
UC Davis Comprehensive Cancer Center
UC Davis Comprehensive Cancer Center is the only National Cancer Institute-designated center serving the Central Valley and inland Northern California, a region of more than 6 million people. Its specialists provide compassionate, comprehensive care for more than 100,000 adults and children every year and access to more than 200 active clinical trials at any given time. Its innovative research program engages more than 240 scientists at UC Davis who work collaboratively to advance discovery of new tools to diagnose and treat cancer. Patients have access to leading-edge care, including immunotherapy and other targeted treatments. Its Office of Community Outreach and Engagement addresses disparities in cancer outcomes across diverse populations, and the cancer center provides comprehensive education and workforce development programs for the next generation of clinicians and scientists. For more information, visit cancer.ucdavis.edu.