National kidney cancer study shows promising results
Cancer center takes part in high-impact phase III clinical trial
(SACRAMENTO)
UC Davis Comprehensive Cancer Center took part in testing the anti-cancer drug everolimus as part of a phase III clinical trial to see if it helped people with kidney cancer. Results from the clinical trial showed that many patients with kidney cancer remained alive many years after they underwent surgery to remove the cancer.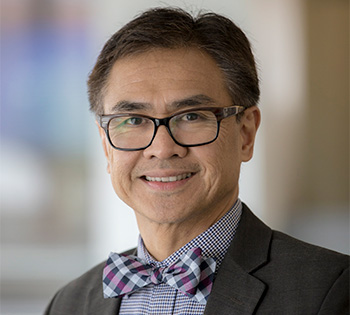 The study also showed that in a group of patients at the highest risk for relapse, everolimus may have kept them cancer-free longer. The findings were published July 28 in The Lancet.
Cancer center Director Primo "Lucky" Lara, Jr. was one of the key investigators of the phase III S0931 trial, also known as the EVEREST study, conducted by the SWOG Cancer Research Network.
Lara is deputy group chair of SWOG and was recently appointed co-chair elect of the cancer clinical trials group, which is funded by the National Cancer Institute (NCI). The study was led by Christopher W. Ryan, a SWOG investigator who is professor of medicine at Oregon Health & Science University.
Patients from nearly 400 cancer centers across the country, including some from UC Davis Comprehensive Cancer Center, were enrolled in the study. They received 10 milligrams daily of oral everolimus or a placebo for 54 weeks.
"Improvement was seen primarily in patients with very high-risk disease, while patients with intermediate high-risk disease saw no improvement," Lara said. "This encouraging observation warrants further study. We must continue our work to discover and test new agents to improve outcomes in people with kidney cancer."
Everolimus is a class of therapies known as mTOR inhibitors, a type of drug that blocks the growth of cancerous cells.
Similar therapies are already being used to improve the outcomes of other cancer patients following surgery, including breast cancer.
The EVEREST trial enrolled 1,545 patients who were diagnosed with intermediate high-risk or very high-risk renal cell carcinoma (cancer in the lining of the tubes of the kidney). All had had their cancer surgically removed by a partial or radical nephrectomy (kidney removal).
"Recurrence of cancer in these patients ranges from 2% to 40% following surgery," Lara said. "It is important to test active new agents as part of clinical trials after their surgery and before their cancer returns and spreads."
Research team
Other members of the S0931 study team included Catherine M. Tangen of SWOG Statistics and Data Management Center and Fred Hutch Cancer Center; Elisabeth I. Heath of Wayne State University/Karmanos Cancer Institute; Mark N. Stein of Rutgers Cancer Institute of New Jersey; Maxwell V. Meng of University of California at San Francisco; Ajjai S. Alva of University of Michigan; Sumanta K. Pal of City of Hope Comprehensive Cancer Center; Igor Puzanov of Vanderbilt University/Ingram Cancer Center (during trial) and Roswell Park Comprehensive Cancer Center (currently); Joseph I. Clark of Loyola University Medical Center; Toni K. Choueiri of Dana-Farber Cancer Institute/Harvard Cancer Center; Neeraj Agarwal of Huntsman Cancer Institute at the University of Utah; Robert G. Uzzo of Fox Chase Cancer Center; Naomi B. Haas University of Pennsylvania; Timothy W. Synold of City of Hope Comprehensive Cancer Center; Melissa Plets of SWOG Statistics and Data Management Center and Fred Hutch Cancer Center; Ulka N. Vaishampayan of University of Michigan; Brian M. Such of University of California at Los Angeles; Nicholas J. Vogelzang of Comprehensive Cancer Centers of Nevada; and Ian M. Thompson of Children's Hospital of San Antonio.
Funding
Study S0931 is supported by the National Cancer Institute (NCI), part of the National Institutes of Health (NIH), led by SWOG, and conducted by the NIH-funded National Clinical Trials Network (NCTN). The Alliance for Clinical Trials in Oncology, the ECOG-ACRIN Cancer Research Group, and NRG Oncology also enrolled patients to the trial.
S0931 was funded by the NIH/NCI through grants CA180888, CA180819, CA180820, and CA180821; in part by Novartis Pharmaceuticals Corporation; and in part by a grant from The Hope Foundation through the SWOG Trial Support (STrS) program.
UC Davis Comprehensive Cancer Center
UC Davis Comprehensive Cancer Center is the only National Cancer Institute-designated center serving the Central Valley and inland Northern California, a region of more than 6 million people. Its specialists provide compassionate, comprehensive care for more than 100,000 adults and children every year and access to more than 200 active clinical trials at any given time. Its innovative research program engages more than 240 scientists at UC Davis who work collaboratively to advance discovery of new tools to diagnose and treat cancer. Patients have access to leading-edge care, including immunotherapy and other targeted treatments. Its Office of Community Outreach and Engagement addresses disparities in cancer outcomes across diverse populations, and the cancer center provides comprehensive education and workforce development programs for the next generation of clinicians and scientists. For more information, visit cancer.ucdavis.edu.