Medical students display innovative research at Poster Day
(SACRAMENTO)
A wide range of innovative research by medical students was on display at this year's Poster Day, as UC Davis School of Medicine continues its mission of improving health through innovative research.
A total of 114 posters were on display in the Education Building.
"Research is an expression of intellectual curiosity," shared Susan Murin, interim dean of the School of Medicine, as she welcomed guests to the event. "Our School of Medicine is not only a nationally recognized leader in training the physician workforce necessary to serve our diverse communities, but it is also a research powerhouse. Today is further proof of the intellectual curiosity of our students and their commitment to doing the research that will translate into improved health for our patients and communities."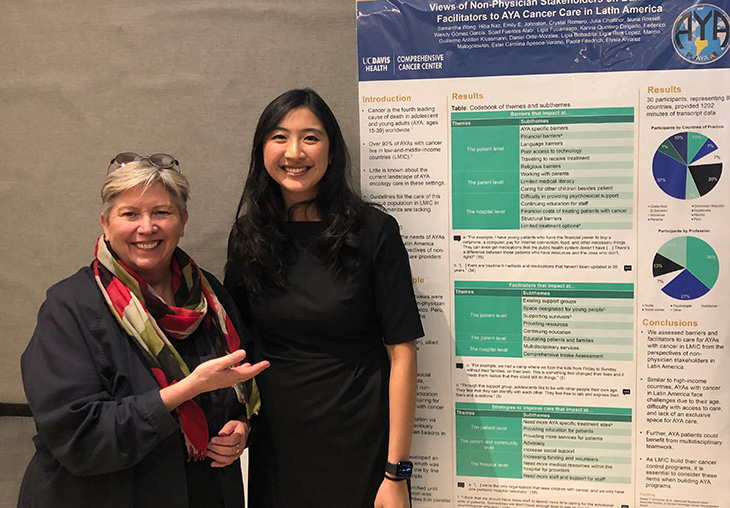 The research opportunities at the School of Medicine are particularly robust and include:
M.D./Ph.D. Program: An integrated training program that combines medical and graduate education, leading to both the M.D. and Ph.D. degrees. The program combines pre-clinical and clinical training with a commitment to research.
Academic Research Careers for Medical Doctors (ARC-MD) Program: Provides medical students with the foundational skills and professional development that promote a successful career as a physician scientist. During the five-year program, students are in medical school for three consecutive years, then spend their fourth year conducting research. After the research, they rejoin medical school for their fifth and final year.
Medical Student Research Fellowship: Provides funding for students interested in gaining academic experience. Students spend four or eight weeks enhancing their medical training through direct participation in basic science, clinical investigation, or health care delivery research.
"We are committed in our mission to help each of our students succeed in their research endeavors," said Saul Schaefer, director of medical student research and M.D./Ph.D. training program. "Training physician-scientists is critical to advance medical science and provide the next generation of leaders."
Among the medical students proudly displaying their work was Samantha Wong, whose study was called "Views of Non-Physician Stakeholders on Barriers & Facilitators of AYA Cancer Care in Latin America."
Wong spent the past year working on her research after being awarded the Daniel T. O'Connor, M.D., Memorial Research Grant. The grant is awarded annually to a School of Medicine student, allowing them to step away from classes and clinical experience for an academic year to focus solely on research.
"Having the time and support from faculty to truly explore this research was really a once-in-a-lifetime opportunity," said Wong. "Not many medical students get the chance to be funded for an entire year of research and I feel incredibly fortunate to have had this opportunity."
During the event, Schaefer proudly visited with each student and viewed their work.
"The quality of work done by our medical students improves every year," he reflected. "Developing a poster is an art form – it needs to be visually appealing and communicate the importance of the research. I am constantly impressed by the incredible quality and collaborative nature of their work."