School of Medicine Class of 2026 to be inducted Saturday during in-person ceremony
Keynote speaker Elise Boykin-Harris will highlight her own story of resilience as a medical student
(SACRAMENTO)
The UC Davis School of Medicine will welcome 133 new students Saturday during an induction program. For the first time since 2019, the event will include a full-fledged in-person ceremony.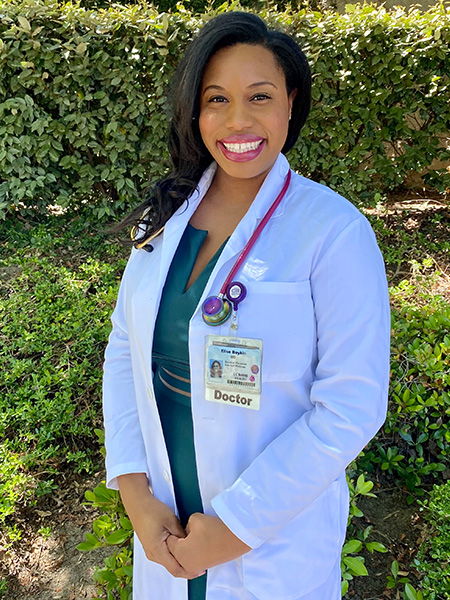 The induction, also known as a white coat ceremony, is an annual ritual that signifies the start of medical school for new students. Each student wears their new lab coat and stethoscope, which they will use throughout their schooling.
The ceremony is an invitation-only event at Mondavi Center for the Performing Arts in Davis but will be livestreamed on the School of Medicine's Facebook page beginning at 10 a.m. on Saturday.
Students sitting on the stage will hear words of wisdom and advice from experienced faculty members who are eager to educate the Class of 2026.
Keynote speaker Elise Boykin-Harris, a 2018 UC Davis School of Medicine graduate, will tell her personal story of how she overcame adversity and persevered against discouragement from pursuing a medical degree. An Elk Grove native, Boykin-Harris attended Sacramento State University, had an average GPA, and guidance counselors didn't think she'd get into medical school.
Medical school came with many obstacles, she said, including failing a major test, but she endured.
"I have a real story of resilience, of triumph, and that's a lot of what I'll be highlighting in the keynote speech," Boykin-Harris said.
After graduating from medical school, she remained at UC Davis – her number one choice – for the three-year internal medicine residency program. She then stayed on for a fourth year as chief resident, which carries significant responsibilities.
Boykin-Harris, who gave birth to a daughter last year, will soon begin working as a faculty member and physician at the Midtown Sacramento UC Davis Health office.
The new students come from incredibly diverse backgrounds – further underlining recent rankings by US News & World Report. The publication ranked the UC Davis School of Medicine No. 3 in the nation for diversity.
The ethnic and racial breakdown of the incoming students is:
36% Asian
30% Hispanic
15% White
14% Black
3% American Indian/Alaska Native
The class is 60% female and 38% male.
A total of 85% of students come from a background that is classified as "disadvantaged."
Slightly more than two-thirds of students graduated from a University of California school, and 16% studied at a California State University.
The 2021 induction ceremony was held in a tent on the UC Davis Health campus in Sacramento, though families had to watch the livestream feed from home, as a precaution due to rising COVID-19 levels. The 2020 ceremony was broadcast from the campus by a small group of faculty members who gathered to speak into a livestream camera for students watching online.