Mother of twins with 22q offers hope for other families dealing with genetic syndrome
(SACRAMENTO)
About 18 months ago, Criss Madrigal hit a roadblock. Her 10-year-old twin daughters, Celeste and Alexia, have chromosome 22q11.2 deletion syndrome, a genetic condition often referred to simply as 22q. They were struggling in school and showing symptoms of anxiety. Criss turned to the UC Davis MIND Institute, which specializes in the research and treatment of neurodevelopmental disabilities, and has a clinic dedicated to 22q care.
"I don't know why I didn't do it sooner," said Madrigal, who lives in Marysville with her husband, two daughters and a 12-year-old son, Geovany. "It's really right in our backyard and we're so fortunate to have it. Our first appointment really opened more doors for us."
Celeste and Alexia had a virtual appointment with Kathleen Angkustsiri, a developmental-behavioral pediatrician who specializes in 22q.
"She gave us a list of things we needed to monitor and make follow-up appointments for and it felt like just what we needed to put all of these things together. It was incredible information that we would not have known otherwise," Madrigal said.
That included a recommendation to get X-rays of the girls' backs, as scoliosis is a possible concern with 22q patients. It turned out they did have scoliosis and are now in physical therapy. They're also both being monitored by the UC Davis Division of Pediatric Nephrology for any possible kidney problems."
"22q is linked to over 180 different physical, developmental and behavioral conditions, so it can be complex to manage," explained Angkustsiri, who is also a MIND Institute faculty member and associate professor in the Department of Pediatrics. "I was thrilled to be able to help Celeste and Alexia."
What is 22q?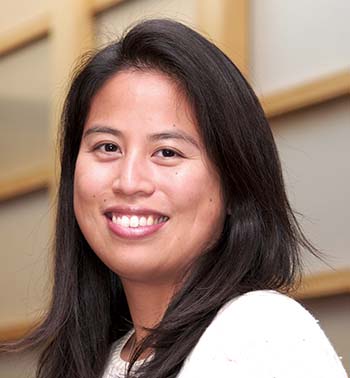 22q is the result of a missing piece, or deletion, on the 22nd chromosome that can affect many different areas of the body. The deletion occurs at a location on the long arm of the 22nd chromosome known as 11.2, which is where the disorder gets its name.
It's usually not inherited from a parent; roughly 90% of cases occur in families where no one else has 22q.
Among rare genetic conditions, 22q is more common, occurring in about 1 in every 2,000-4,000 people. It's believed to be the second most common genetic syndrome associated with heart defects, after Down syndrome. Symptoms can vary widely and no one person is affected in quite the same way. Some of the more common symptoms in childhood include:
Congenital heart defects
Immune system deficiencies
Changes in the shape of the face and the roof of the mouth
Feeding difficulties
Speech and language challenges
Mild intellectual disability or developmental delay
Kidney problems
Mental health conditions, such as attention-deficit/hyperactivity disorder (ADHD) or anxiety
A journey of hope
Celeste and Alexia are familiar with many of these symptoms. The identical twins were each born with one kidney and heart defects. Both had open heart surgeries as infants – Celeste at 2 months, Alexia at 1 year.
The girls were diagnosed with 22q while Madrigal was still pregnant. The heart issues were detected during an ultrasound and that prompted genetic testing. "It was the first time I'd ever heard of 22q," Madrigal said.
Their journey has been challenging, but hopeful. In addition to the heart and kidney issues, 22q often causes developmental delays. "All of their milestones were delayed. They never crawled – they scooted on their butts, but not until after they were 1 year old. They couldn't sit up on their own until about that same time, either. They just didn't have the muscles to do it," Madrigal explained. "They didn't start talking until they were about 4 and at the time it was really basic words."
There's hope. You just have to keep looking and doing research and don't give up.
She taught her daughters sign language and they were able to communicate in that way before they were able to speak.
"They also had a lot of sensory issues – for example, we couldn't get near a tree because the leaves would freak them out. We couldn't step on the grass. They still have a lot of sensory issues now."
The twins also get pneumonia frequently, due to scarring on their lungs and challenges blowing their noses properly. "Even a simple cold will develop into pneumonia," Madrigal said.
The twins have been in numerous therapies: speech, swimming, equestrian, physical, occupational, vision and more. And they are thriving; both make the honor roll regularly.
Madrigal's husband works part-time so he can take care of the many therapy and medical appointments and her father retired early to help care for them.
"I'm so happy and blessed that they're doing so well, given everything. Dr. Angkustsiri asked if we'd ever thought about sharing our story to encourage other people, and I wanted to try."
Her message to parents who just received a 22q diagnosis? "There's hope. You just have to keep looking and doing research and don't give up."
One of her daughters is now receiving cognitive behavioral therapy at the MIND Institute to help her tackle her anxiety and the other will begin therapy to treat her anxiety soon, as well.
"I just want to get them to a point where, once they fully understand what it means to have 22q – it's never going away, it's in your genes – I want them to look back and say that it didn't stop them from doing the things they had to do."
Related stories and resources
The MIND Institute's 22q research program
22q educational videos from the MIND Institute
The UC Davis MIND Institute in Sacramento, Calif. was founded in 1998 as a unique interdisciplinary research center where families, community leaders, researchers, clinicians and volunteers work together toward a common goal: researching causes, treatments and potential prevention of challenges associated with neurodevelopmental disabilities. The institute has major research efforts in autism, fragile X syndrome, chromosome 22q11.2 deletion syndrome, attention-deficit/hyperactivity disorder (ADHD) and Down syndrome. More information about the institute and its Distinguished Lecturer Series, including previous presentations in this series, is available on the Web at mindinstitute.ucdavis.edu.